Seeking Challenge & Adventure
Words by Jill Stockbridge
Jenny Lau, President and CEO of the Sino Jet Group, entrepreneur, philanthropist and industry leader.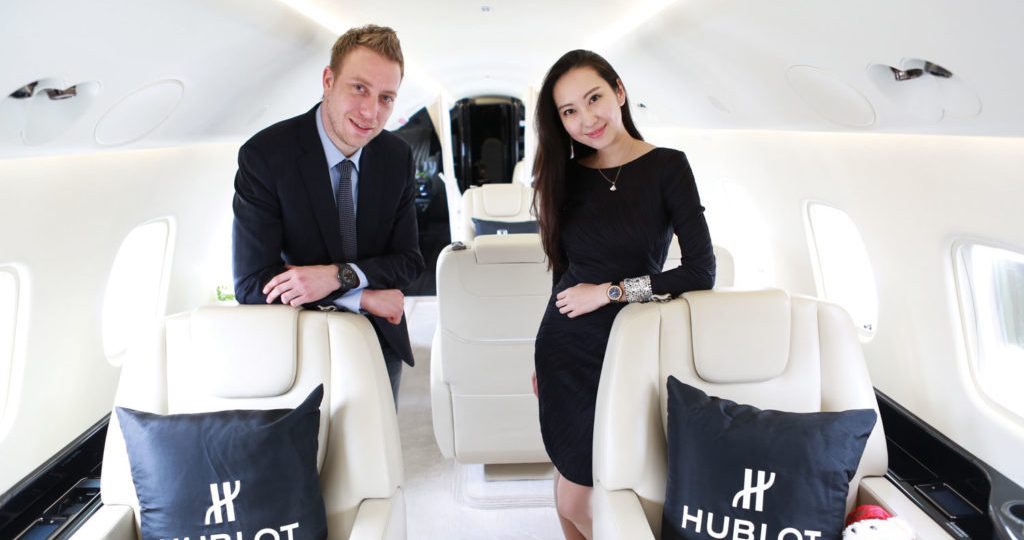 Where did you grow up and what were your early influences?
I was born in the Shandong province and spent my early years in Beijing, Shenzhen, Hong Kong and the UK. Later, I attended high school and university in the US, where I then started my early career. Half my time has been spent in Asia and the rest in the US, with two years in the UK. My early influences were my friends while I was growing up. I had a network of friends that were determined, goal-orientated, loyal and kind. They inspired me then and still do now.
You were drawn to NGO (non-governmental organisation, non-profit) work, what brought you back to the private sector?
When I was in school, my goal was to enter an NGO and to do social work that would make a difference. Now, although I work in the private sector, I have still been able action change, both professionally and personally. For example, one of the core missions of AsBAA is to promote a culture of corporate social responsibility (CSR) in the industry. We support the amazing work of Orbis Flying Eye Hospital and, through AsBAA, we have raised over US$100,000 for that cause. At Sino Jet and through AsBAA, we also support education projects and outreach projects and encourage the industry to give back to the communities in which we operate.
Personally, I am closely involved with the charity, Operation Smile, which is very dear to my heart. As I've matured, I have become more acutely aware that my position should be used to action positive change. My mission continues to make things better in whatever way I can.
What made you decide to move into aviation from private banking?
After some time in private banking, I started to observe other industries and considered how my experience to date might be transferrable. The truth is that the banking world didn't satisfy or challenge me in ways I was looking for. I didn't see a future for myself as a banker and I wanted a new challenge. I had observed the private jet industry in an asset management context and I was intrigued to see if I could find a gap in the market and start something new.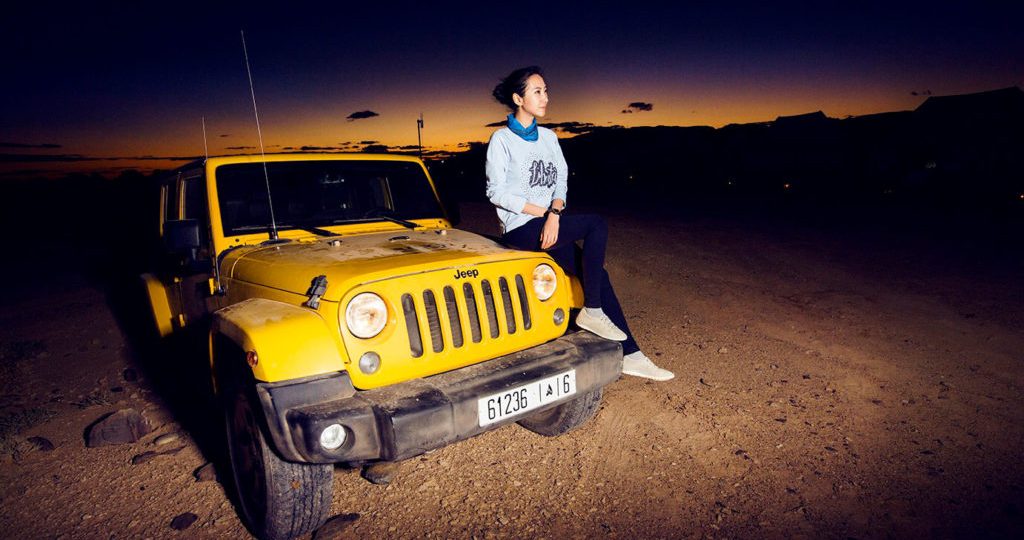 Why found your own company, despite such limited experience in the industry?
Because I love to challenge myself. That's what drives me, professionally and personally. Before entering the business aviation industry, I was working as a private banker, helping clients to manage their wealth. In 2008, Wall Street was in crisis after the Lehman Brothers bankruptcy, which as we know this led to a global financial catastrophe, which in turn created significant uncertainty for many people, me included.
I started to think about my new direction, and at that moment one of my clients asked for my help to manage a private jet deal. I decided to take on the new challenge, left Wall Street and travelled to Hong Kong, where I started to learn about aircraft operations and management. Day by day, I became encouraged by what I saw, to the point where it became clear to me that the private Jet industry had great potential for growth, especially in the Greater China market. So, I was inspired initially by some challenges in the world of finance, but I have stayed because of the opportunities presented by business aviation.
Interestingly, this is also the question I am asked the most often – and while the journey is an interesting story, there was a considerable amount of due diligence involved and I worked very closely with some very experienced industry people that helped guide and advise me. These people are still very close to the business today.
As well as being a woman, you were very young when you launched Sino Jet. How were you received in what is an older male dominated industry?
With intrigue and respect, for the large part. There is still imbalance, but the overall landscape is improving. I hope to leverage my professionalism and dedication to prove that alongside their male counterparts; women can also be strong leaders in this industry. In recent years, there have been an increasing number of women in senior positions in the aviation industry.  Being one of them, I want to devote myself to making it a brighter environment, to give confidence to other women and empower them to seek similar opportunities.
Do you think your success was helped by being able to understand the language and the culture, as well as having strong ties to and understanding of the Western approach to business?
One of our major advantages as a company is our dual base between Beijing and Hong Kong – a Chinese company with a global outlook. Yes, my background and experience in working in China and in Western companies has helped to give me a balanced appreciation of the cultural and business practises that need to be observed.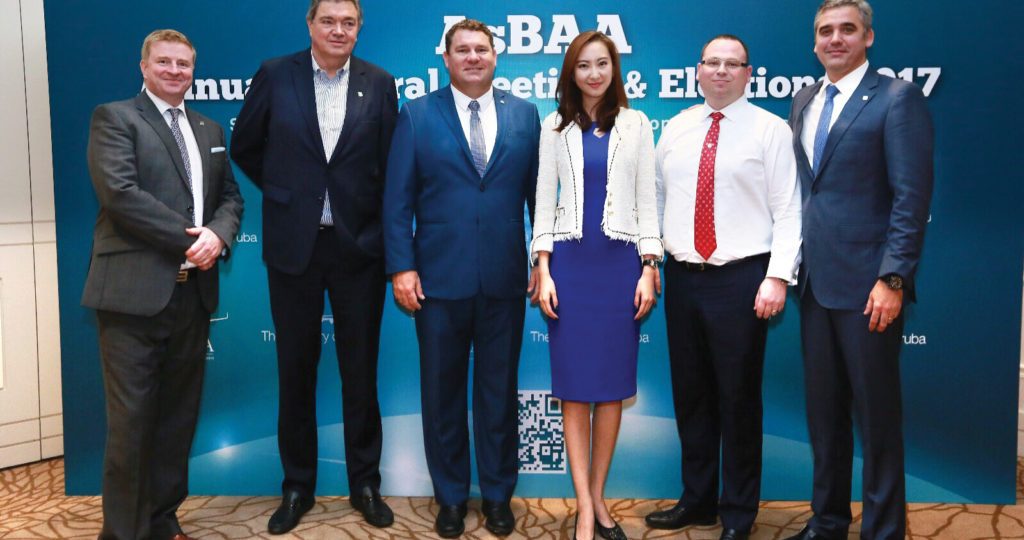 How have you seen the market mature and develop in Hong Kong and Mainland China over the last seven years?
Since the early days in 2008, we have seen the market fluctuate a lot, following the normal economic cycle (but a few months behind). In the last seven years, we have seen growth followed by a slowdown. Asia is not yet a mature market, so there are ups and downs, giving opportunities for growth but limitations to this growth due to infrastructure, policy and perception challenges. There is still a lot of work to be done, both in ensuring change happens, but also educating various groups about what the industry is and what it can contribute.
You are the first female chair of AsBAA, do you think this makes a difference?
Yes and no. Yes, in that my appointment as leader of AsBAA is a natural reflection of the positive changes that are happening in relation to gender equality in the industry, which is cause for celebration. I am mindful to remember that I have a voice that should be used to represent the under-represented women in the industry, and I do see things improving each day. We have well-balanced gender representation in the AsBAA Board of Governors and we make a point of celebrating and promoting women in aviation at AsBAA. I believe it is important for us all to do our bit to promote gender equality in all industries, but especially in aviation where, as we know, men tend to hold most of the leadership positions, globally.
No, in that my gender has not affected AsBAA's influence. AsBAA's Representation and Advocacy work requires me, along with the Board of Directors and Governors to work with governments, ministries, the media and a whole range of stakeholders. In this task, we need to present a credible, well-prepared, well-argued, well-understood position to the authorities. The team at AsBAA is well-placed to do this, and the positive changes we have been able to action would suggest that gender is irrelevant, merit is what matters.
Do you think having a Chinese chair will make a difference in relations with Government bodies?
One of my remits when elected as Chairperson was to strengthen AsBAA's China Chapter to better represent the needs of our members. To that end, we have re-invigorated and expanded the mainland China chapter, appointing sub-committee chairs to represent the specific needs of OEMs, operators and operations support and service providers. We are also actively engaged with the authorities, which include CAAC, to clarify, simplify and improve aviation policy. Rocky Zhang, who chairs the Mainland China Committee and Kevin Wu, previous Vice-Chairman of AsBAA and now a member of Board of Governors both remain active in supporting AsBAA's local projects and initiatives. We have seen a significant uptake in attendance at the AsBAA meetings, indicating strong support from the local business aviation community.
"It is important for us all to do our bit to promote gender equality in all industries, but especially in aviation "
What do you hope to achieve during your tenure?
Internally, we hope to achieve stability and growth for the association. I truly believe that AsBAA is the vehicle for change and that we can make significant improvements for the good of all industry players in Asia. Externally, there are many project areas at a country and Regional level across our three work pillars of Representation, Advocacy and Community. To break down the top priorities, (in no particular order) we hope to: educate and clarify key stakeholders on the quantitative value of business and general aviation; help resolve the issue of an ageing workforce by expanding our careers and student programme, AsBAA Discovery; build stronger Country Chapters across the region; and work closely with authorities to ensure appropriate facilities and infrastructure for business and general aviation forms part of planning and policy in Greater China and Southeast Asia.
What do you like to do in any spare time you have?
I love to travel, especially to challenging or unusual destinations like the Sahara Desert, mountains or Antarctica. I spend a lot of my time working in cities, so, by contrast that element of escape and going back to nature is important to me. I also love to drive, and I suppose I might be a thrill seeker because I recently did some desert and ice driving, which was very cool!
How do you manage social life, family and business?
It's a challenge for anyone in 2018. The world has changed, and we are all connected 24/7. Office hours and standard lines of business communication are now completely open; meaning we must be strategic about the time we take away from it all. I try to carve out windows of time for family, friends and myself and switch off as much as possible. I am lucky to have a wonderful team, led by a very competent CEO, Frank De. I can relax knowing the business is in good hands.
Where is home?
My favourite places are Beijing, Hong Kong, Los Angeles, New York, London, Monaco, but I am a global citizen. Wherever work needs me, wherever opportunity exists, and the market is, I'll be there.
What is your proudest achievement?
Professionally – I founded Sino Jet as a newcomer to the business aviation industry; our management fleet has since expanded from 2 to 34 aircraft in just 6 years, and has now become one of the main operators in Greater China. The achievement I am most proud of is not merely this growth, but the team sprit we have built within the company. Our major focus in the last few years and in the year ahead is on creating a culture of excellence in the company.
Being elected as the first female Chair of AsBAA was also an incredibly proud moment for me. I am grateful for the recognition and support of the industry.
What goals do you still have?
I am still working towards creating a better work-life balance, that's a goal for me. I want the same for my colleagues; I hope for us to grow Sino Jet while enjoying our lives and making time for life outside of work.
"Professionally, I hope to bring Sino Jet to the international markets by continuing to promote a culture of excellence and ensuring we never compromise on standards."
Personally, I hope to continue to travel the world, collecting passport stamps for every country as I go. I also hope to do more volunteer work with children and senior citizens; helping people in need and giving a voice to those that are not heard.