Five-star finesse
Interviews — 06.03.18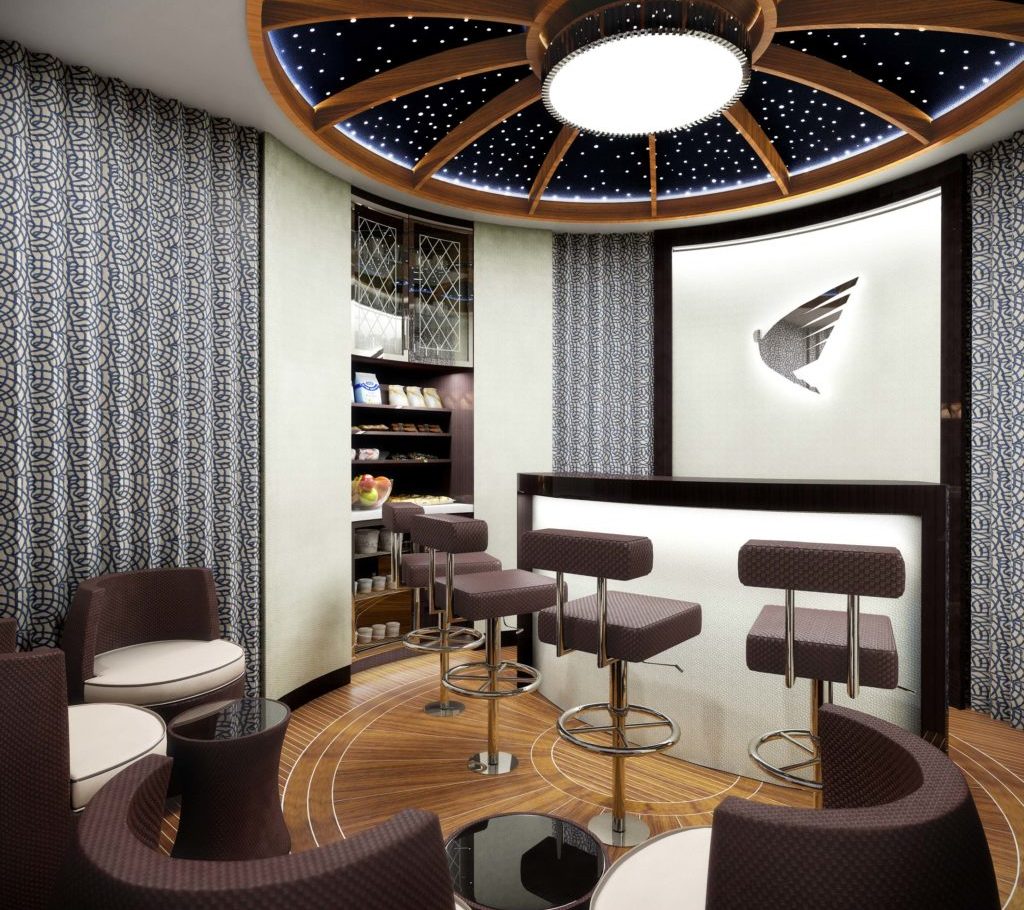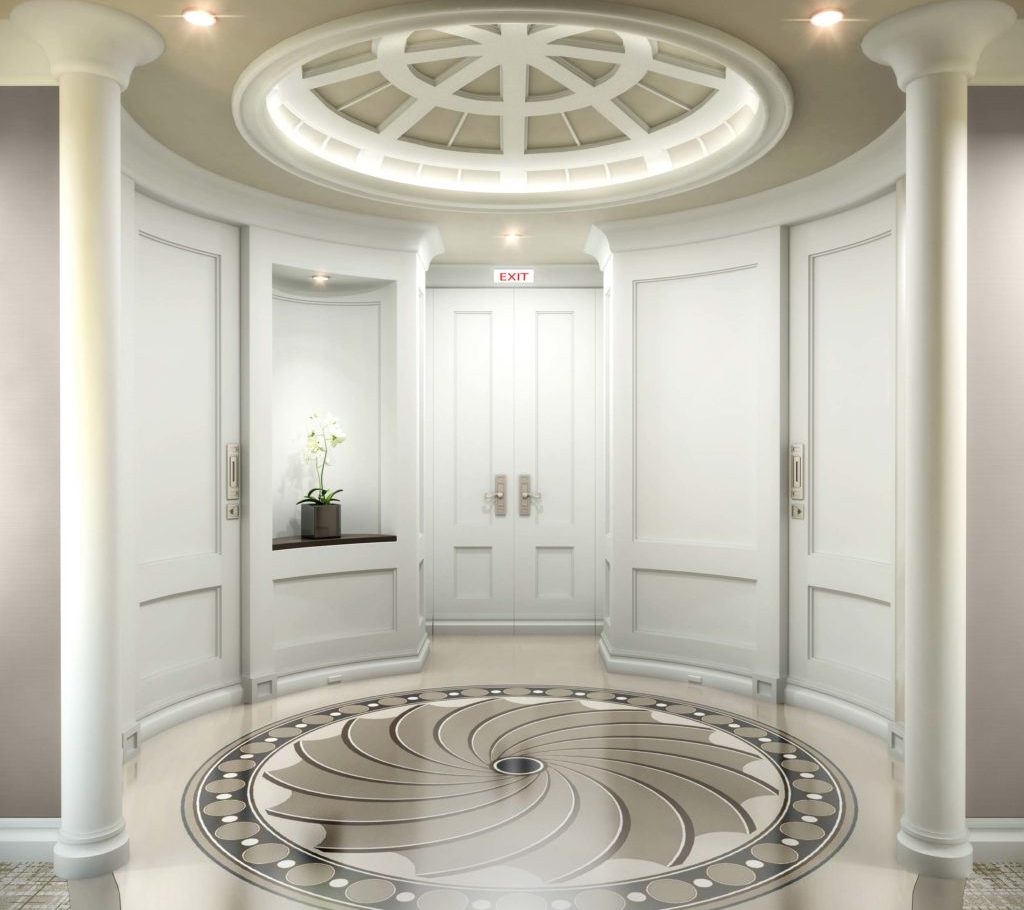 Flexible style
The team picked different design elements to make the most of the space available. Church said: "Our principal wanted the bathrooms to have a taste of Asian design. So you will find the bathrooms are very spa like. They have a very large custom shower, heated towel bar, and a very large dressing mirror and dressing table."
However, this is not her favourite element. She said: "What I love is the bedroom. First of all, it looks like a five star hotel. We have tried to make it appear as large as possible. You have the double king-size bed there, but it can also convert inflight into twin beds. And the operation is very simple and very quick. The cabin crew can literally go in there and within a few minutes have that broken down and converted into the two beds.
"The whole room seems a lot larger than it is, as we have used the light colours and the huge mirror, to make the most of the natural light. Then we have accented it with the dark wood to enhance the effect and make it feel solid and quality."
She added: "The other thing that I love about this is that we tried to do pieces that look like you went out, you bought this piece and you put it in the aircraft. So you can see our desk and our vanity and headboard look like you furnished the room yourself."
Although the design was created to suit many different tastes and cultures, the majilis-style seating area would certainly make Arabic clients feel at home. And the team is aware that the charter market for such an aircraft may well be all points East.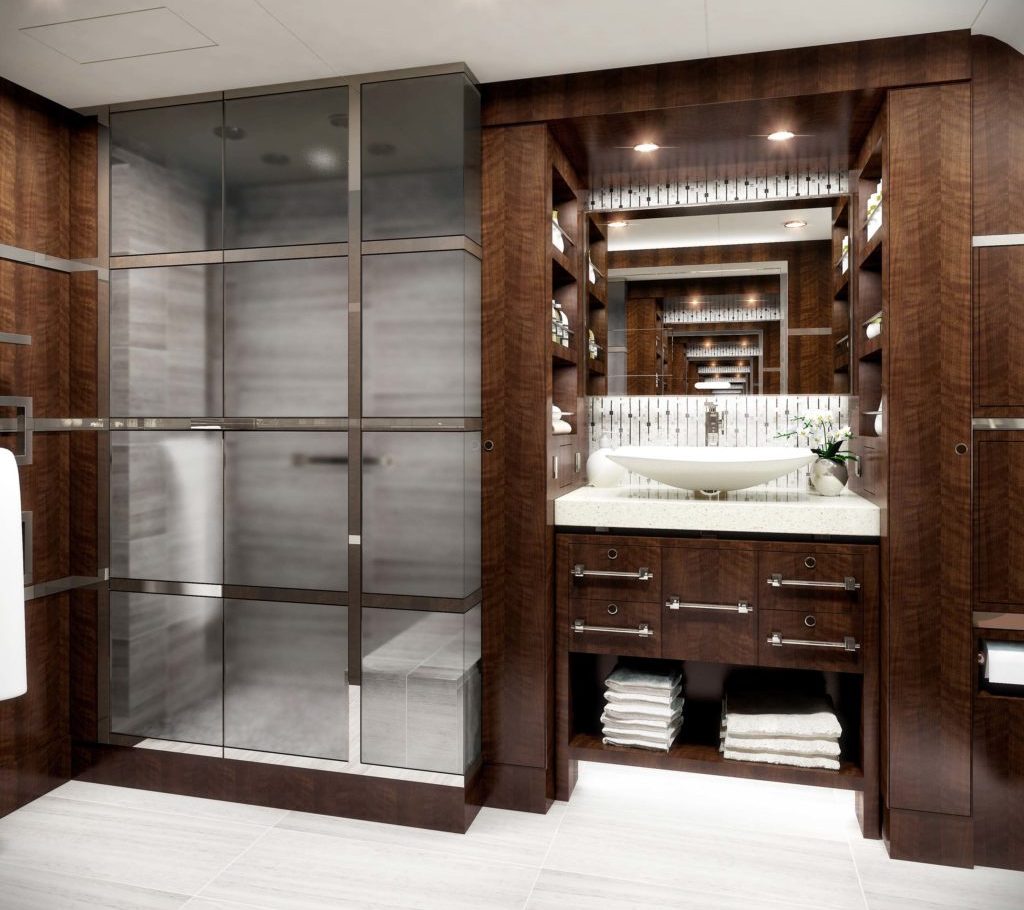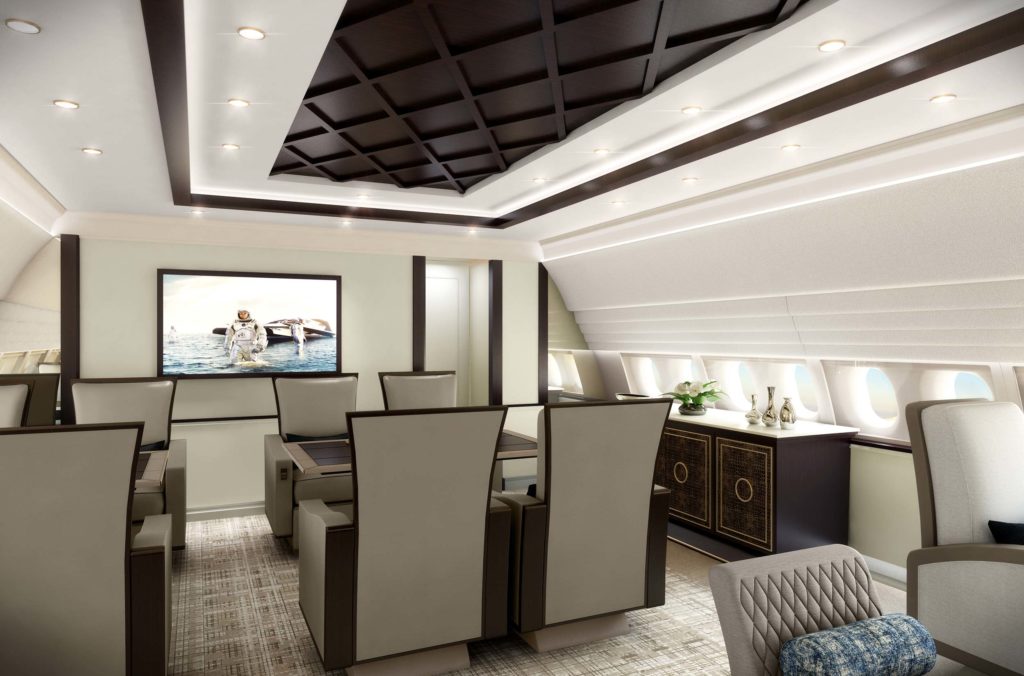 Church said: "We are not specifically gearing the aircraft to the Middle East, but we hope they will utilise it, and we are aware of the importance of privacy in the culture. There is a private suite, which we envisage could be used for family gatherings, possibly for the women and children, as some of the seating breaks down into beds."
The area off the suite offers a butler's pantry and a very large closet. There is lots of storage throughout the aircraft, which is seen as a priority for the Middle Eastern market.
Church continued: "We really tried to utilise every inch of this aircraft. We played a lot off the mirrors and trying to make the rooms appear larger than they really are. You wouldn't think that it was necessary on a wide-bodied jet, but amazingly, when you want to put so much into an aircraft, you actually do run out of space."
"We have a lot of great textures to give atmosphere. With many large luxury aircraft, they use a lot of veneer and heavier looking finishes. What we tried to do on this is to minimise that, and make it look like a hotel, or your home. You don't have just wood everywhere at home. So we added really wonderful textures on the bulkheads and walls, heavily textured materials to add another dimension to the look."
To create the spacious feeling, a wide variety of lighting is used. Church said: "We have used upwash and downwash lighting in the main areas and the corridors. The ceiling is fibre optics, made to seem like a night sky with stars. We have the toe kick lighting, and a lot of decorative lighting – wall sconces and lamps – all of it Comlux makes sure that they are all certified with the materials. We tried to make sure that everything was really durable and would meet the burn requirements. We have used a distinct motive, with a mirror behind, both to look attractive and again to add light and the illusion of space.
The design uses a range of faux elements, to give it a really luxury feel and appearance, creating fine finishing touches but without the weight of the original.
Church explained: "We have some incredibly talented artists in the Comlux completion centre, who create faux tiles that you would never know are not ceramic. Most of it is cut out using a CNC machine to inset a pattern onto an underlying substrate. We have an artist in house, who creates a stone effect on the substrate, and is currently working on the effect for the entry area. It is all about the weight and durability. It's stone, it's veneer, and it's semi-precious stone, all of it inlaid into the floor. The technique that he uses is just phenomenal."
For weight and safety reasons, the mirrors that appear throughout the aircraft are not real glass. With a wide body you are not as limited with the weight as you are with the narrow body aircraft, but the Comlux engineering department advised where weight could be saved and therefore fuel for the clients.
While the light colours feel very modern, the dark accents give the whole design a feeling of gravitas. Church said: "I would say it is transitional, because of the different textures we included. There are a lot of classic design elements to it, but there is a lot of things that we did that are very modern. There are not too many monuments and fussy detail."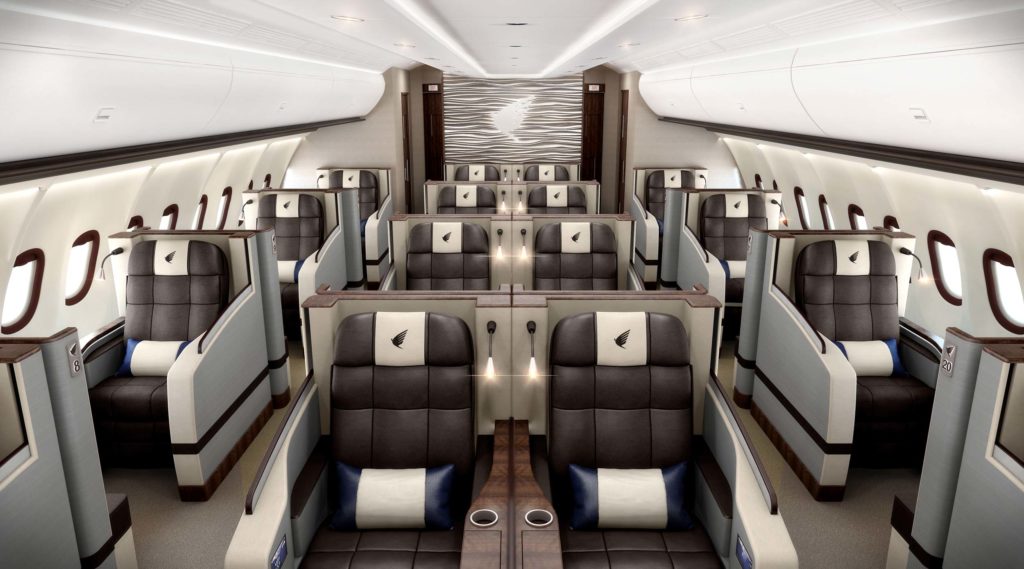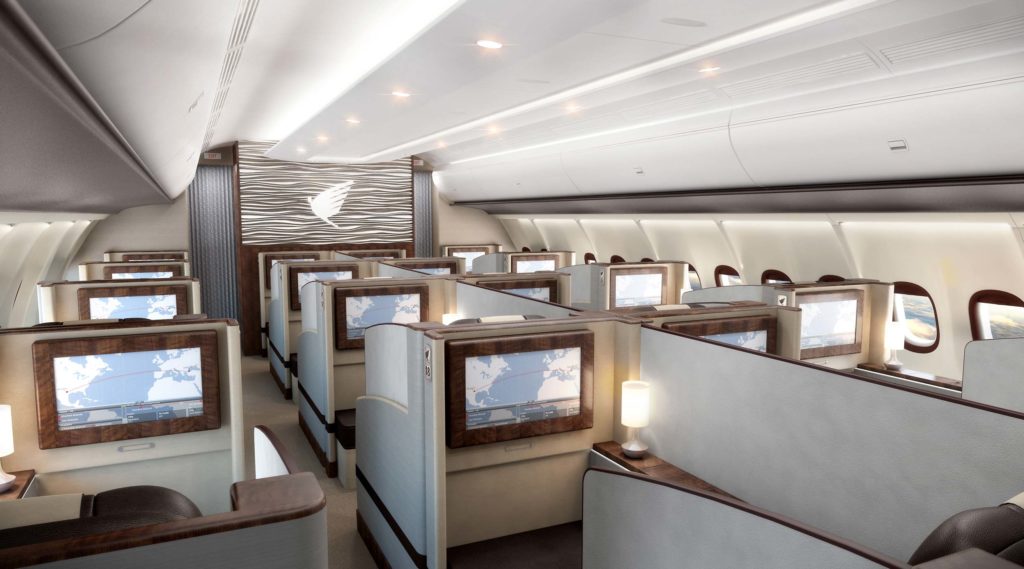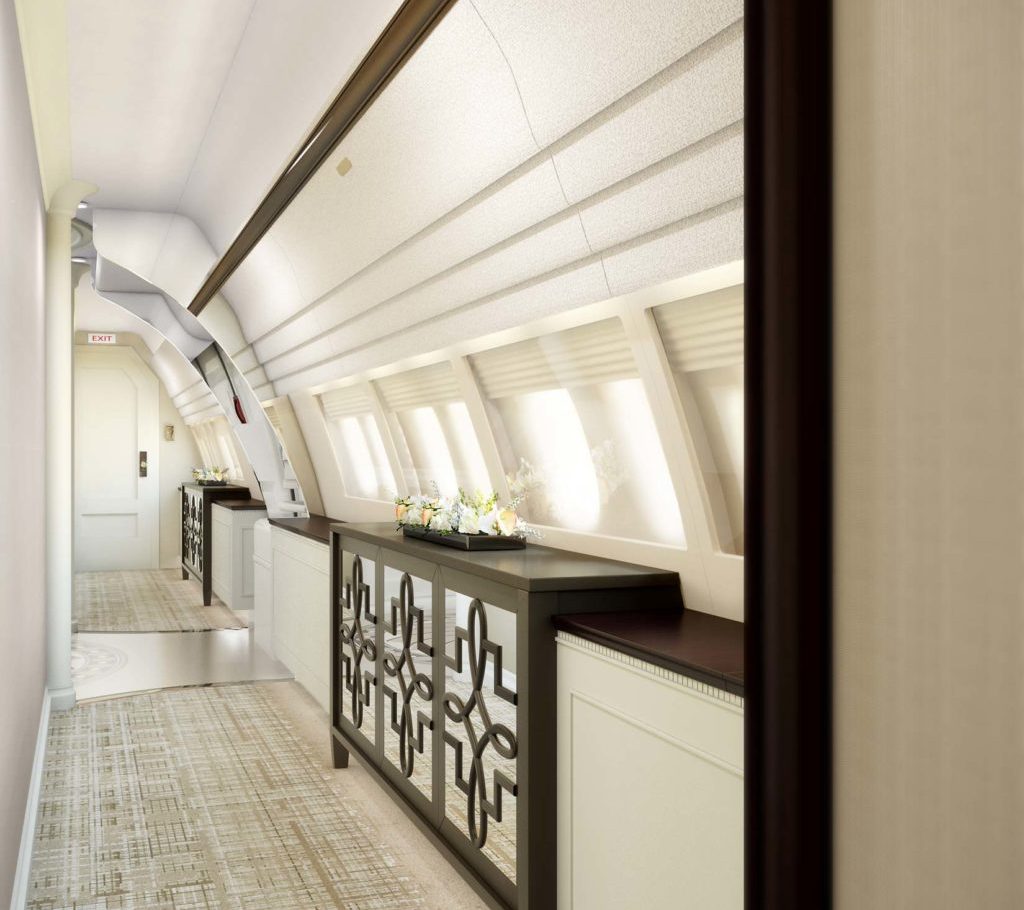 Challenge of charter
Because the aircraft is for charter it cannot be too extreme. It needs to appeal to everyone and offend no one, encompassing a large range of nationalities and individuals – including both the Asian and Arabian market, who enjoy large cabin aircraft.
"You have to work around everything. It may not look like it, but it is an aircraft, first and foremost, and safety is the most important aspect. Everything has to be tied in and anchored down. And I think we worked really well as a group to find a wonderful compromise between design and optimal function. We are really excited about finishing it."
This is Church's first wide-bodied aircraft for Comlux, and she has really enjoyed the experience. She said: "It does bring different challenges – being for charter, and a wide body. What I really appreciated about this was that there are so many people within the Comlux community that actually reviewed it and critiqued it, and we tweaked it. It morphed into what it is. It was not just an aircraft design that was presented complete. It created itself, out of several renditions, so that in the end you really get a great product.
"The thing I find most difficult in the design process is the decompression aspect and making sure that while we comply with the decompression rules, but we don't let it affect the overall look of the interior. When the aircraft decompresses, a lot of times the overhead panels will drop. They might blow air from the floor. In this case, some of these compartments needed to have air blown into them really, really fast. So that meant that the engineering team wanted to put huge holes into the bulkheads. So we had to work around that, disguising the holes – to make it efficient, but also attractive.