Habtoor Palace, Dubai
Destinations — 29.11.18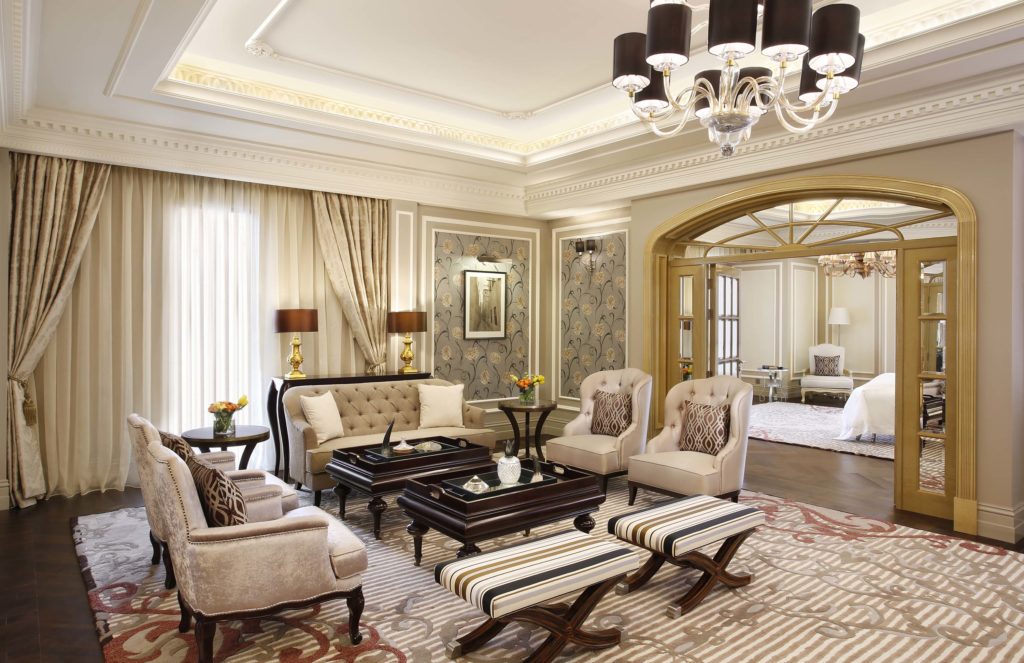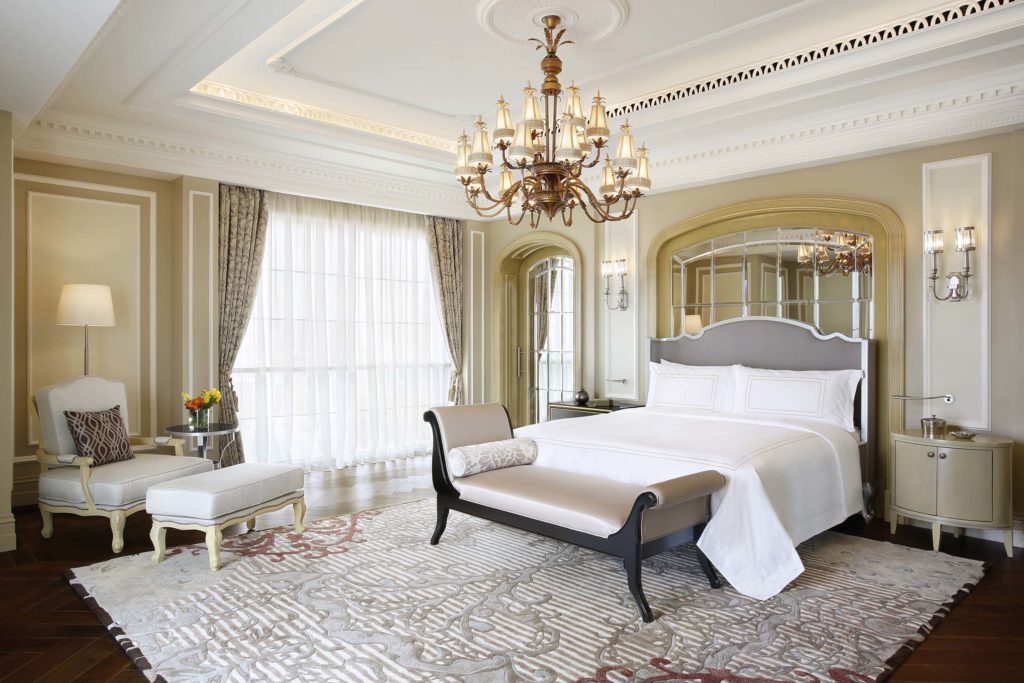 Neo-classical
The hotel pays homage to French architecture and neo-classical interiors with sprawling 'à la Française' gardens and an impressive 'porte cochère' and lobby. Plush interiors, accentuated by bespoke elements such as a striking grand staircase, outlandish chandeliers, carefully curated artworks and a spectacular mural inspired by a vintage Bentley, create an impressive setting, not unlike some of Moscow's largest hotels.
The 234 lavishly appointed guest rooms including 52 opulent suites offer abundant comfort in palatial style. The Sir Winston Churchill Suite spreading over two floors is located in the central dome of the building and features 3 bedrooms, a rooftop plunge pool, a living room, a dining room, a study, a lounge area and a spacious majlis.
As a reference to the Group's Al Habtoor Motors, which owns and operates the world's largest Bentley Motors showroom on Sheikh Zayed Road, the hotel also houses the custom-designed one-bedroom Bentley Suite, the first of its kind in the Middle East. Inspired by the bespoke craftsmanship of the Bentley Mulsanne, it draws on signature touches from the iconic car company's vehicles.
Wood furnishings, herringbone-patterned curtains and handcrafted leather detailing, including the entry foyer's black leather floor tiling, offset the suite's streamlined aesthetic.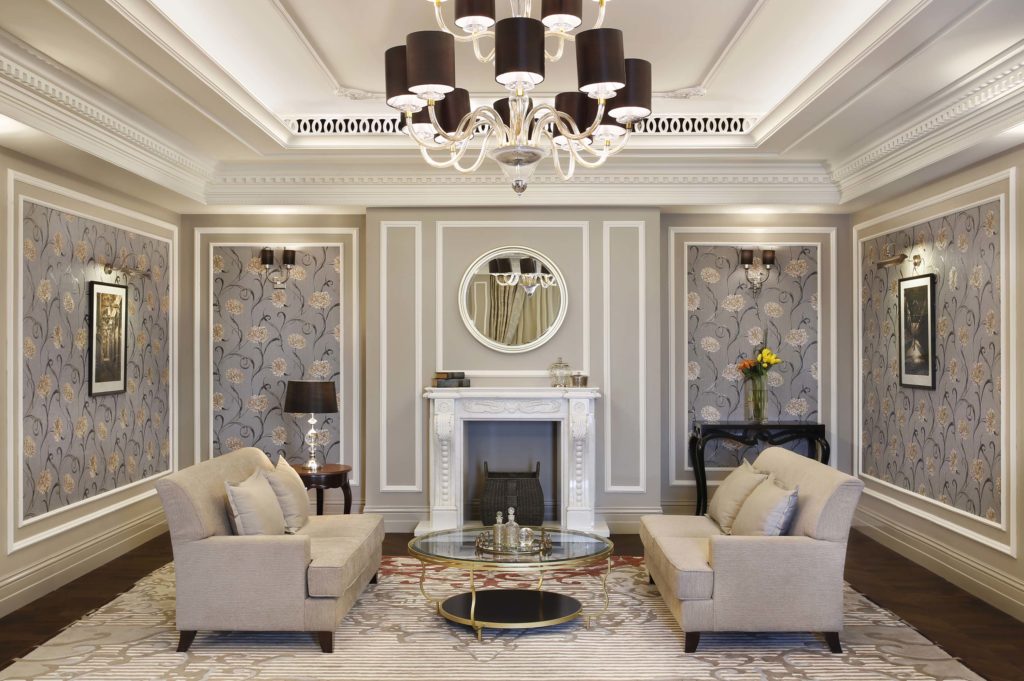 A tale of the Middle East
Habtoor Palace tells the story of a well-educated, visionary businessman who has travelled extensively around the world and brought back art and objects that tangibly represent his journey. This virtual character originally from the UAE, would have spent time in India, Singapore, China, the Mediterranean and Africa. He has absorbed the richness of these cultures and taken them back to his home to share the beauty of vision with his own guests. His eclectic art collection includes photographs from Africa, street art from Asia, and many iconic codes to the UAE – the desert, the Bedouin on horseback, the UAE national bird – the falcon, Arabian horses and saluki dogs.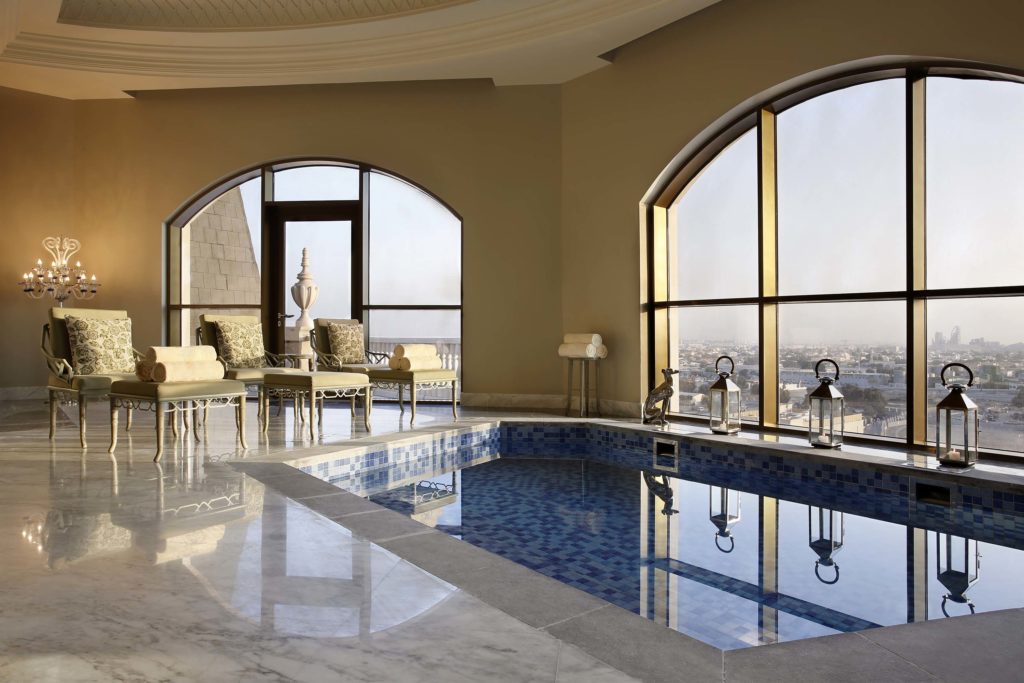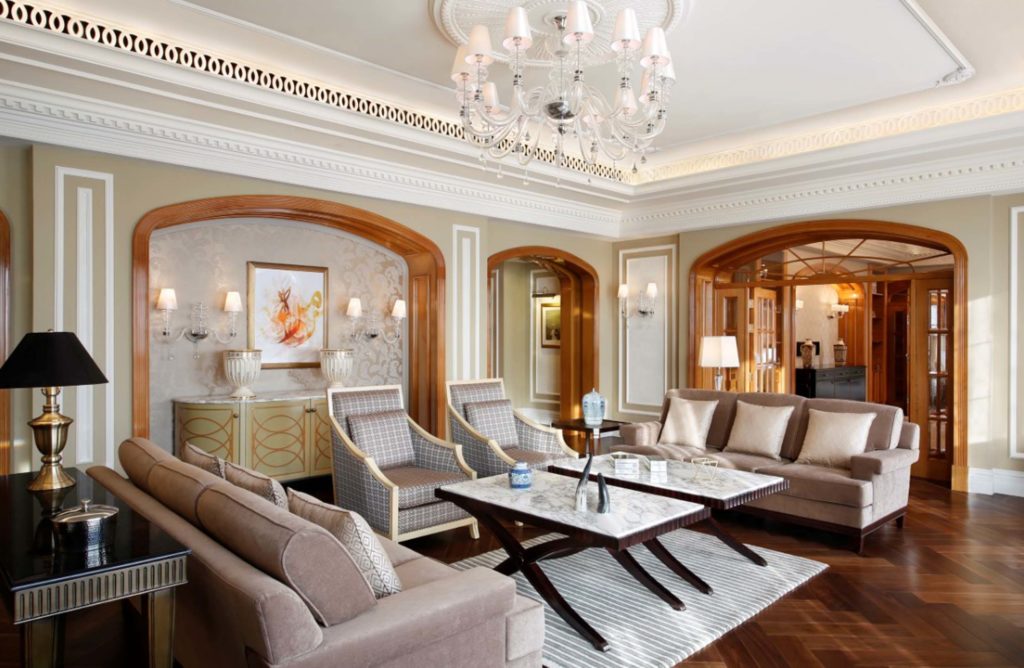 Fine Dining
Habtoor Palace offers multi-experience dining in eight distinctive venues from exclusive Champagne lounges to al fresco courtyards, chic poolside cafes and rooftop gardens. Dark woods and leather furnishings set a glamorous tone at the World Cut Steakhouse, serving American classics with a modern flair. BQ, a modern interpretation of a French 'brasserie', serves redefined French favourites, and then there is the patisserie next door, to indulge in fresh pastries. The signature Polo Bar, styled after classic New York bars, is renowned for its variety of cocktails, cigars and light bites.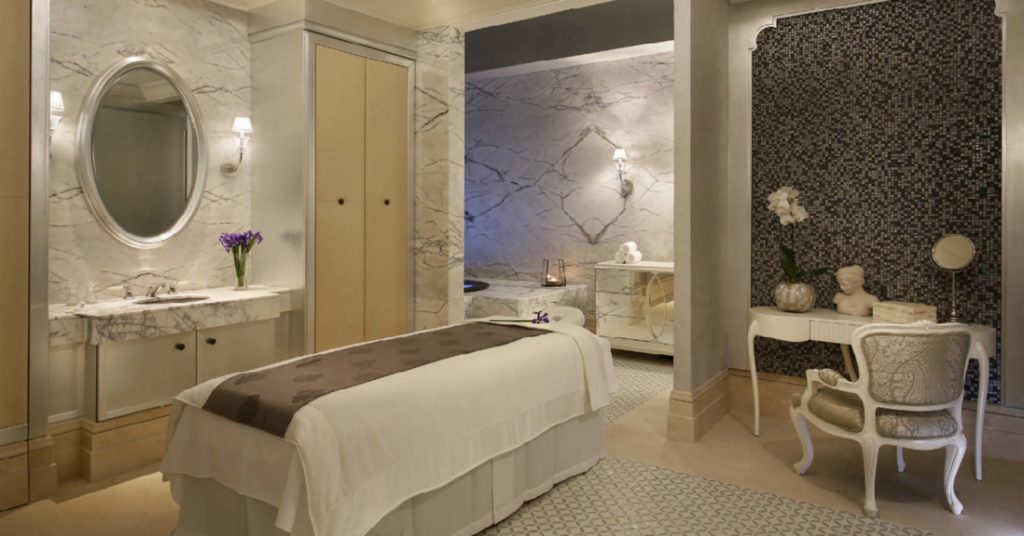 Silk Spa
This is the place to indulge in a sensual spa journey with transformative treatments and thoughtful rituals. The Silk spa offers personalized and signature treatments with ESPA products and is home to six treatment suites, steam, sauna and men and women steam rooms, and a 24-hour fitness centre. The Roof Gardens, just steps away from the two outdoor pools, are fitted with daybeds and cabanas in a relaxing setting of lush greenery.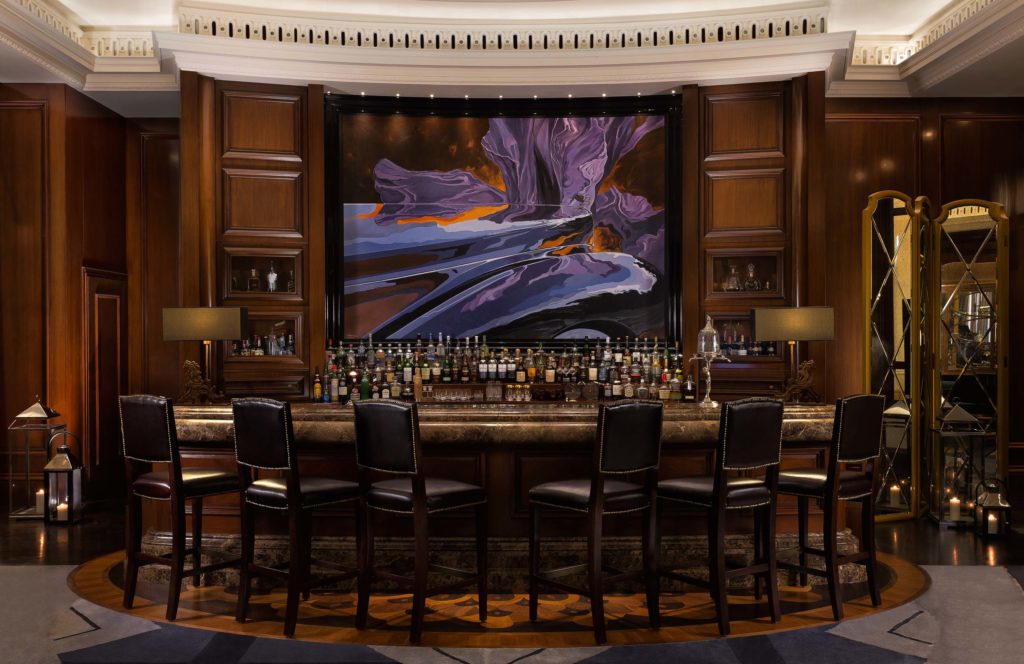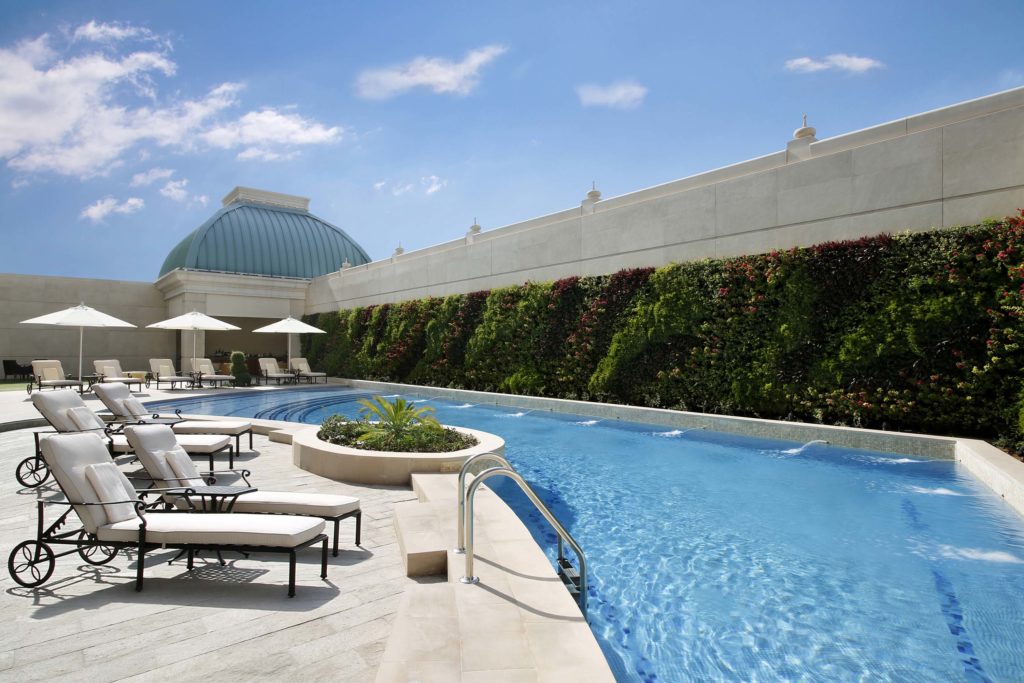 Grandiose venue
The Al Habtoor Ballroom is a grandiose venue for iconic celebrations and bespoke events. Set against the spectacular Dubai skyline, lush and expansive gardens create an unparalleled setting for magical soirees.