Enter the virtual world of design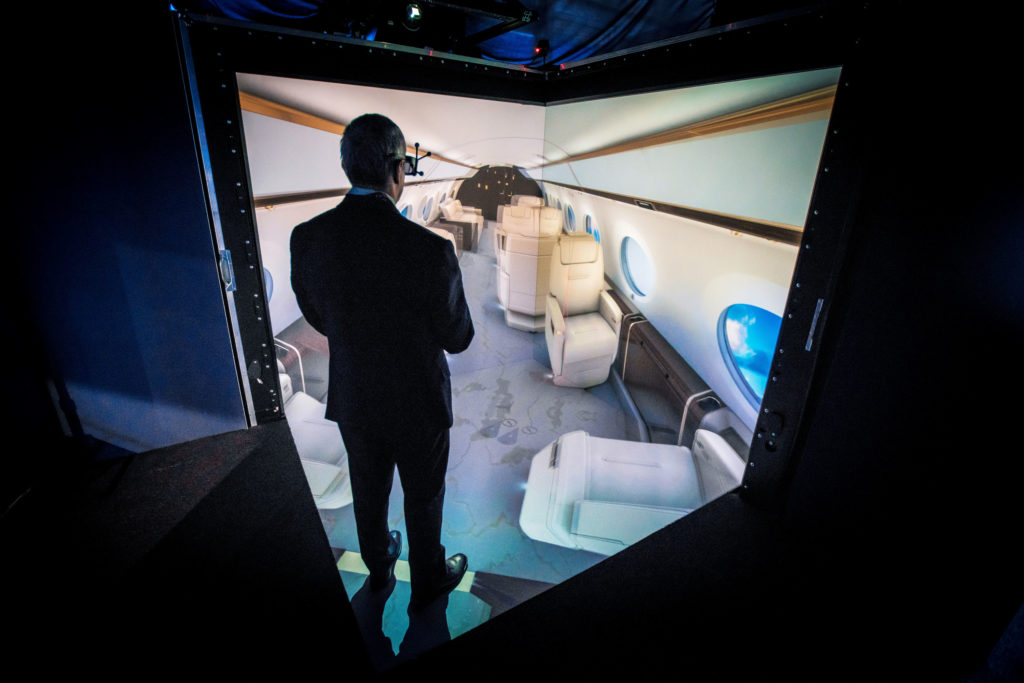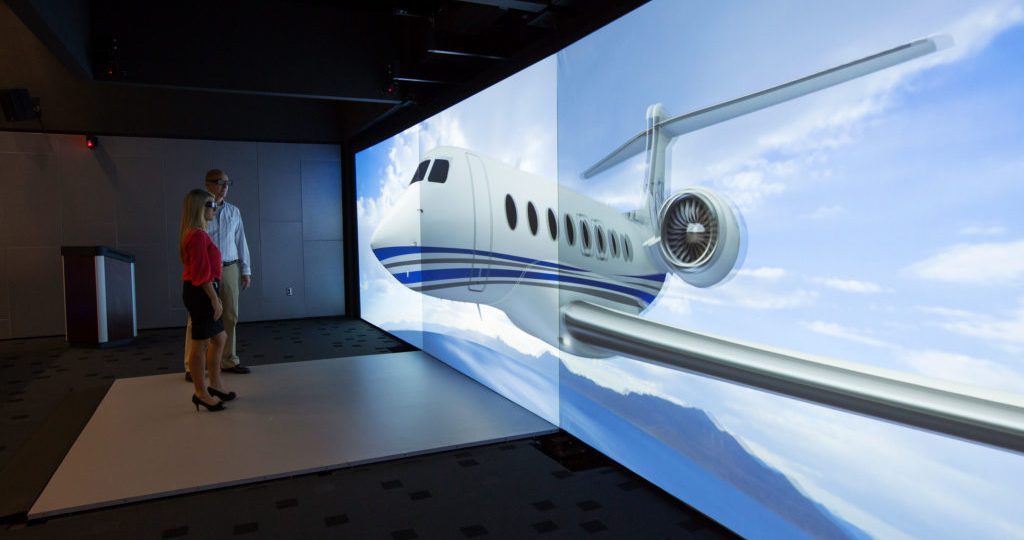 The CAVE is essentially a box-shaped room where three walls and the floor are high-definition video screens. The customer puts on a pair of special 3-D glasses and stands or sits in the centre of the space, and the room becomes a Gulfstream cabin. A hand-held controller allows the user to move around the interior, open and close drawers, extend and stow tables, even manipulate environmental controls. Users can also change seating configurations, materials styling and colours at the touch of a button.
Estrada explains: "This is based on actual engineering data, so nothing is invented, or 'Photoshopped'. We gather the engineering data from our database. We take the exact seats from our CAT system. We take that raw data and convert it into our Deltagen software. At that point, we start creating the simulation. We start texturising it and bring in all the illumination. We bring the simulation to a photorealistic level second to none, built on a one-to-one scale, with all the spaces are exactly where they are supposed to be and the correct height, width and length."
Further, the CAVE experience is interactive. Gulfstream CAVE specialist Fernando Toledo explains: "It is not just static, it has interaction. That is what is unique, this ability to interact with monuments inside the aircraft."
It is an extraordinary experience. With your VR headset in place and a minute of explanation you find yourself in the cabin of the jet you have designed. Enter the galley and you can open and close the cupboards and drawers to examine the glasses, crockery and storage spaces. And you will see the depth of each draw, how far it intrudes into the galley space, the arc of the cupboard door. Nothing is left to guesswork, or even your imagination.
You can walk down through the cabin, looking around bathrooms, or offices, changing seats into beds, and truly feel you are on an aircraft.
Toledo talks us through the background: "This is a projection based virtual reality, with a head mount display that takes in to account your height and point of view. It is a new thing for Gulfstream customers, but the equipment is actually six years old. It started as primarily an engineering tool, for our internal customers – the engineers. We used this for the development of the G500 and G600 and in several critical design profiles, to evaluate a shape, to evaluate aesthetics and functionality.
"Our main goal was to try to eliminate, not completely because in the aviation sector you cannot do that, but as much as possible, eliminate the number of physical mock ups. We wanted to interact in the virtual world, and then when everything is correct, do it right the first time in the physical mock up,"
The CAVE and VR Cabin Experience also provides the user with a better sense of special features that aren't present in Gulfstream's physical cabin mock-ups or demonstration aircraft, such as a shower in the lavatory, or other custom items than can be added to the software.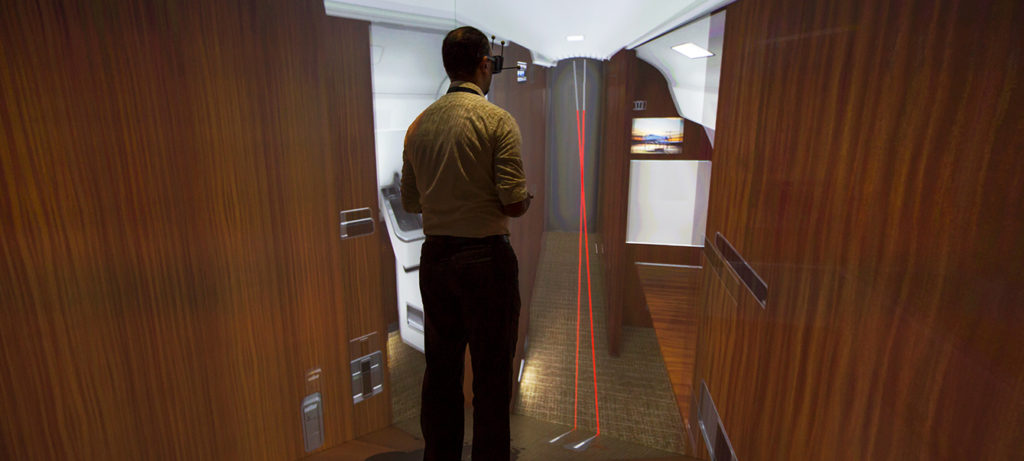 Once created, however, the design is static. Customers are not able to change the configuration while inside the virtual cabin.
Estrada explains the limitations: "There is no way to create three-dimensional models in real time. It is necessary to have the feed of the full 3D data. In Gulfstream's case we have thousands of engineers creating 3D every day. And it is not just from the interior design point of view, but everything behind that, it is for system integration. For the airframe and all the systems – hydraulic, electrical etc – and all monuments, everything behind the cabin.
"We have the initial phase and the final phase. The initial phase is the airframe and the aircraft itself, and the final phase is the completion. This technology addresses both phases."
How long each simulation takes to create depends on the complexity of the design. For a brand new interior, for which there is no equivalent, it can take two weeks. A variation on a similarly configured cabin could take just hours. Given that many configurations are similar, and that Gulfstream has built up a library of designs, it is usually the shorter time.
Estrada says: "We have been doing this for so long that we have a vast library, and that allows us to have a very quick turnaround for something so complex. So from the customer experience perspective, you can be in the Design Centre in the morning, picking your materials, picking your configuration, picking the seats that you want, and because we have such a vast library ready to go, all we have to do is grab all your selections and download them into an existing simulation. By that afternoon or the following day, we have a simulation ready to show you. Not just any simulation, your unique simulation custom made to suit only you.
While the CAVE is an individual experience, it is also designed to encourage collaboration and can also accommodate larger groups, with some adjustment.  "It is limited in space. You can only have three or four people in collaborating at any one time. So when we have more than five people needing to work together, say we have 15 people that we want to go and review something – or we are showing a customer who has brought a huge entourage of people, we open up the cave and make it into a huge screen that we can project this 3D environment onto. It is not as immersive as the cave, but it will still be three dimensional, stereoscopic vision, and that in itself is a beautiful experience. So anytime we have a lot of people in the room, we just go ahead and open up the cave, because we need to show everybody the experience."
It has certainly proved popular with customers. "By sitting in the CAVE and seeing the cabin around you, you understand much more easily and quickly what design choices work visually," says Scott Neal, Senior Vice President, Worldwide Sales, Gulfstream. "That allows for greater personalisation and a higher level of customer satisfaction."
"It is not just static, it has full interaction. This is what is unique about the CAVE, this ability to interact with all the monuments you encounter inside the aircraft."
Down to earth
Dassault also offers clients a virtual reality design experience. While less immersive than the Gulfstream CAVE, and not able to offer the fine details of interactive monuments, it is adaptable, intuitive and fun for potential customers to use.
Pascal Joyet, Project Manager at the Virtual Reality Centre of Dassault Aviation, explained: "The system uses a virtual reality 3D headset and an application to immerse you in the Falcon Experience, so you can try the different floorplans and the different colourways available. We do not have all the configurations possible, but have the whole range of colour schemes, carpets, seats and wall coverings. It is an advanced configurator that uses CAD data provided by the design team."
Equipped with a very wide library of materials and options, the configurator proves to be an excellent decision-making tool for the customer who can create an instantaneous final rendering of his future aircraft.
For Joyet, one of the advantages of the system is that it is so light and portable. "It is simply a computer, with two or three cameras and one or two headsets. Our designers can take it to the offices of the customer, at their convenience, and let them experience it."
With the Falcon Experience, you control your environment with your hand. Waving to produce a menu and then selecting different options. Clumsy at first, it takes only a minute or two to develop a simple proficiency, and have the pleasure of changing carpet and seat colours, adjusting lighting options, inserting and removing bulkheads and redesigning at the flick of a finger.
As well as your own hands, you can also see your companions in the simulation, and are able to move around the cabin by motioning over set points.
While a less immersive experience than the utterly precise Gulfstream CAVE, it is simple to use, fun and certainly helps any potential customers get a feel for their aircraft interior design.