COOL RUNNINGS: DASSAULT AVIATION'S FALCON 6X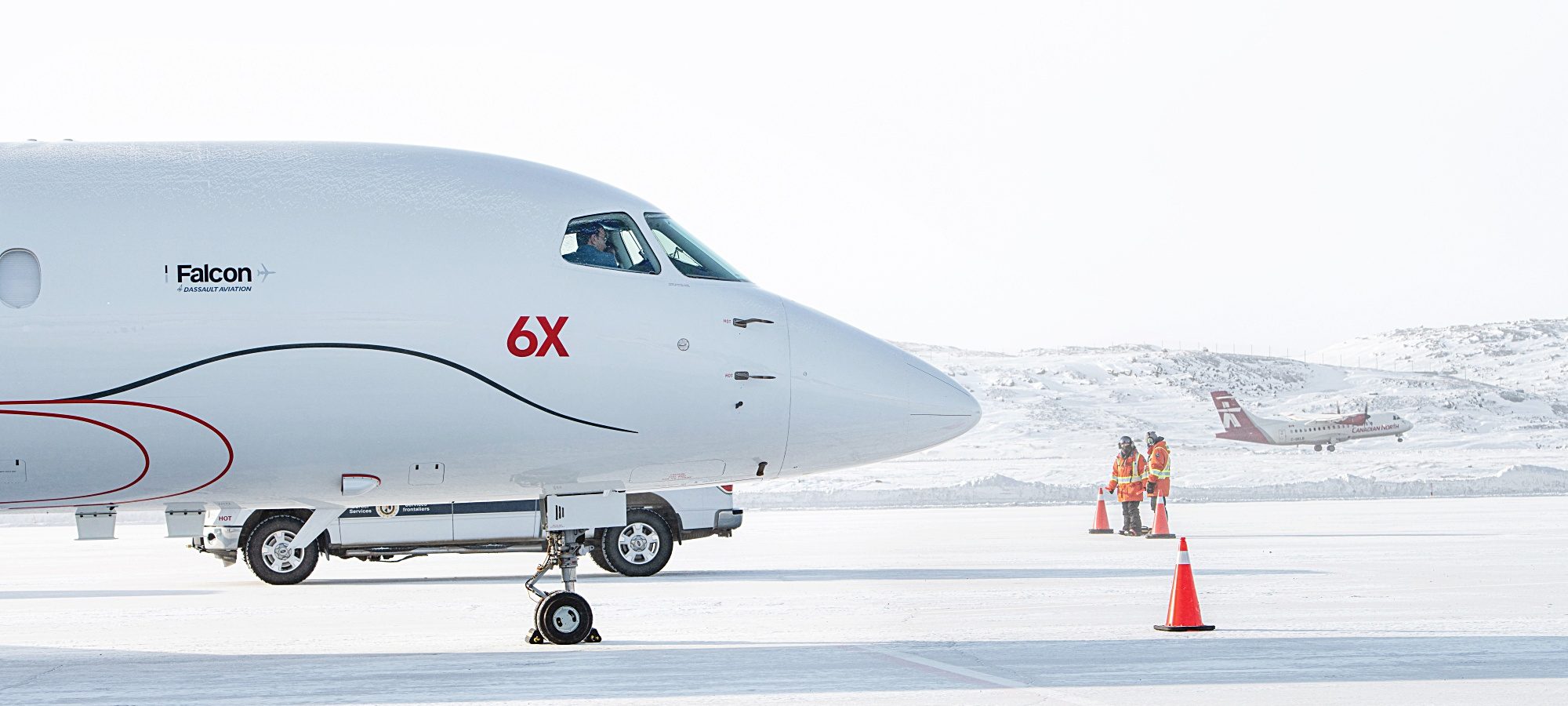 Dassault Aviation's Falcon 6X hits completion centre and cold weather testing milestones on its way towards certification.
It's been a busy start to the year for Dassault Aviation, as the French company has completed a number of test and assembly achievements on its 6X project. After announcing the ultra-widebody twin aircraft in February 2018 (after the cancellation of the 5X project due to multiple delays in the development of its Safran Silvercrest engines) work began on a new Pratt and Whitney PW812D engine programme.
Assembly of the Falcon 6X engines and nacelles was done in parallel with aircraft production, followed by an initial airborne test aboard Pratt & Whitney's Boeing 747 testbed aircraft. By February 2019 the 6X's PW812D engines had accumulated 120 hours of flight tests and by May 2019 the advanced engines had reached 1,000 hours of test time.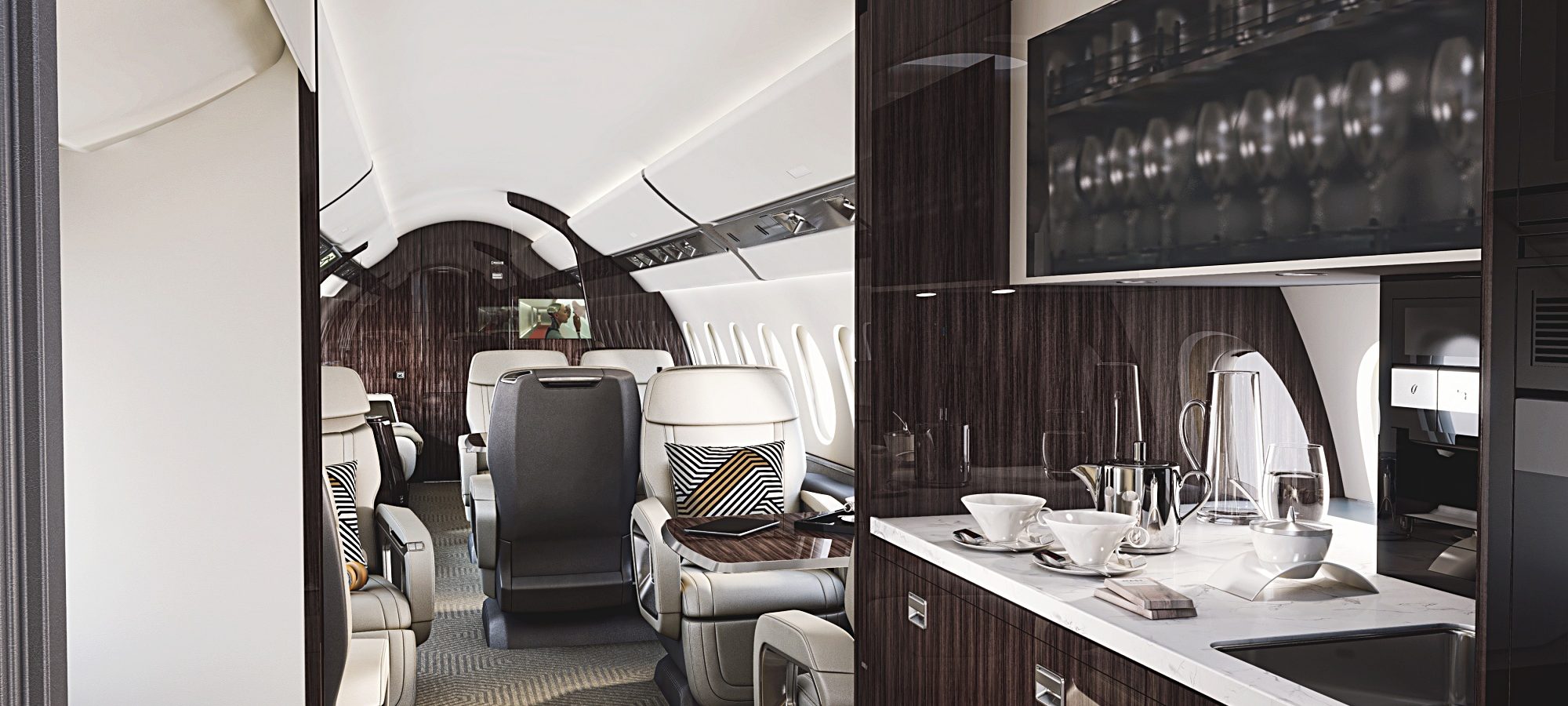 The PW800 series exceeds ICAO standards for NOx emissions by a double-digit margin and generates ultra-low levels of unburned hydrocarbons and smoke. The PW812D will meet future CO2 regulations and achieve Stage 4 noise requirements with significant margin.
Ground testing on the first Falcon 6X included electric, hydraulic, and fuel system runs, along with ground fatigue and damage tolerance testing. While the second flight-test 6X was assembled, the third aircraft was earmarked to receive a full interior to evaluate systems functionality, acoustics, airflow, comfort and other factors. Interior furnishings, environmental systems, electronics and other equipment were tested on a ground test rig prior to installation on the aircraft.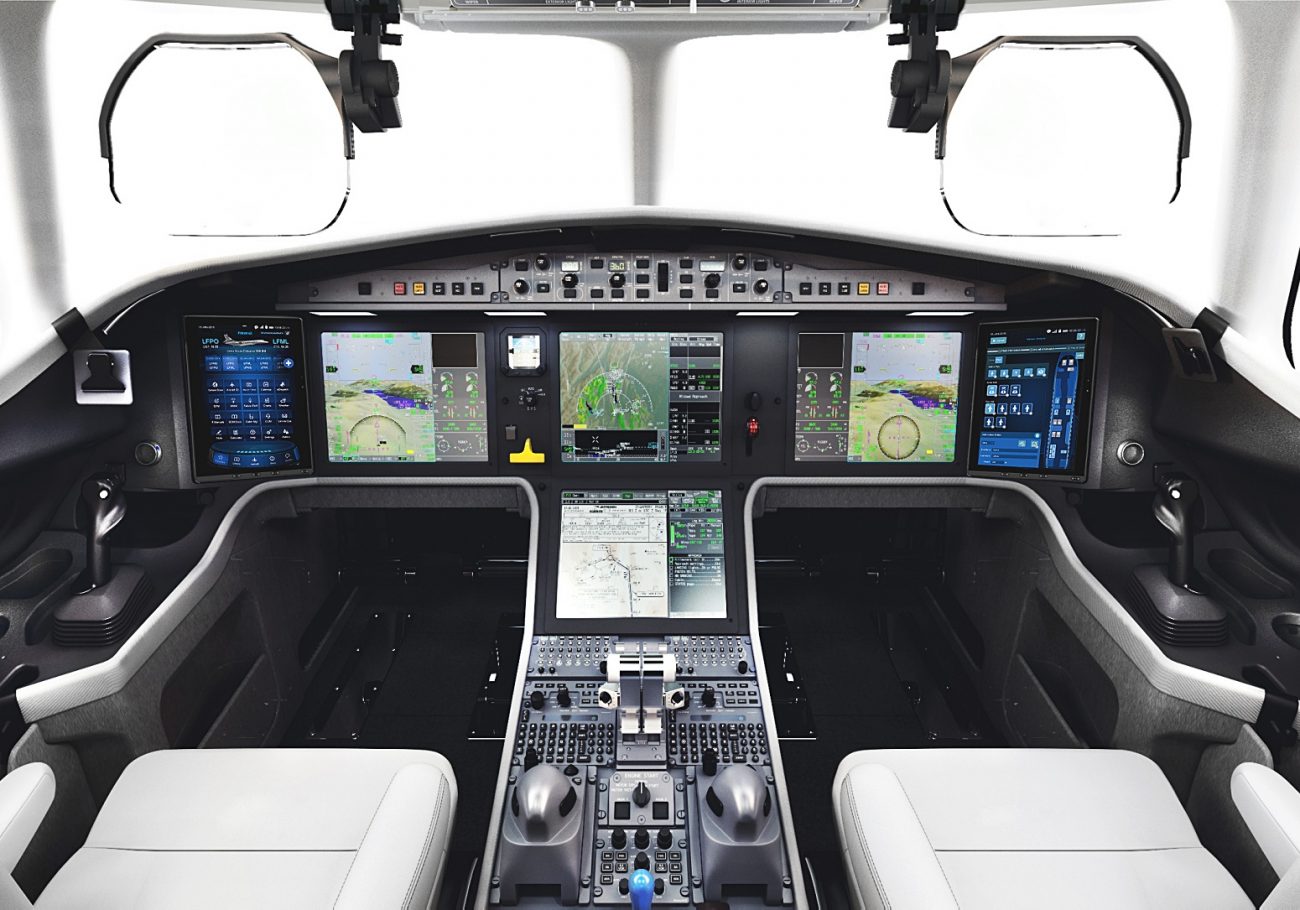 INTERIOR SOLUTIONS
Dassault welcomed the first production 6X to the Falcon completion center in Little Rock, Arkansas on January 31st. Little Rock's teams had been preparing for months for the arrival of the first Falcon 6X with new engineering solutions aimed at accelerating the completion and delivery cycle. A dedicated technical response team performed robustness and cycle testing on equipment and components in the preparation of manufacturing. Engineers have also designed processes that will allow "one shot installation" on interiors, further reducing completion time.
"The arrival of the first Falcon 6X at Little Rock marks a very positive milestone in this program," said Eric Trappier, Dassault Aviation Chairman and CEO. "Our teams have been working tirelessly behind the scenes to prepare for 6X completion and we are benefiting from very good momentum as we move towards certification."
The 6X will set a new industry benchmark for cabin comfort, long-range performance and flying efficiency, with the largest cabin cross-section of any purpose-built business jet. The cabin is the highest and widest of any purpose-built business jet. It is 1.98 metres high, and 2.58 metres wide, giving a greater feeling of space. Interior layout options include a large entryway, a crew rest area, and a spacious rear lounge, offering greater privacy, especially on long overnight flights the aircraft is capable of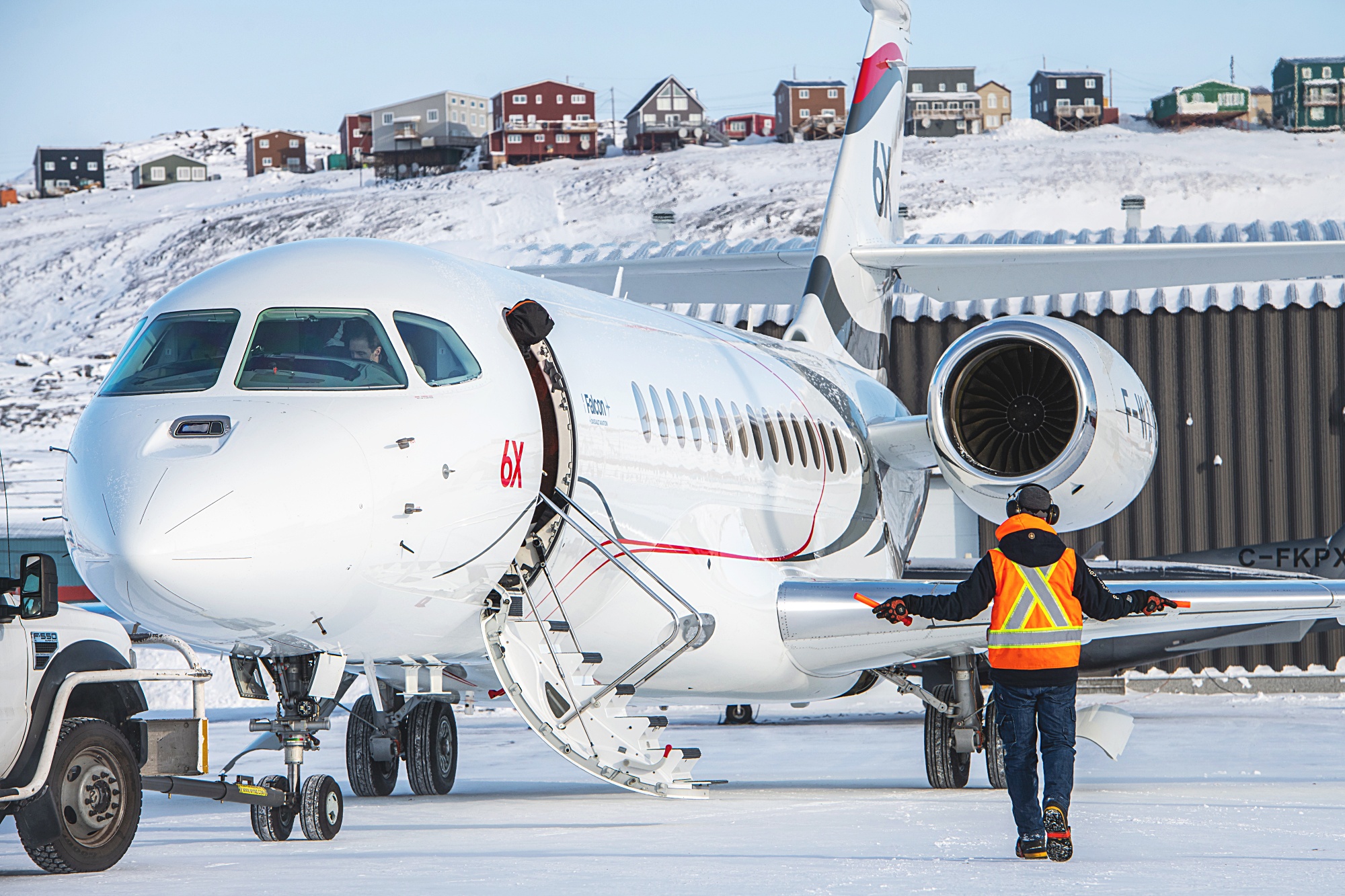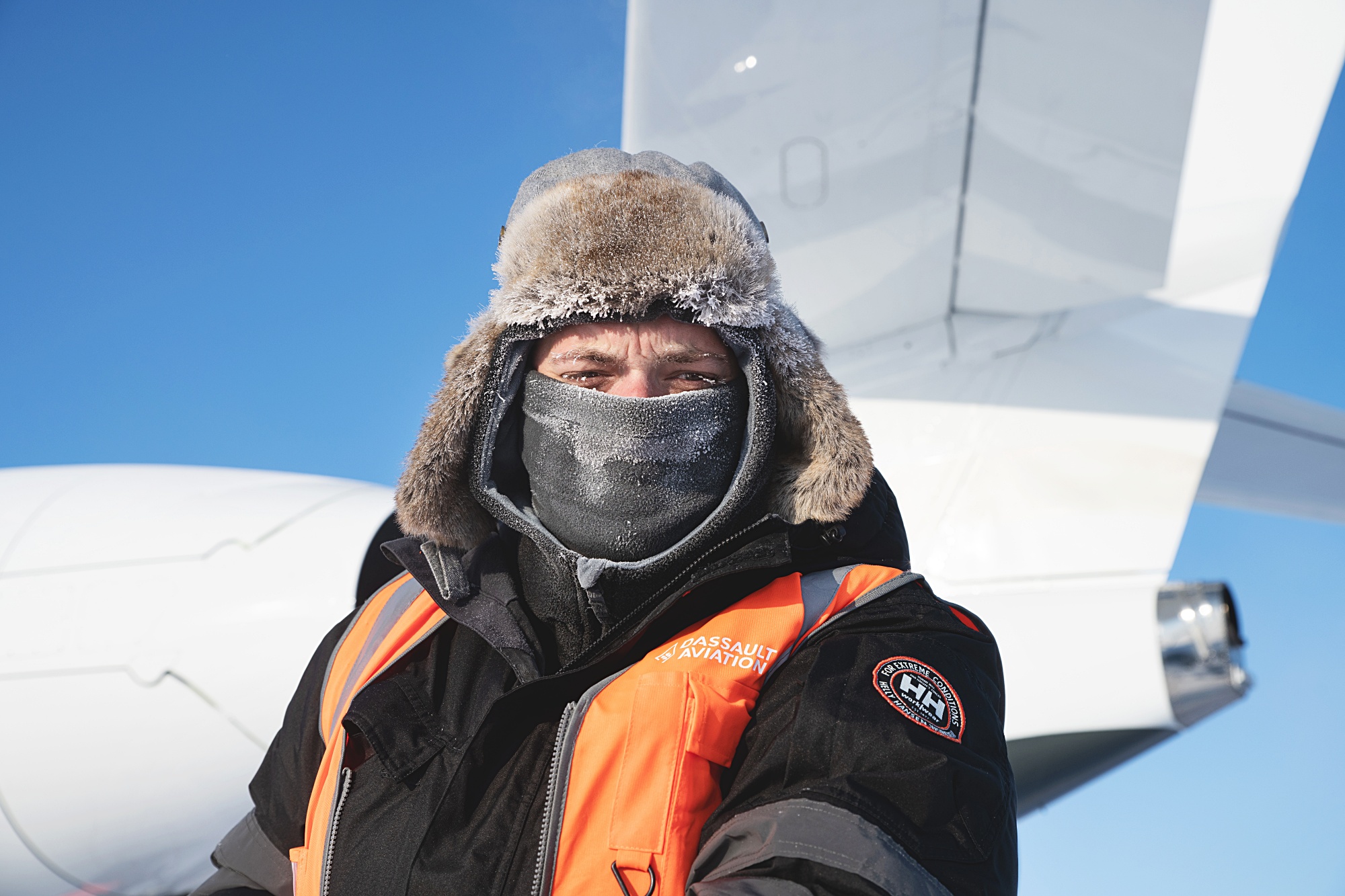 It is 12.30 metres in length, offering 12-16 passengers individual seating in three separate lounge areas, with an interior design that is garnering awards and praise before it has even rolled out, having recently won the prestigious International Yacht & Aviation Award for interior design.
"This prestigious award reflects the innovative manner in which our in-house Design Studio conceived the Falcon 6X cabin, which entailed going well beyond simply improving the aircraft's interior decoration," said Trappier. "With extensive input from customers, our engineers rethought the entire interior design process, employing a sensory design approach that will completely redefine the passenger flight experience."
The Dassault sensory design approach uses air, light and sound in innovative ways to maximise the health and wellbeing of the passengers. This approach played a key role in selecting materials, textures and finishes, laying out furniture and furnishings, defining interior lighting and colour schemes and designing cabin contours of the new 6X.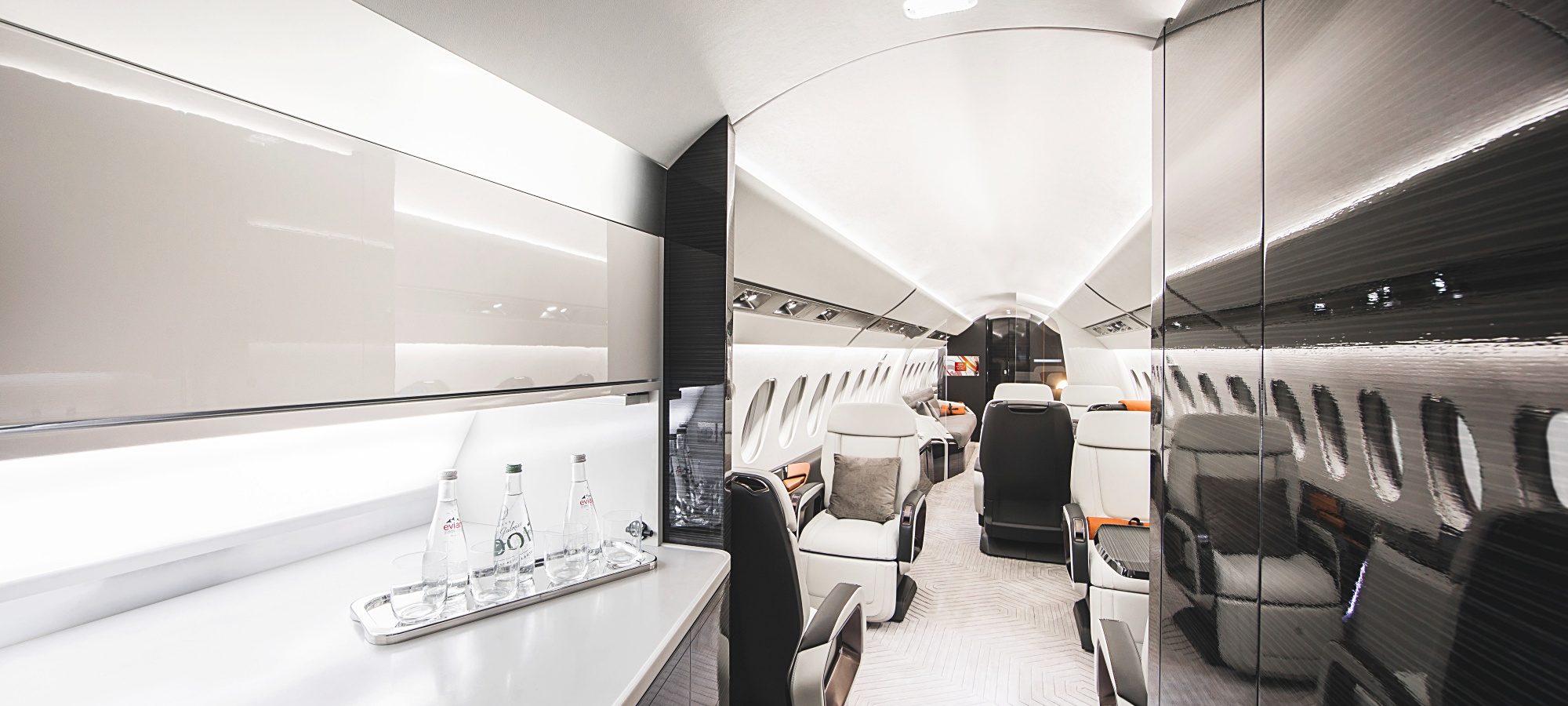 The cabin's flowing uninterrupted lines, innovative furniture design, flush surfaces, and recessed technology provide a cosy, clutter-free interior, designed to enhance the feeling of spaciousness and encourage productivity and relaxation during the long intercontinental trips this aircraft can undertake.
Upholstered areas throughout the cabin are covered with micro-perforated fabrics, woven textiles and 3D fabrics designed to offer protection from microbes and absorb sound. Materials and finishing are optimised to absorb or reflect light in a way that ensures a soothing, pleasant ride. Smart-control mood lighting varies colour patterns in accordance with the type of activity, time of day and season.
Passengers sit in an ergonomic 'cocoon' where all electronic functions are within easy reach. Recessed controls are movement-sensitive, lighting up when a hand is near and dimming when not required. Side-panel charging pockets accept personal devices of all types and sizes. Patented retractable arms are available to hold tablets, making it simple to watch a movie while dining or make notes during a video conference.
The cabin has 30 extra-large windows with nearly 5,000 square inches of glass – more than any other aircraft in its class — filling the cabin with natural light, and providing extensive views of the ground below. An overhead skylight, the first in business aviation, illuminates the normally dim galley area.
Like the Falcon 8X, the 6X will be the quietest cabin in the sky. Cabin air is refreshed continuously for an environment that is 10 times cleaner than today's most advanced office buildings and "cabin altitude" pressurisation is maintained at a comfortable 1,189 metres, (3,900 feet), when cruising at 12,497 metres (41,000 feet).
Passengers would rather lose an engine than lose their connection to the world, and the 6X cabin comes with high-speed connectivity system solution ensuring seamless in-flight communications and high-speed access to the Internet. Connectivity service options include Ka-Band network that allows even faster and more consistent data speed. The cabin will also come equipped with new in-flight entertainment and communications network technology designed to distribute crisp, high-definition audio and video content throughout the cabin. Passengers have total command of cabin functions in an easy-to-use mobile app or cabin interface.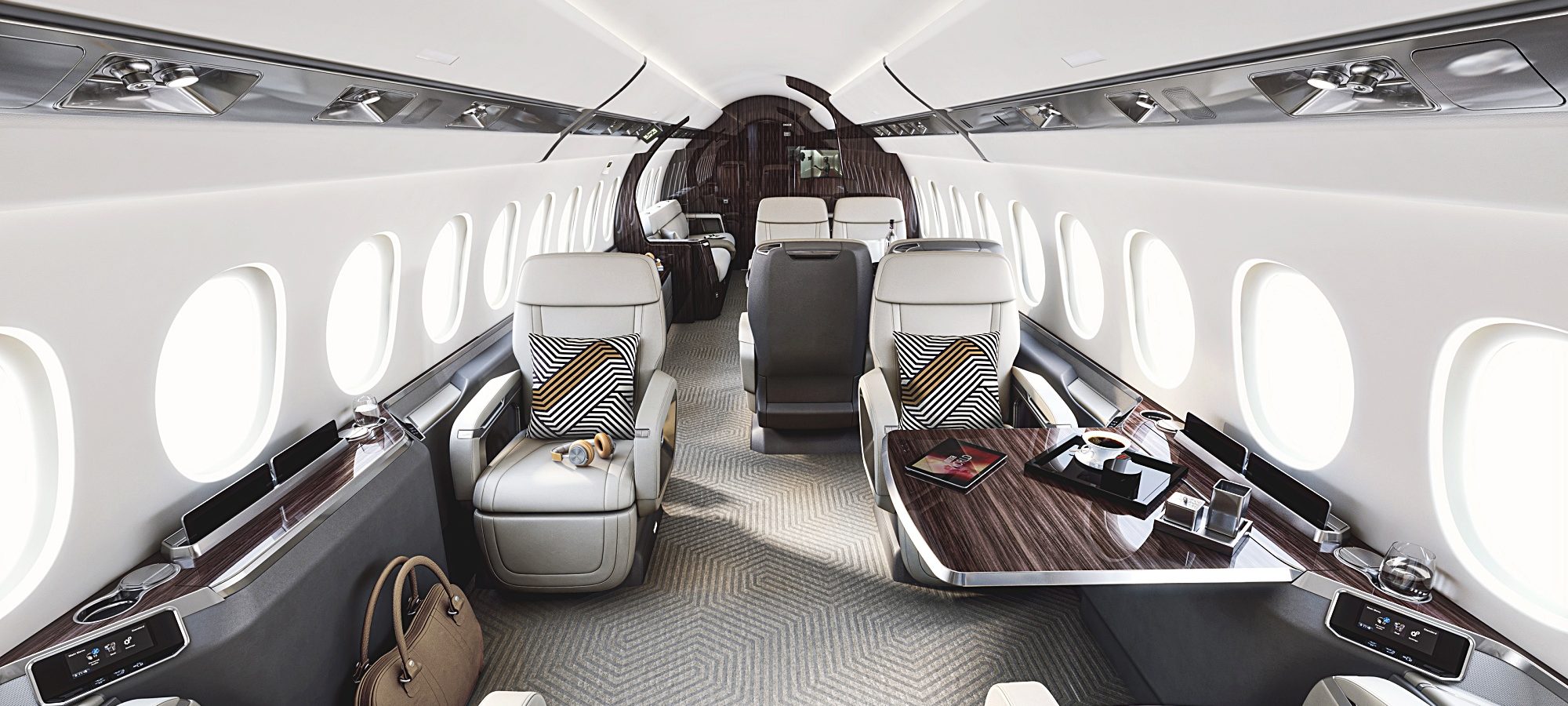 INNOVATION
The new twinjet is equipped with the latest innovative flying technologies, including a next-generation Digital Flight Control System (DFCS). The DFCS  provides better maneuverability and aircraft protection on primary and secondary flight controls and commands all flight control surfaces, including slats and flaps, with each surface multifunctional for peak performance. The DFCS also integrates nose-wheel steering for safer runway handling in strong crosswinds or on wet runways.
Dassault's Falcon 6X is the first business aircraft to feature new 'flaperons', active high-speed deflection control surfaces that can act as both flaps (increasing lift) and ailerons (roll control). Integrated into the DFCS, the flaperons are especially beneficial during approaches with a steep descent profile, increasing drag while maintaining a high-lift coefficient.
The 6X's 5,500 nautical mile range allows it to connect far-flung routes such as Paris to Tokyo.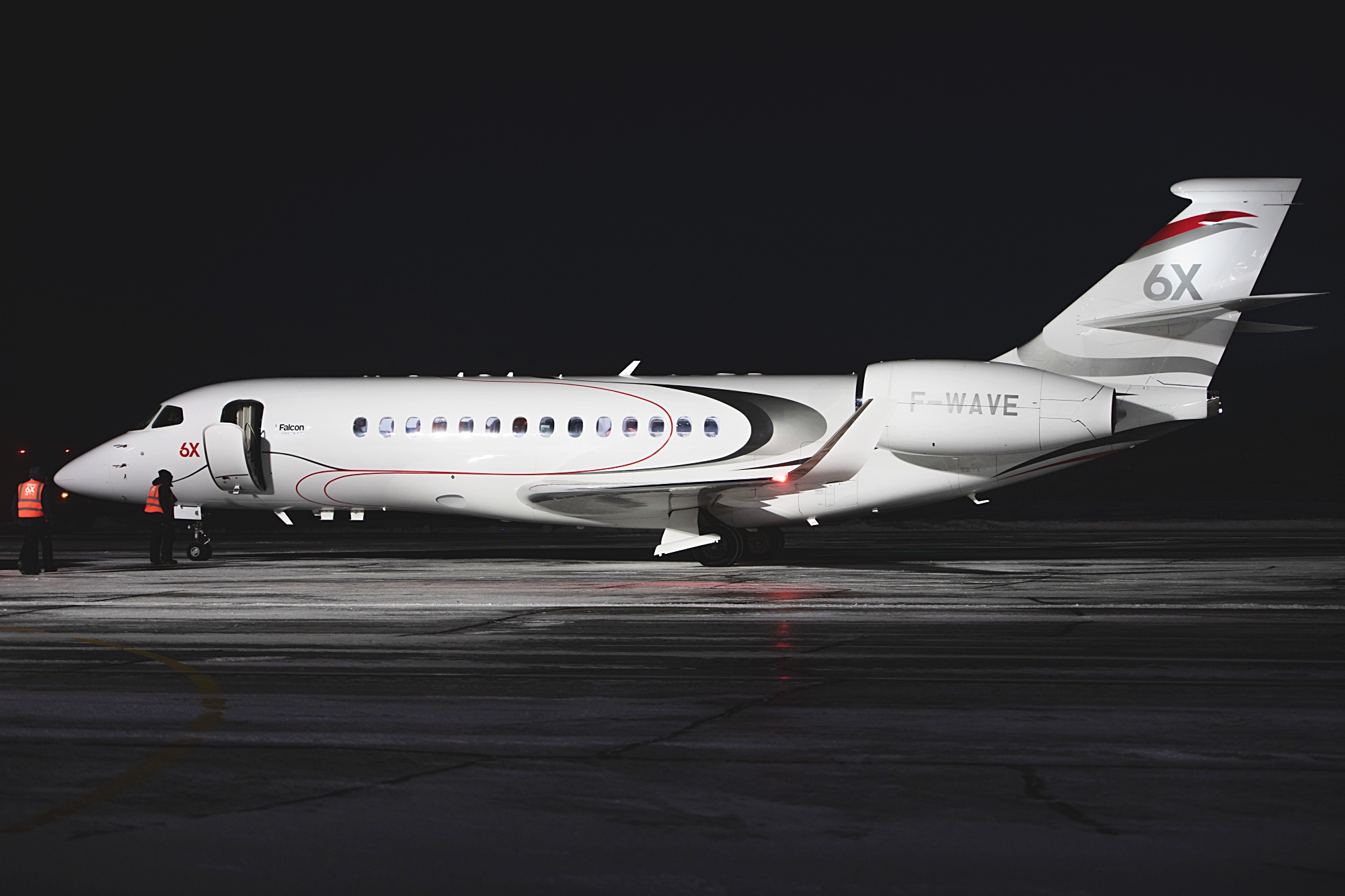 ---
Falcon 6X

Specifications
EXTERNAL DIMENSION
Wing Span: 25.94m (85 ft 1 in)
Length: 25.68m (84 ft 3 in)
Height: 7.47 m (24 ft 6 in)
INTERNAL DIMENSIONS
Cabin Height: 1.98 m (6ft 6in)
Cabin Width: 2.58m (8ft 6in)
Cabin Length: 12.30m (40 ft 4 in)
Cabin Volume: 52.2sqm (1,843sqft)
Baggage Volume: 4.4sqm (155 sqft)
WEIGHTS/CAPACITIES
Max. Ramp Weight: 77,660 lb (35,225 kg)

Max. Weight: 77,460 lb (35,135 kg)
Max. Weight: 66,190 lb (30,025 kg)
Max. Zero-Fuel Weight: 45,920 lb (20,830 kg)
Max. Weight: 33,790 lb (15,325 kg)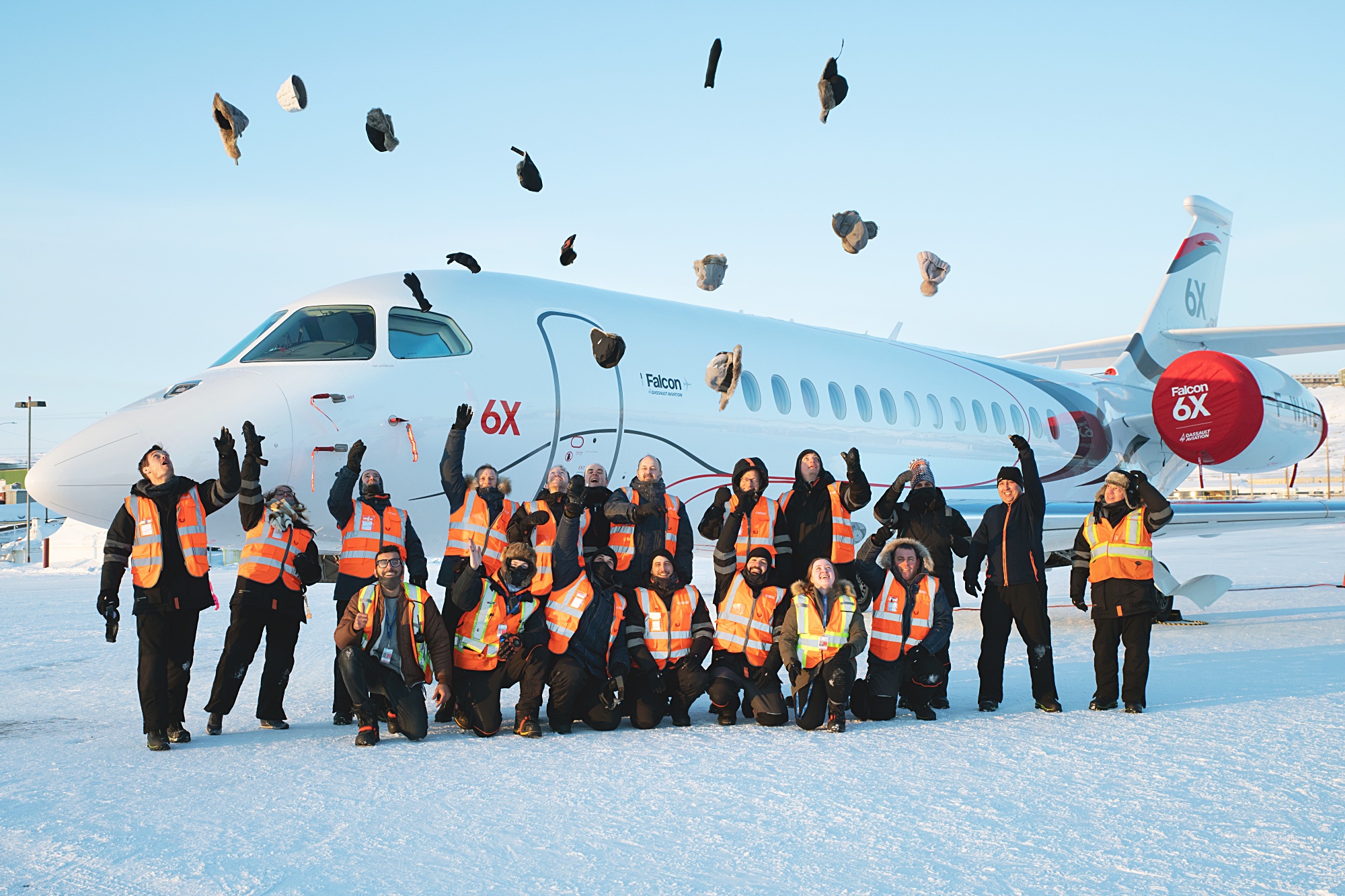 COLD WEATHER
March saw the test team of engineers consisting of technicians and pilots from Dassault Aviation and engine manufacturer Pratt & Whitney Canada head to the tundra town of Iqaluit, Canada for cold-weather testing. Here in the far north of Canada, temperatures drop as low as -37°C ideal for cold soaking and different engine start test.
"The Falcon 6X continues to impress us with its performance and reliability as we move through the certification process," said Carlos Brana, Dassault Aviation's Executive Vice President of Civil Aircraft. "The aircraft operated flawlessly at the extreme temperatures an aircraft can be subjected to in the severest climate conditions. That includes engines, systems and low-temperature maintainability requirements."
Ground tests were followed by a test flight during which anti-icing systems and handling qualities were checked and the stability of fuel and hydraulic fluid temperatures verified while the aircraft remained in a holding pattern flown at 10,000 feet. The 6X endured a total of 50 hours of Arctic cold tests and has now accumulated some 650 flight hours, and completed over 220 flights, with certification expected later this year.