BESTFLY AND KRIMSON AVIATION FORM JOINT VENTURE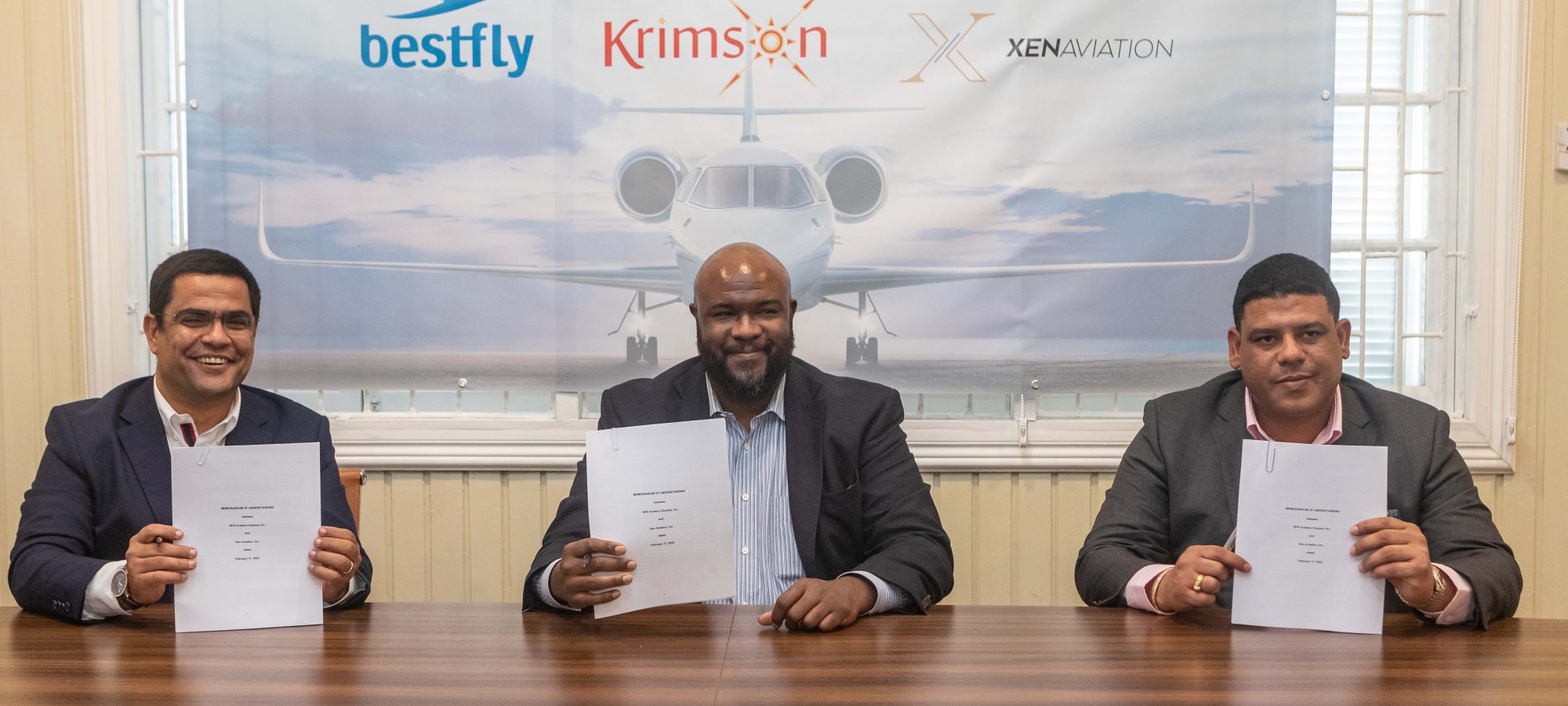 BFK Aviation, to support development in emerging markets. First partner signed in Guyana as Xen Aviation signs MOU to work with BFK.
Angolan aircraft operator Bestfly and Addis Ababa-headquartered flight support, charter, and aviation consultancy Krimson Aviation have formed a new Joint Venture, BFK Aviation. The entity brings together two powerhouses of business aviation in Africa with the sole intent of supporting the evolution and growth of the industry in emerging markets around the globe. 
Bestfly and Krimson Aviation, under the leadership of Nuno Pereira and Dawit Lemma, respectively, have been integral in establishing the foundations of the sector across the vast continent of Africa and now intend to share the accumulated knowledge and experience with stakeholders seeking to optimize its benefits in new and evolving markets.
Demonstrating the value of the proposition, the first partnership agreement has already been signed with Xen Aviation, the Georgetown, Guyana-based operator and aviation services provider. BFK Aviation will support the needs of Xen Aviation's expanding flight and ground services for current and future operations. Bestfly, already well versed in supporting the oil and gas industry in Angola, will provide aircraft operational know-how, while Krimson will provide all ground support and maintenance service intelligence. The signing follows the success of the Guyana Energy Expo, held in Georgetown in February, and highlights the rapid growth of the oil and gas sector in Guyana, and the surrounding region, which is driving increased demand for rotary and fixed-wing operations.
Bestfly is Angola's largest business aviation services provider operating a fleet of some thirty aircraft including turboprops, executive jets, regional airliners, and helicopters flying within Angola, Africa and internationally; as well as a commercial operator flying scheduled routes to Cabo Verde. As one of the first African aviation companies to be granted IS-BAO status, Pereira and his team are familiar with the rigour and quality required to meet and exceed international standards and customer expectations. Krimson Aviation has expanded significantly since launch and provides a range of ground handling, trip support and consultancy services for aviation customers in more than twenty African countries. 
Bestfly is one of the founding members of the African Business Aviation Association, and Pereira, as a board member, was critical in securing its inauguration and subsequent successful development. Lemma has also been a significant force in the association's development and is VP of International and a board member. Their collective experience of shaping the evolution of Africa's business aviation development, mutual extensive global network, and understanding of what it takes to affect a positive change in the perception of business aviation, intra- and inter-continentally, positions them well to support commercial, sustainable transformation in evolving markets. 
"Undoubtedly, we can enable and enhance credible operations in challenging and dynamic operating environments. We want to harness this very specific knowledge and understanding to support stakeholders in nations that want to maximize the sector's benefits but are still at the early stages of development," says Lemma.  Pereira adds, "At Bestfly, we have worked extremely hard to create aircraft operations that are internationally respected, and we are known for our professionalism, excellence and reliability as we have a real understanding of what it takes to service the changing demands of our international oil and gas, mining and agricultural customers."
"Working with BFK Aviation will add value to our existing operations, support the development of new standard operating procedures, and we know will raise the bar wherever we work to implement best industry practices," adds Ronaldo Alphonso, Managing Director, Xen Aviation. "We're excited for what the future holds for us, BFK and the business aviation sector in our region."