Vegas comes to Dubai, with the new Caesars Palace Bluewaters
Lifestyle — 14.02.19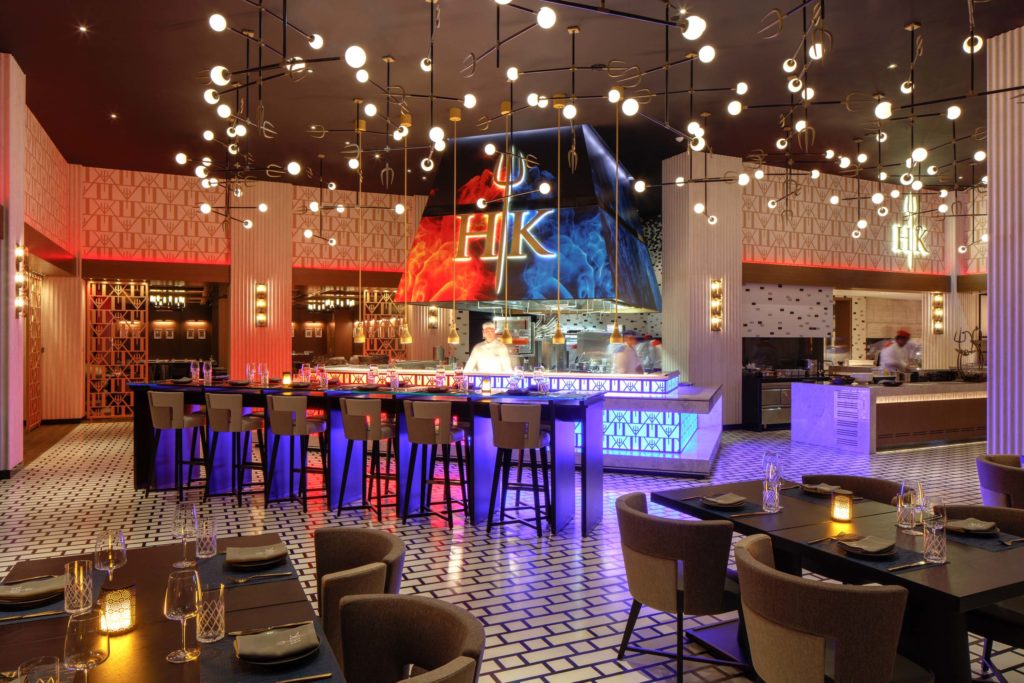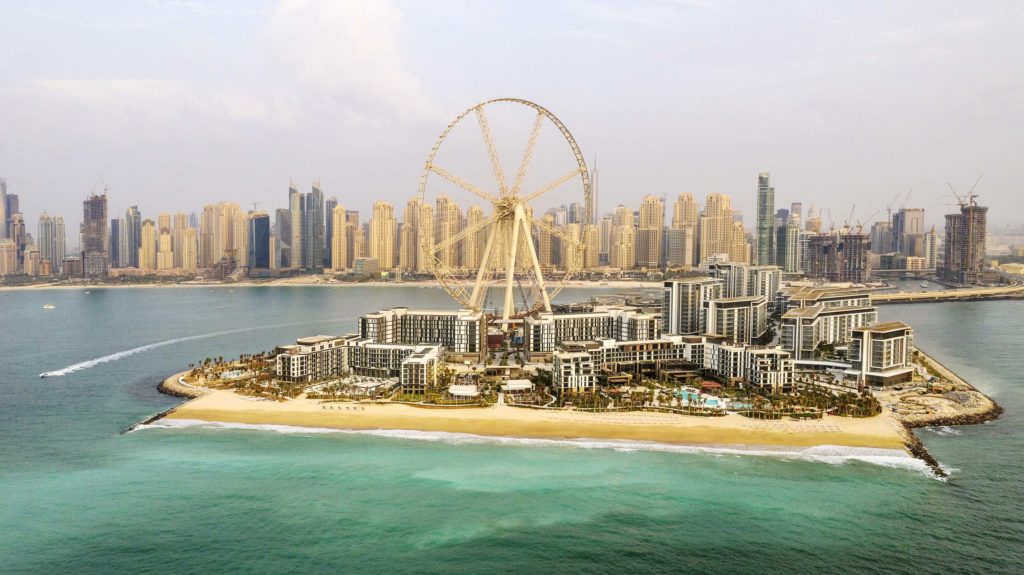 Designed by Jonathan Adler, the interior is modern and flawlessly chic. The Interiors team based in the New York studio has created a clean, uncluttered feel for this very liveable new Palace, with just a few modern sculptures to indicate the Caesars brand. Their commitment to impeccable craftsmanship and luxury is well reflected here. The bathroom is particularly well conceived. A decadent high-back bathtub is a must-try, with toiletries created exclusively for Caesars Bluewaters by Lorenzo Villoresi from Firenze. Instead of the usual closet, the dressing room is equipped with an open rack preventing musty odours to impregnate clothes fibres. There is a prayer rug and a vanity, whose top when lifted provides excellent make-up lighting. Beach bags and flip-flops are available in case you forgot to bring your own. In the airy bathroom, again the shower is not closed-in, contributing to the sense of open space. At turndown, Neom Organics' 'Scent to Sleep' collection –pillow mist, body oil and hand lotion- is provided to help ensure a repairing sleep. An invitation to meditation, an ottoman allows lounging by the floor-to-ceiling bedroom window, gaping outside at the ever-changing seascape.
The living-room area boasts the traditional comfortable divan and chairs, desk and dining table for in-room dining, and of course a Nespresso machine. Curated collectibles sparsely displayed on wall shelves create an at-home feeling. Truly spectacular are the views, sprawling from open sea to the nearby Palm.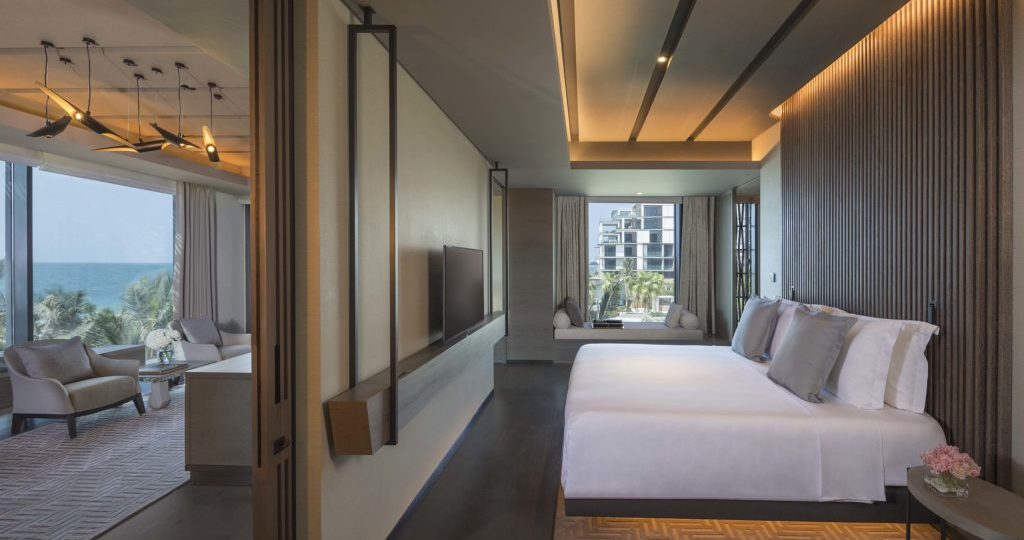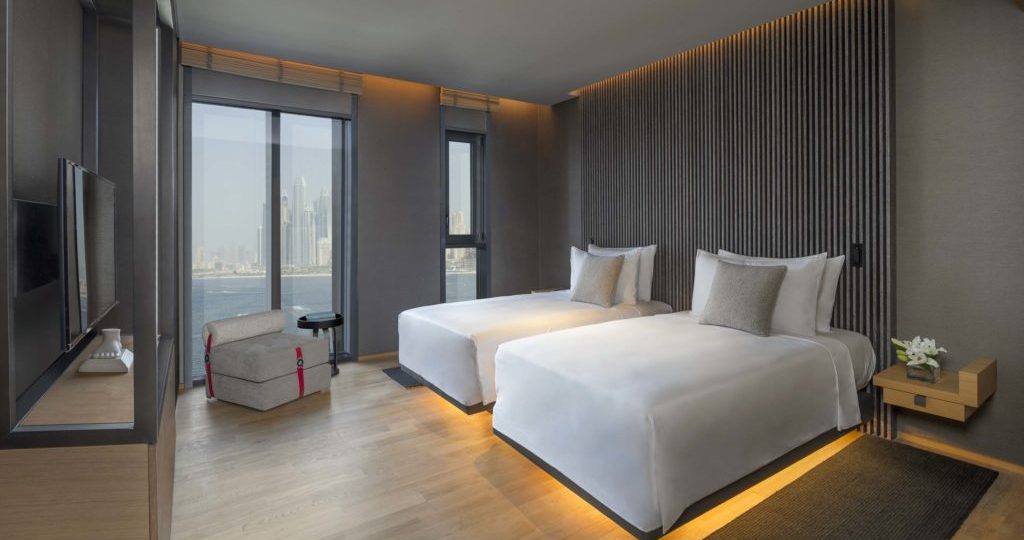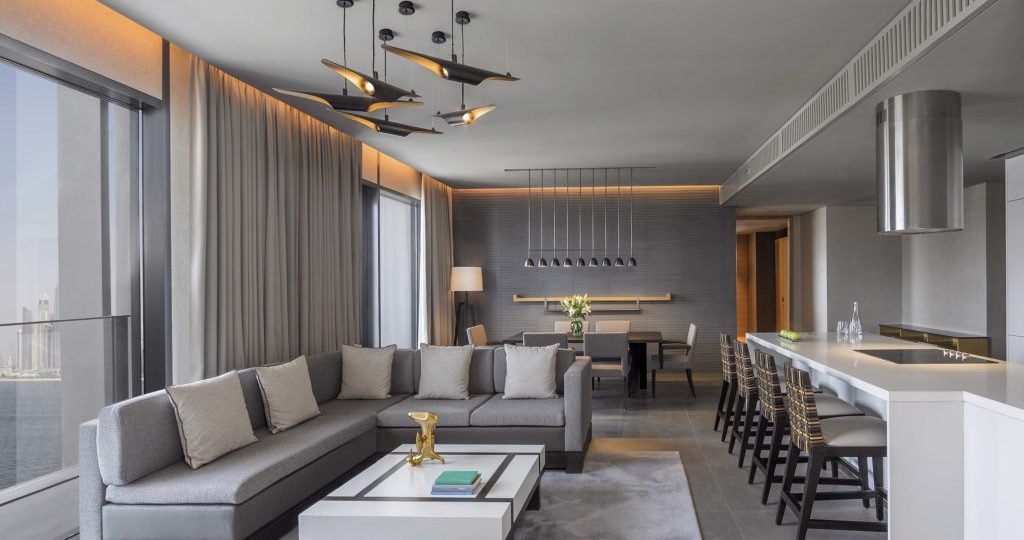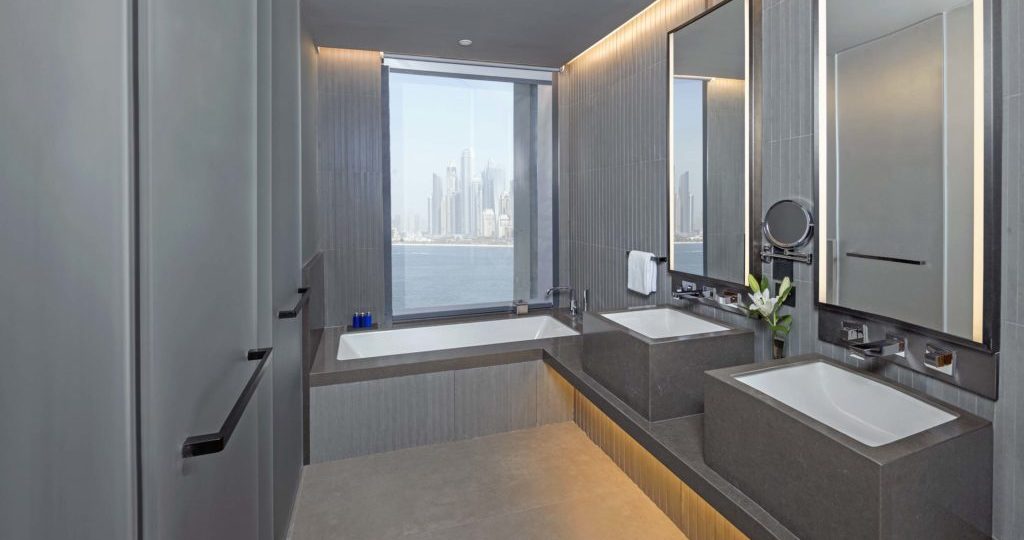 Vegas comes to Dubai
The very first non-gaming properties in the Caesars Entertainment portfolio is now home to the second ever Caesars Palace and the Las Vegas brand's first property outside North America. Neighbouring Caesars Resort is slated to open shortly. Families looking for sheer indulgence, island seclusion and a fully packed roster of entertainment for all ages will love it, with its two outdoor pools, (one family-friendly and one adults only) and access to a private beach. Furthermore, and also scheduled to open shortly, the 80 Residences at Caesars Palace will offer one, two, three and four-bedroom residences complete with full kitchen and laundry appliances. Guests will enjoy complimentary access to the fitness centre, business centre, pool and beach and will be welcome to explore the dining, leisure and entertainment experiences available at both properties at their convenience.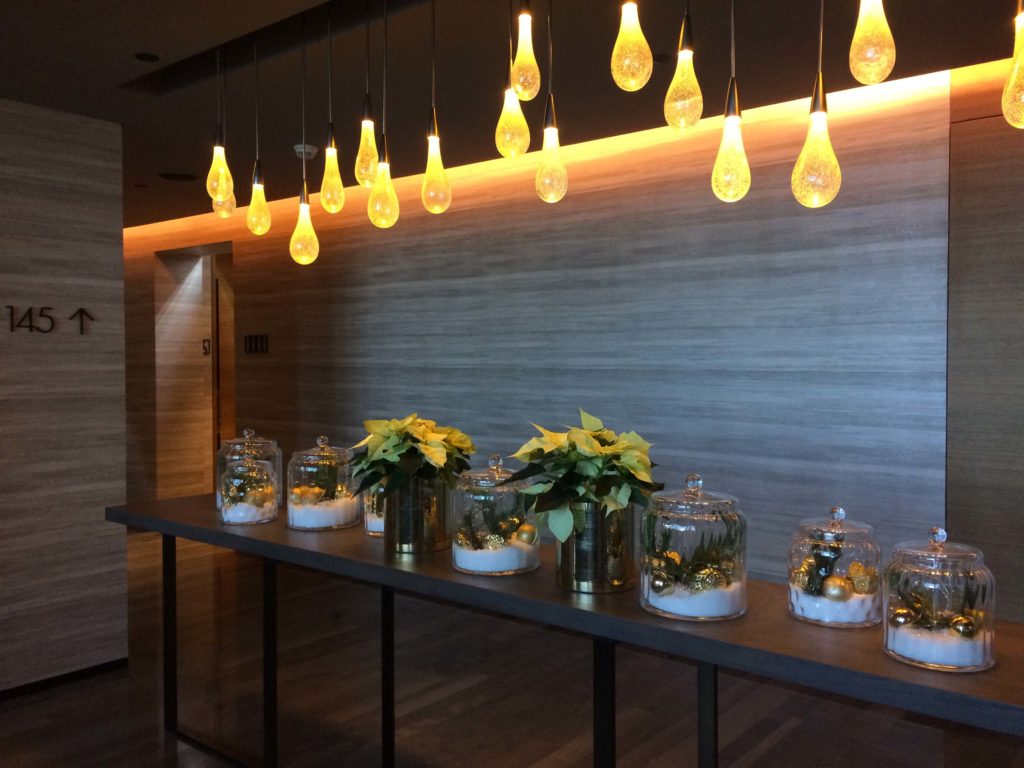 Within walking distance, the nearby Caesars Forum has everything needed to host one-of-a-kind meetings and events for up to 800 guests. Its stand-alone dedicated Conference Centre will offer privacy and exclusivity for large conferences, special launch events, gala dinners, cocktail receptions and more. The 'Tenors of Rock' performance, in December 2018, was the opening act at the 500-seat theatre Rotunda which will host Caesar's Vegas shows under its large white dome near the beach, bringing the latest in high octane entertainment to the United Arab Emirates.
Complementing the offer, a myriad of shops are slated to open in a near future, making this new man-made island a destination of its own, in the ever expanding and thriving city of Dubai.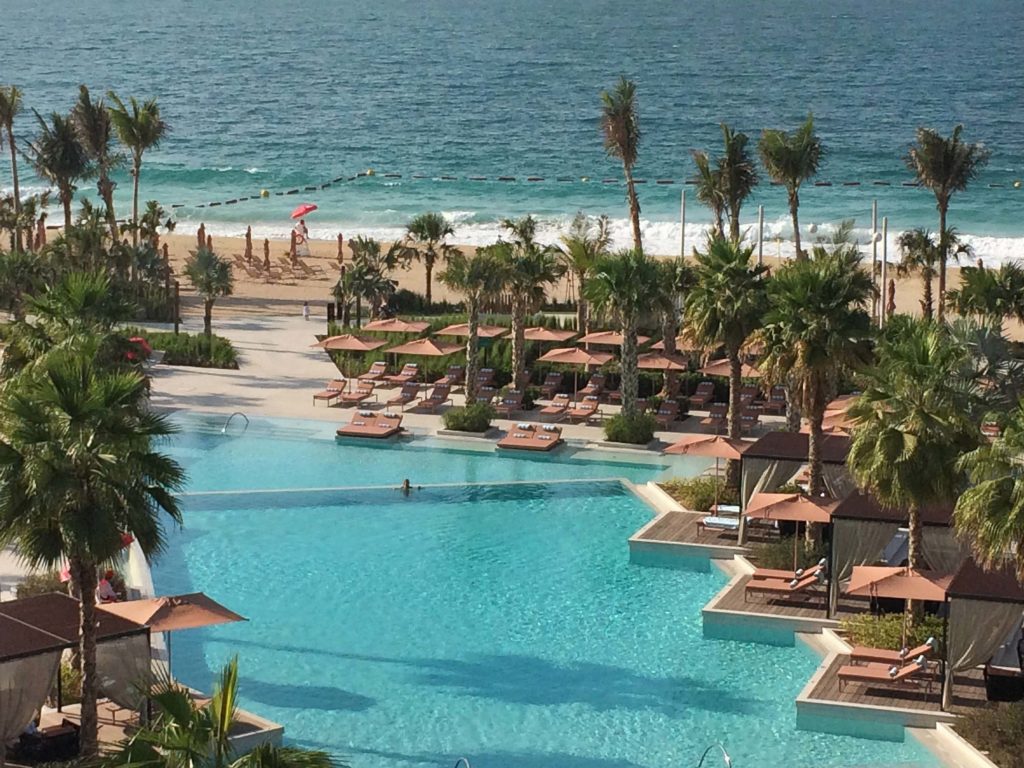 The pounding surf
It's hard to decide what to do first the temptation is so overwhelming, but the sight of waves crashing on white sand draws us outside. From our balcony perch the sound of pounding surf is exhilarating, and right below, the enormous pool calls out for a swim. Two more pools are located nearby. Their cerulean waters can be spotted under the tropical forest of palm trees providing restful shade to rows of loungers and large cabanas. There is also a huge Jacuzzi and a kids' club off to the side. A few guests are enjoying a late lunch at Neptune, the poolside restaurant and bar.
We have arrived in Paradise and the idyllic setting could easily be in the Maldives or the Seychelles, or anywhere else on the planet…
To our back, directly opposite the hotel stands the landmark Ain Dubai, which Caesars Palace will manage once its wheel starts spinning. As a backdrop, the architectural wonder of the Dubai skyline. The vibrant city is only a few minute-drive away.
Up front, the seascape free of construction, embraces the Arabian Gulf's vast expanses of blue waters.