Little growth expected in the Middle East bizav market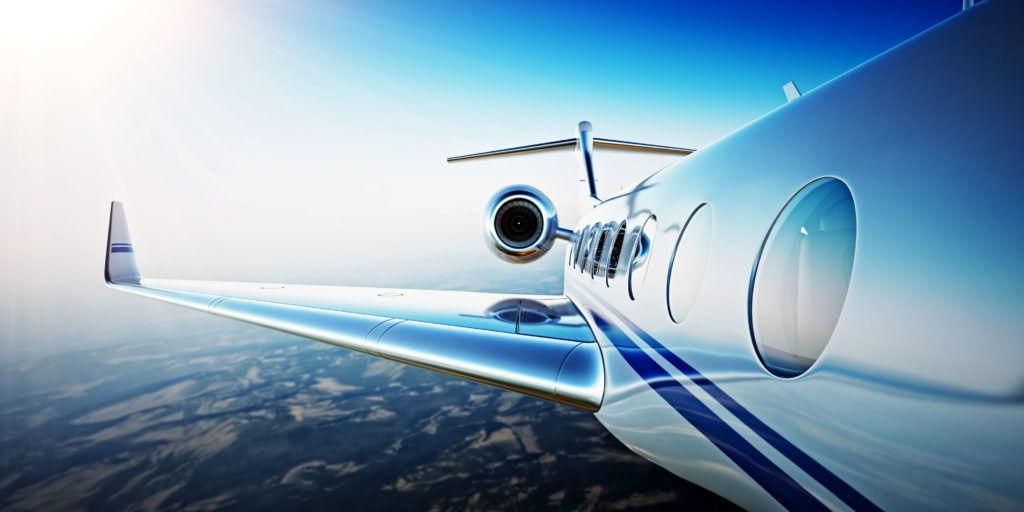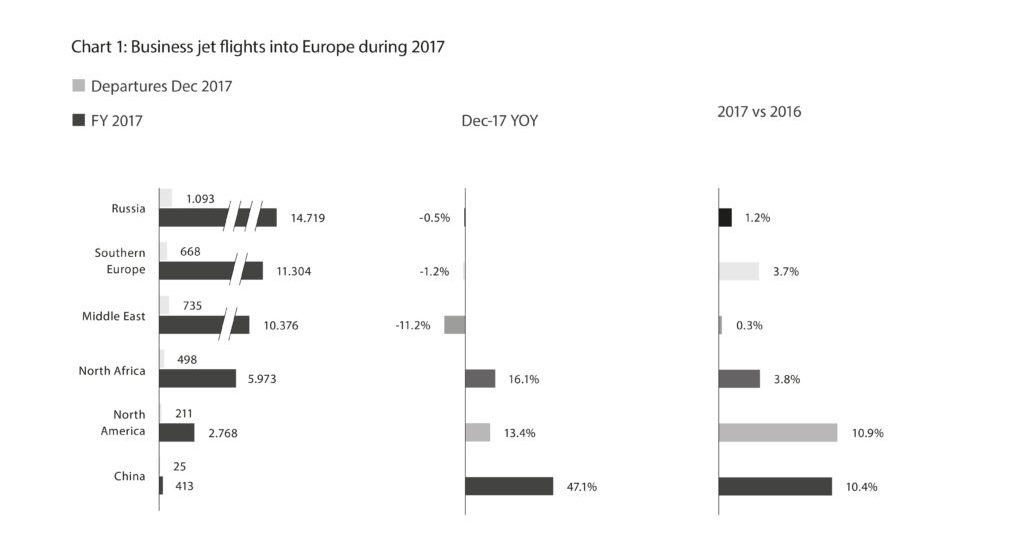 Last year's Honeywell forecast was also quite bullish for business jet prospects in the Middle East. Its survey took note of the region's turbulent geopolitical risks, but this has not apparently lowered future purchase plans by much. In line with the global average, 18% of the region's surveyed respondents intend to replace or add to their business jet fleet in the next five years. The relatively robust appetite for business aviation in the region, despite adverse economic and political circumstances, speaks to the user profile, mainly governments and private owners, rather than charter customers, and on average much richer than business jet owners in Europe or the US. Used much more as a lifestyle or even government policy facilitator than just a toy or executive tool, business aviation ownership is relatively stable.
But stable is the best that can be said of business jet activity in the Middle East last year, with, as Chart 1 shows, just a 0.3% increase in flights from the Middle East into Europe in 2017. Certainly the Middle East's arrivals trend pales by comparison with strong growth in connections between Europe and North America, Africa and China. Flights to key markets like UK and France were flat or declining. But there was strong growth to Russia, connections up by 24%, and Egypt, up 12%. Flights from the Middle East to the US were up 4%, although, unsurprisingly, regionally registered jet connections with the US were down at least 30%.
"Most of the business aviation activity out of the Gulf came from a combination of UAE and Saudi Arabia."
Most of the business aviation activity out of the Gulf came from a combination of UAE and Saudi Arabia. Reflecting the oil squeeze, flights out of Saudi were down by 9% compared to 2016. Kuwait, Qatar and Iran were likewise affected. The busiest departure airports were Saudi´s Jeddah and Riyadh hubs, Beirut, and Dubai´s Al Maktoum International. Apart from the latter, all saw some decline in flights last year. Other airports with strong growth included Doha, with a lot of military operations, and Abu Dhabi international airport. Flights out of neighbouring Al Bateen airport were down 15%.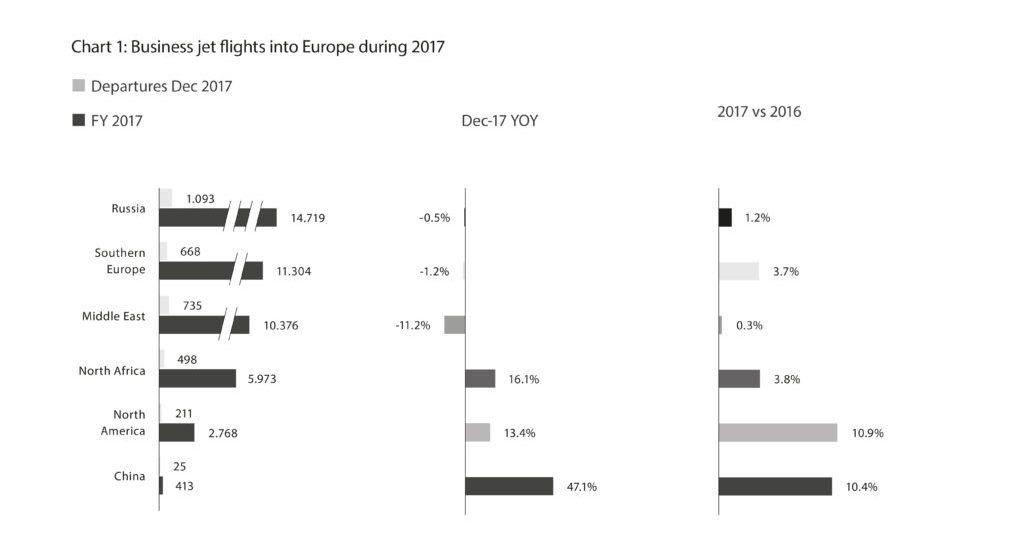 Large cabin preference
The distribution of last year´s flight activity out of the Middle East clearly underlines the importance of large cabin aircraft. Well over 70% of flights were operated by large jets or bizliners, and 20% by bizliners. More than 1,000 of the bizliner flights were operated by some 40 Saudi and UAE registered Airbus and Boeing corporate jets. By comparison, bizliners fly no more than 1% of European sectors. The bizliner size, range and cabin facilities have always been well suited to the typical profile of regional owner and travelling entourage. Registered as private flights, many of these are in fact government missions. Their high levels of activity are a depressing reflection of the regularity and severity of diplomatic crises across the region.
Popular pairs
The top 15 pairs flown by bizliner from the Middle East in 2017, 35% of total activity, highlight the popularity of destinations in Paris and London, as well as growth to leisure destinations on the Cote dÁzur and Greek islands.
In addition there were a significant number of connections into Belarus, Romania, Czech Republic and Turkey. Eight hundred and sixteen unique Ultra Long Range tails operated out of the Middle East in 2017, although the majority were not regional operators; NetJets and VistaJet were the busiest operators.
By its own ambitions, Qatar Executive should by now be the world´s largest operator of Gulfstream 650s, but only a handful have so far been delivered, and the programme has been further hampered by Qatar´s diplomatic isolation from most other members of the GCC. This situation does not show any sign of resolution as yet.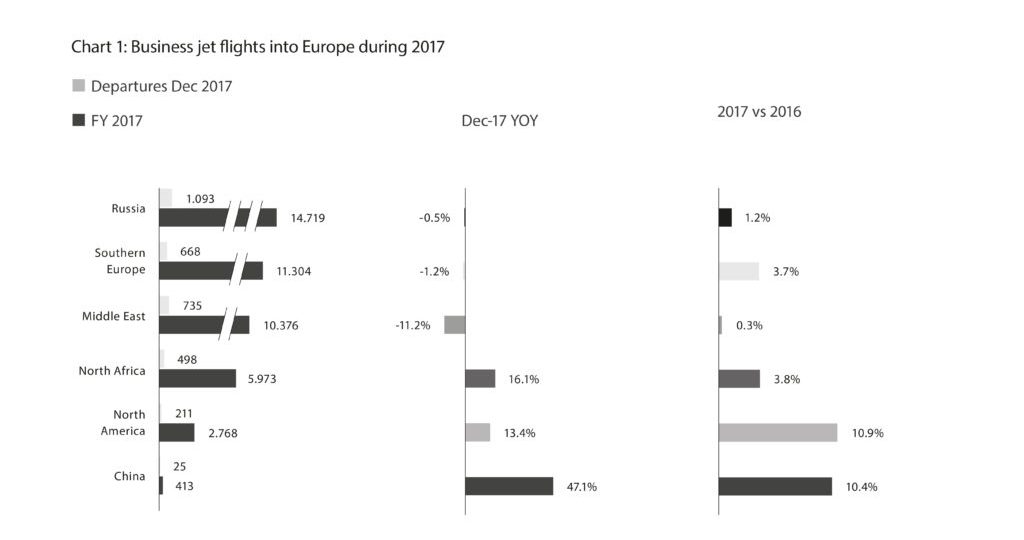 Diversification in the fleet
Midsize and Light Jet aircraft have increased their share of the active fleet in the last few years. The efforts to diversify the economy from its oil dependence, especially in UAE, have nurtured an internationally open service sector hubs, reinforcing the need for reliable, convenient and relatively affordable point-to-point aviation. Charter activity, which used to be a small proportion of flights, generated almost 50% of sectors flown in the Middle East last year. Repeated efforts by regional associations to crack down on grey charter have also had an effect in flushing out users who previously borrowed privately registered aircraft.
There is good reason to believe that the Middle East´s business aviation market will more closely resemble that in Europe and the US in the future. Specifically, business aviation should become a business tool to complement other transportation networks in providing regional connectivity. The likes of GI Aviation, which introduced Pilatus PC-12 city shuttle charters from the UAE last year, may be a harbinger of things to come. There are also significant opportunities to support international tourism, including the Saudi Red Sea coastline.
One prerequisite for this mature business aviation industry is the investment in infrastructure, regulatory frameworks, and qualified human resources. The industry recognises the current shortfall, and Gulf States are taking some of the rights steps. But in the immediate term, the current array of political, financial and security challenges in the region are too much of a distraction. The Middle East customer base is sufficiently resilient that it will continue to be a rich seam of business for large jet suppliers in 2018, but there is justifiably no expectation that its wider potential will be realised in the next 12 months.