Rustic luxury and rugged beauty in Oman
Lifestyle — 07.02.19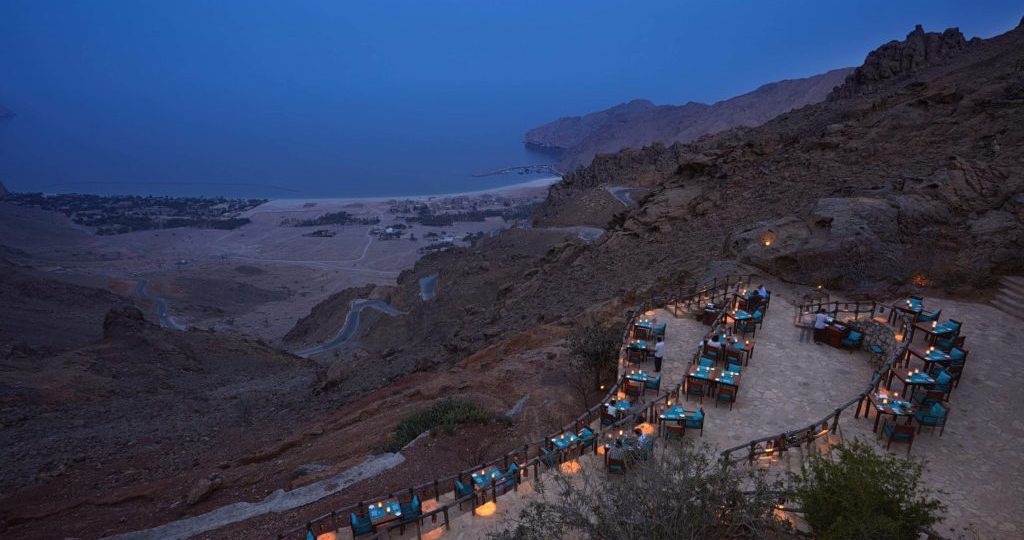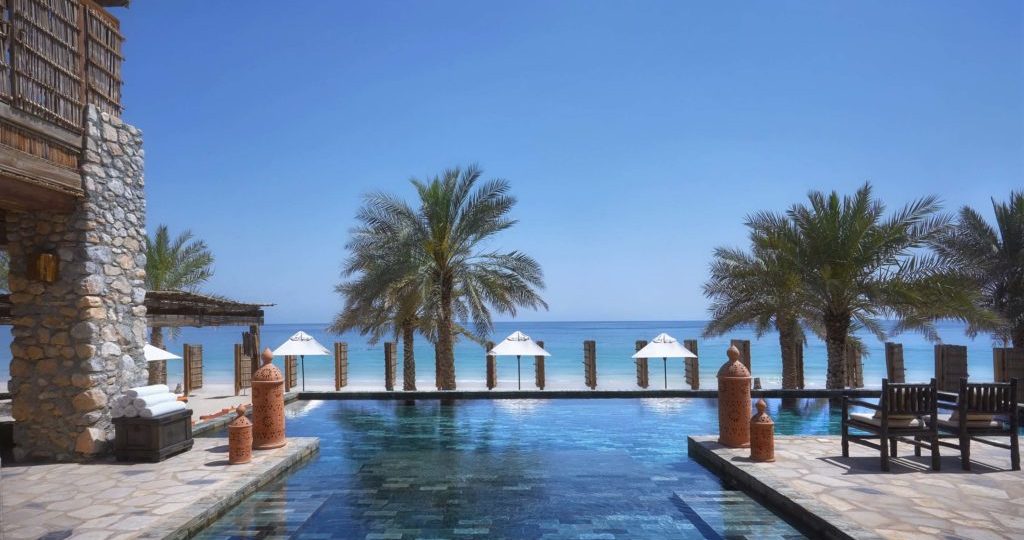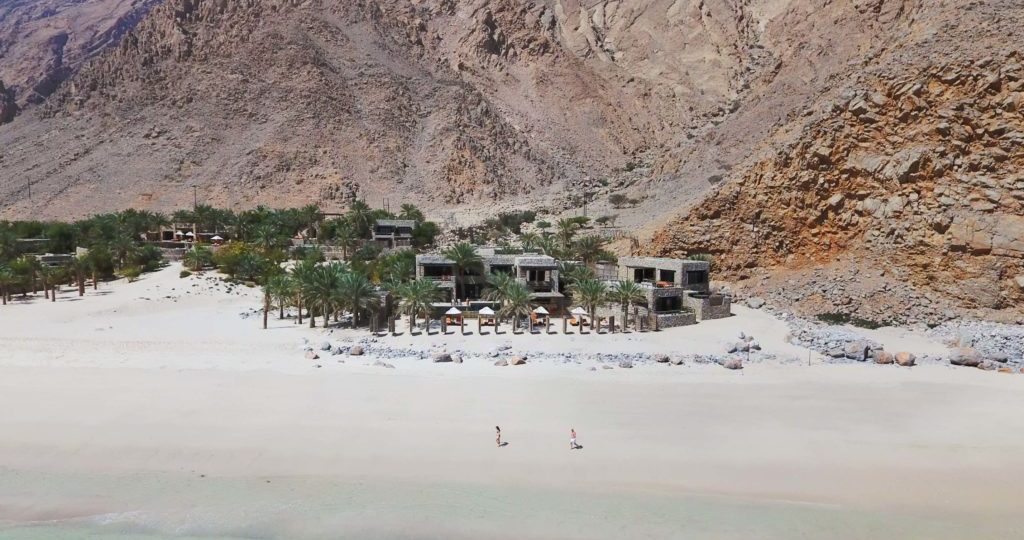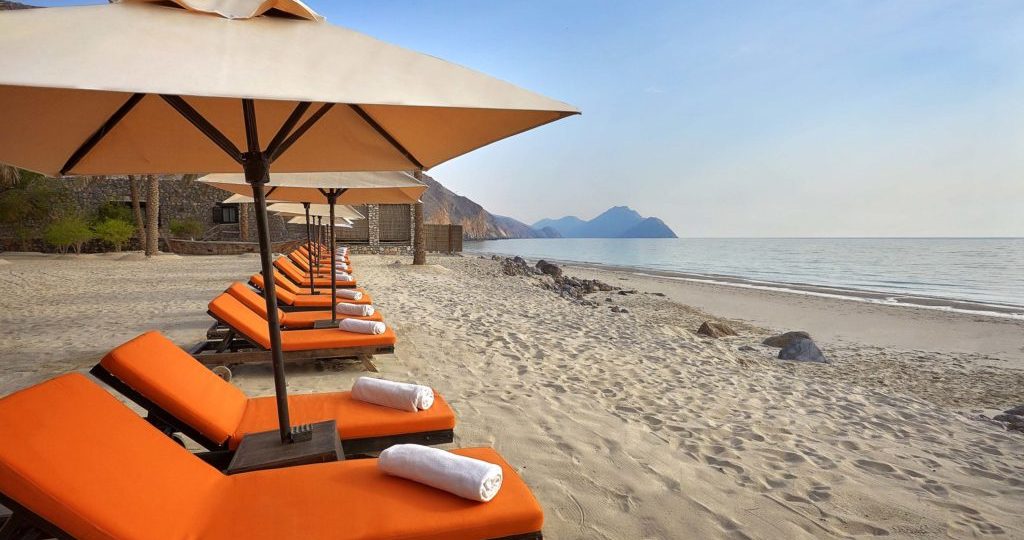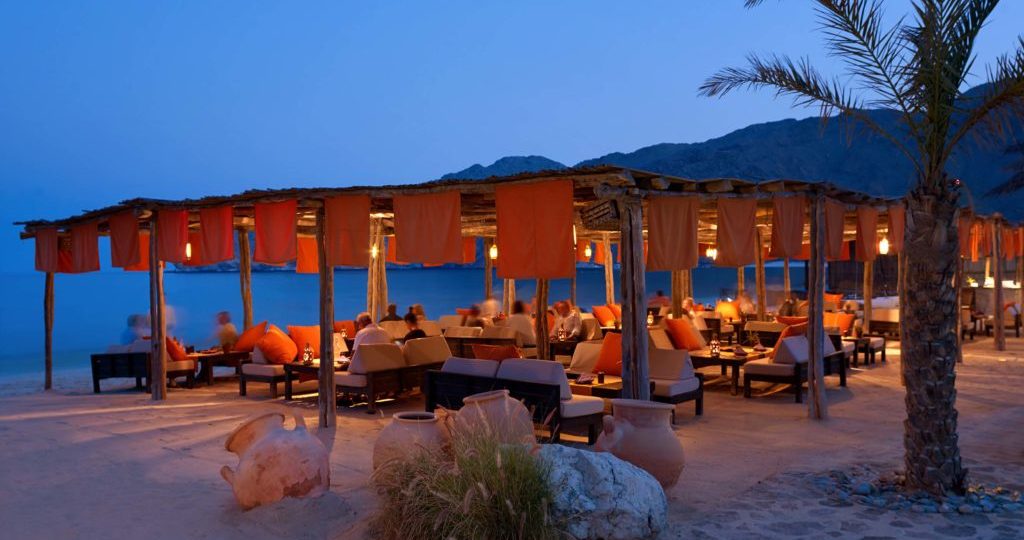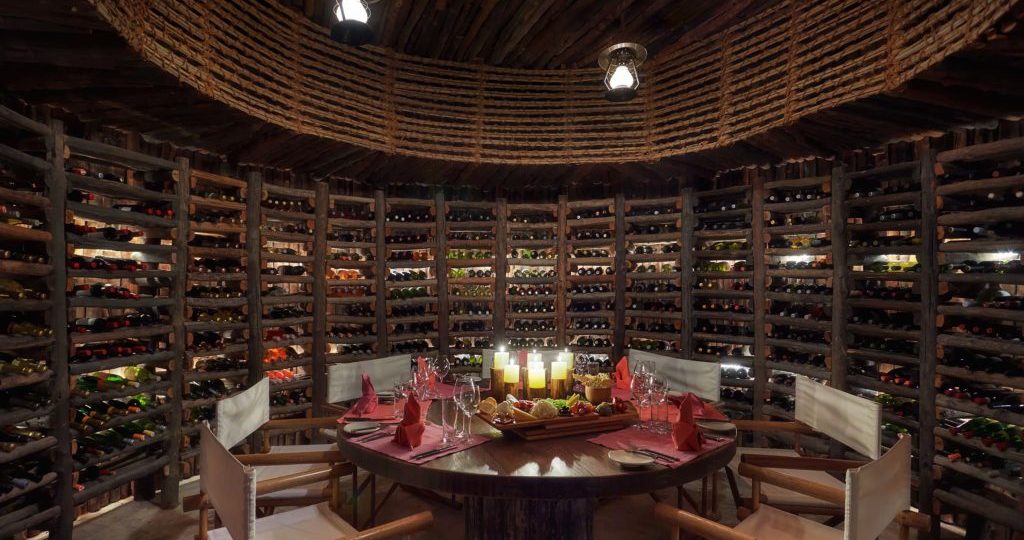 We drove up to the hotel entrance, still having hardly seen the main resort, such is its design. Everything is made from local stone, with low rise buildings in traditional designs and natural colours, made to blend into the landscape. This is a resort that works in close harmony with nature, something that became more obvious, the longer we stayed.
The main entrance houses the Sablah lobby reception and adjoining library.  Through the lobby the resort opens up, down a series of stone steps alongside a constantly flowing 'wadi'.  Either side are the main eating areas – the Summer House for lunch or dinner, Spice Market for a fabulous breakfast and all day dining, or the Zighy Bar for light meals and tapas. At the foot of the wadi is the main pool, populated by well-spaced sun loungers and umbrellas and ahead, the beach and the open sea.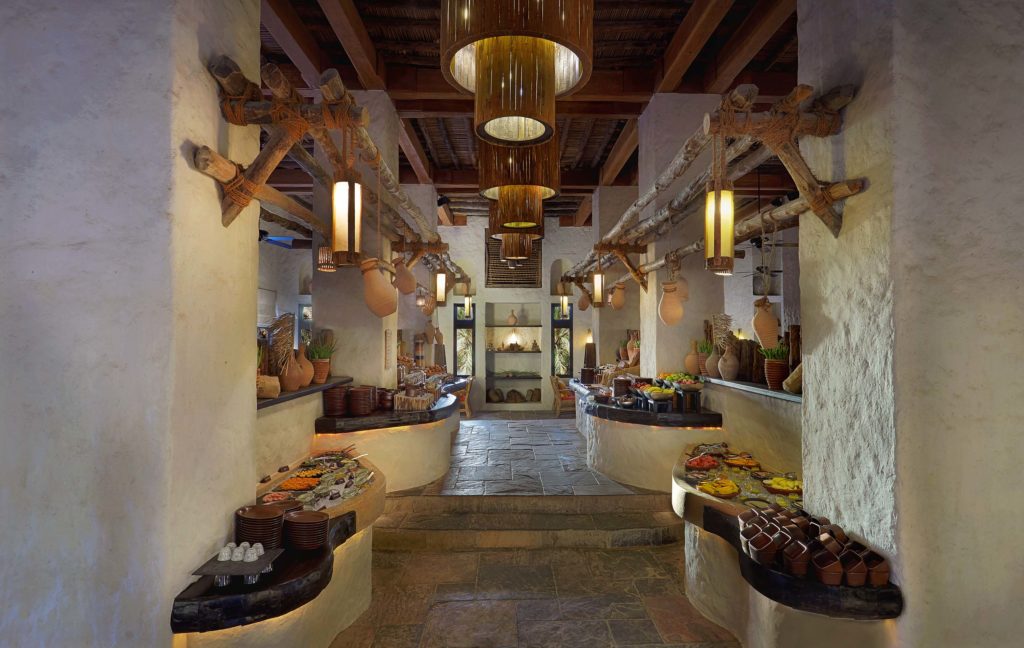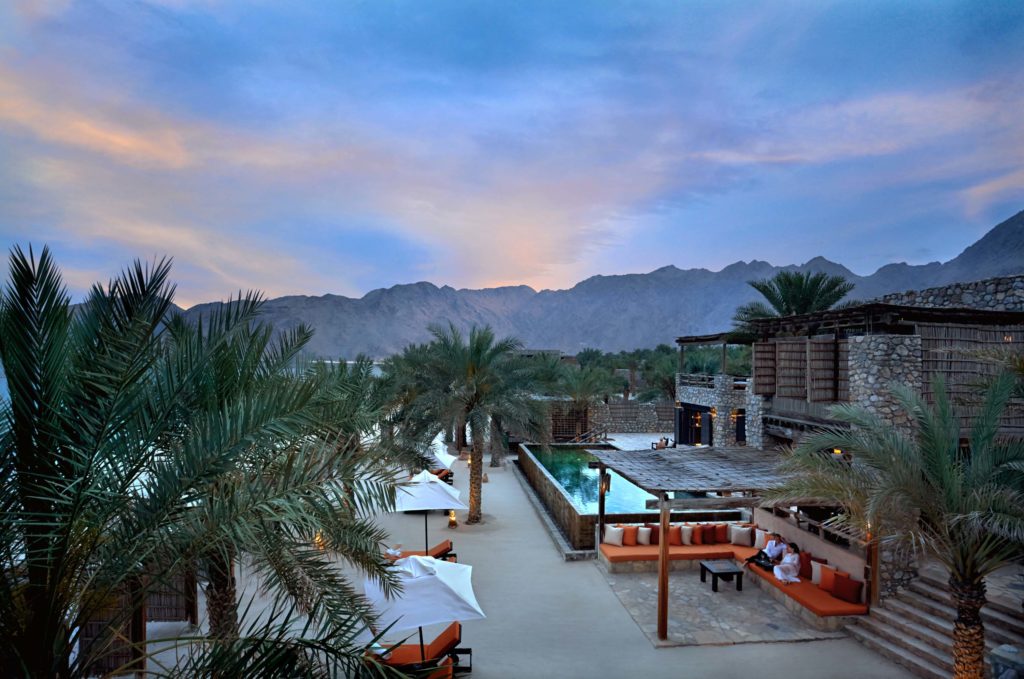 Accommodation is in a range of rustic villas, ranging from one to four bedrooms. Each has a private entrance, opening into a barasti-bordered sand-floored courtyard, with a terrace, pool (kept year-round at a constant and welcoming 27 degrees C), shaded seating area and small summerhouse.
Beach villas are able to throw open the wide barasti gates and have a view straight onto the open beach and sea.
The exclusive single four-bed villa – Bait Musandam – hidden away on a private reserve at the end of the beach and once occupied by Beyonce and Jay-Z, is simply fabulous, offering every amenity, including a gym and ensuite spa, and sleeping up to 12 people in three separate areas. With a private kitchen and the option of breakfast and barbeques served in your villa, you need never leave your own private paradise.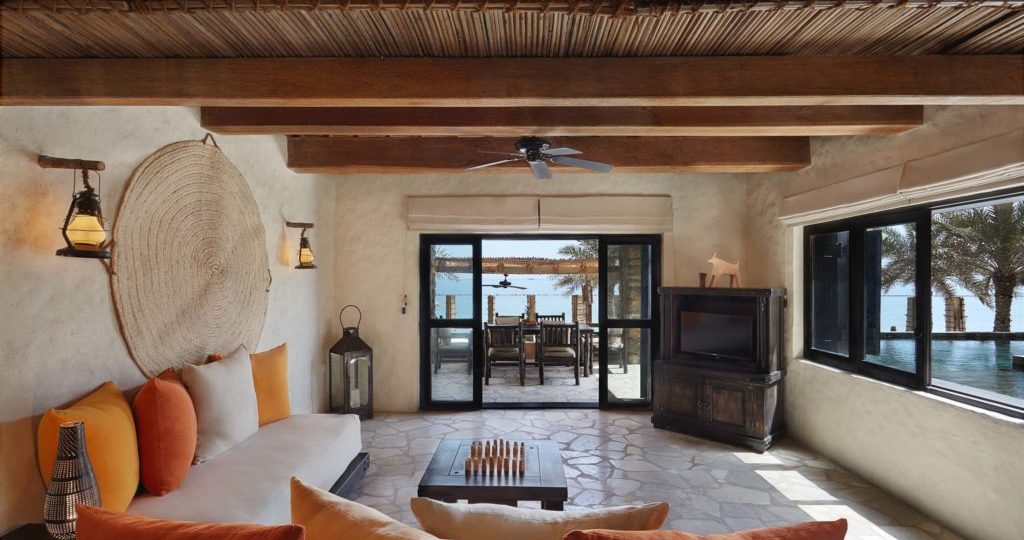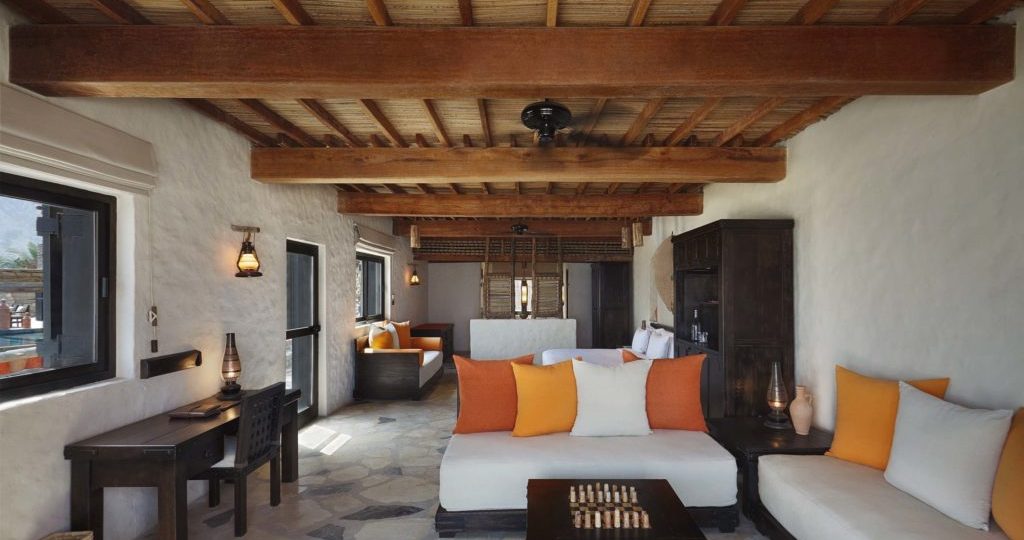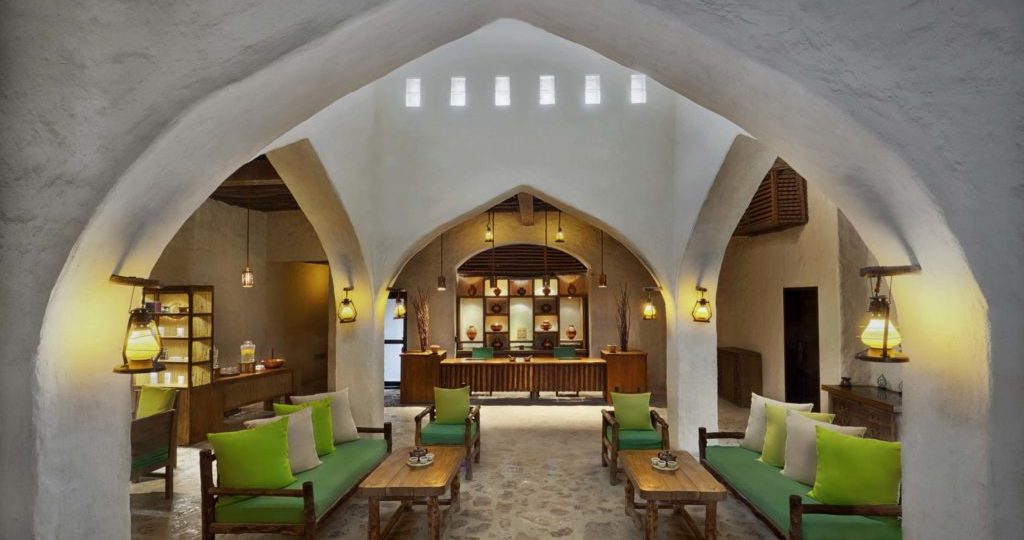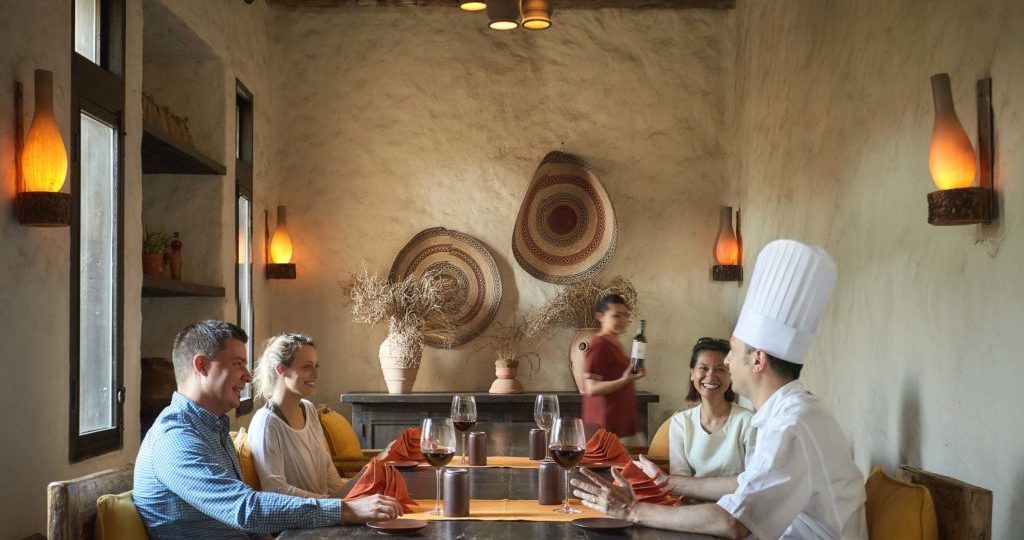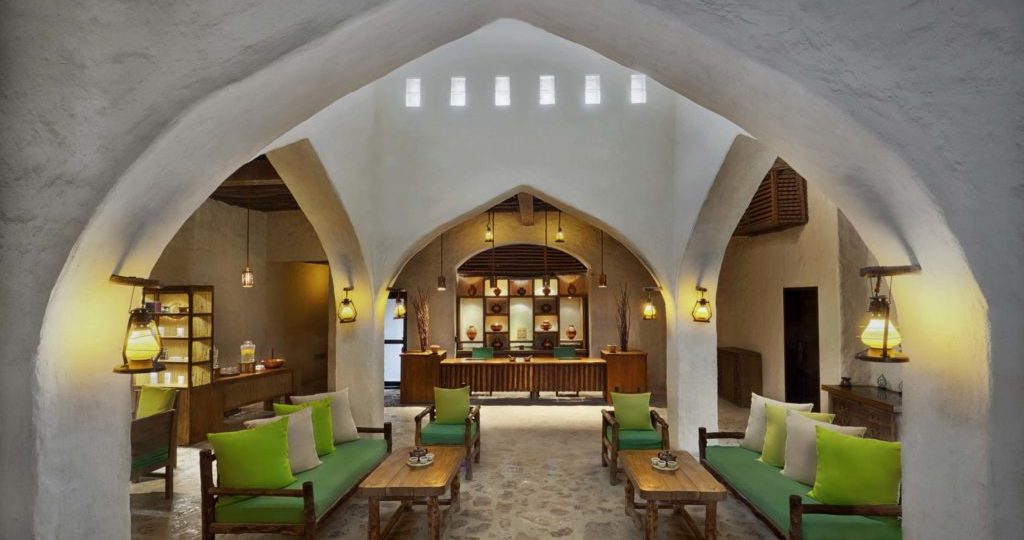 All the villas are beautifully equipped, with rugged, rustic furniture almost camouflaging a seriously high level of luxury. This level of service and comfort usually comes at a price to the environment, but not at Six Senses Zighy Bay.
Everything here has an eye on eco-friendliness. There is no plastic wrapping and unnecessary packaging – reusable cotton drawstring bags for cardboard encased toiletries, refillable glass water bottles, no plastic bin liners, so many small details.
In fact the resort aims to be completely plastic free by 2022, even down to the golf buggies driven by the staff. Already all the water used by the resort is desalinated on the premises, with revenue from sales of the bottled still or sparkling water going to support a number of community initiatives.
The reverse osmosis process used also creates a wonderful by-product in the heavily saline saltwater pool for floating and total relaxation.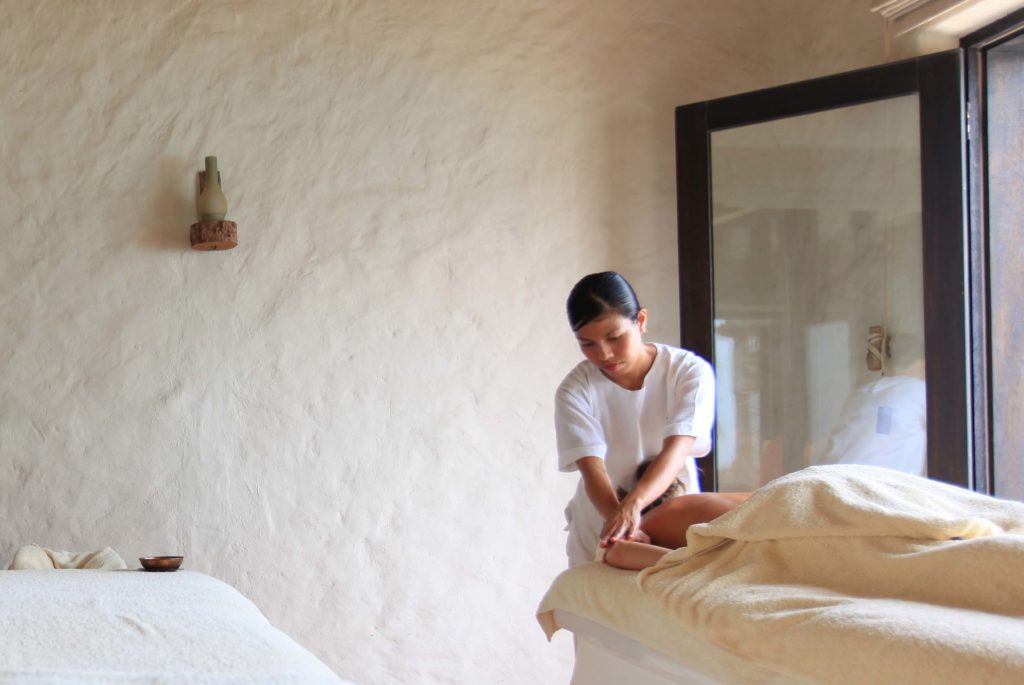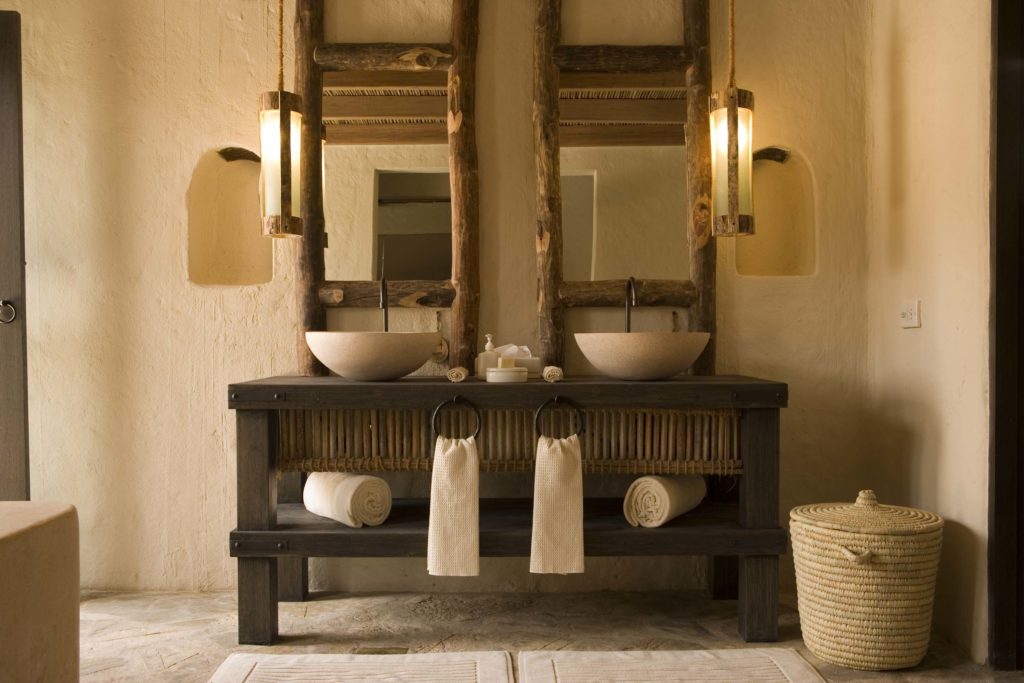 Relaxation
Six Senses is famed for its spas and Zighy Bay is no exception. Tucked away at the foot of the jebel, past the camel enclosure – say hello to Humphrey, Mumma Wednesday and baby Camelia – is a stunning spa and gym. Try the aromatherapy bar, where you can mix your own lotions, potions and lip balm according to your needs. A number of visiting practitioners offer different specialities throughout the year. A couple's massage was a wonderful start to a day of total relaxation spent on the beach and by the pools.
However, there is plenty to do should you want it. The resort has a range of experiences, including Hobie cat sailing, snorkelling, scuba diving, hiking, mountain bikes, paragliding, microlighting and separate kids' clubs for tinys and teens, with stacks of activities. However, for a short visit a stroll from one end of the bay to the other, watching the ghost crabs scuttle over the rocks, refreshing in the pool, relaxing in the sun, and enjoying the quiet, barefoot luxury was enough exercise between meals.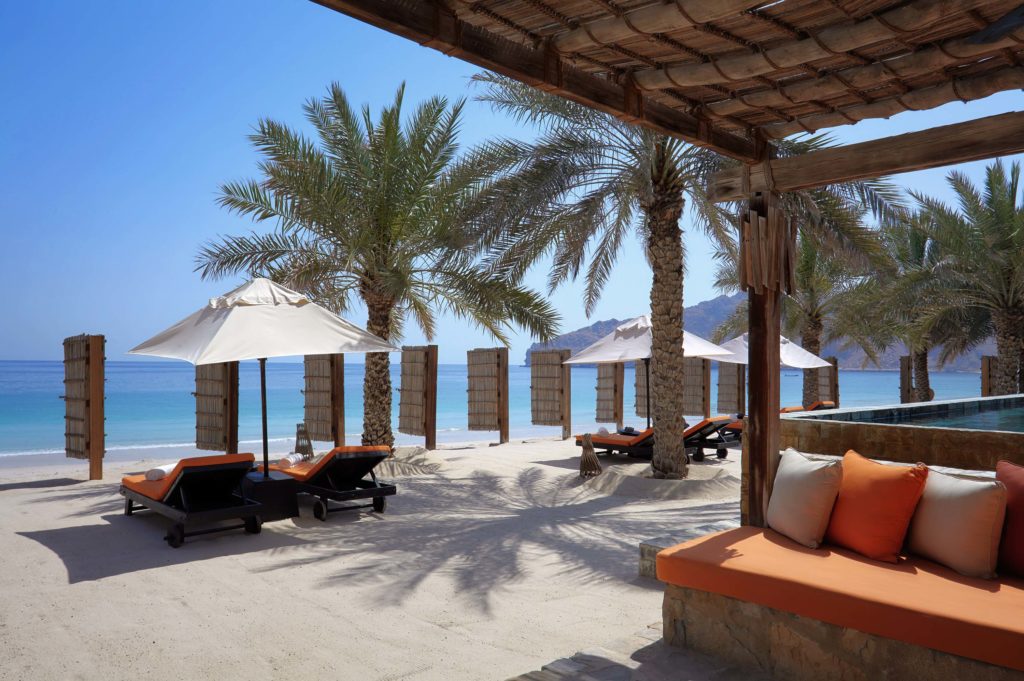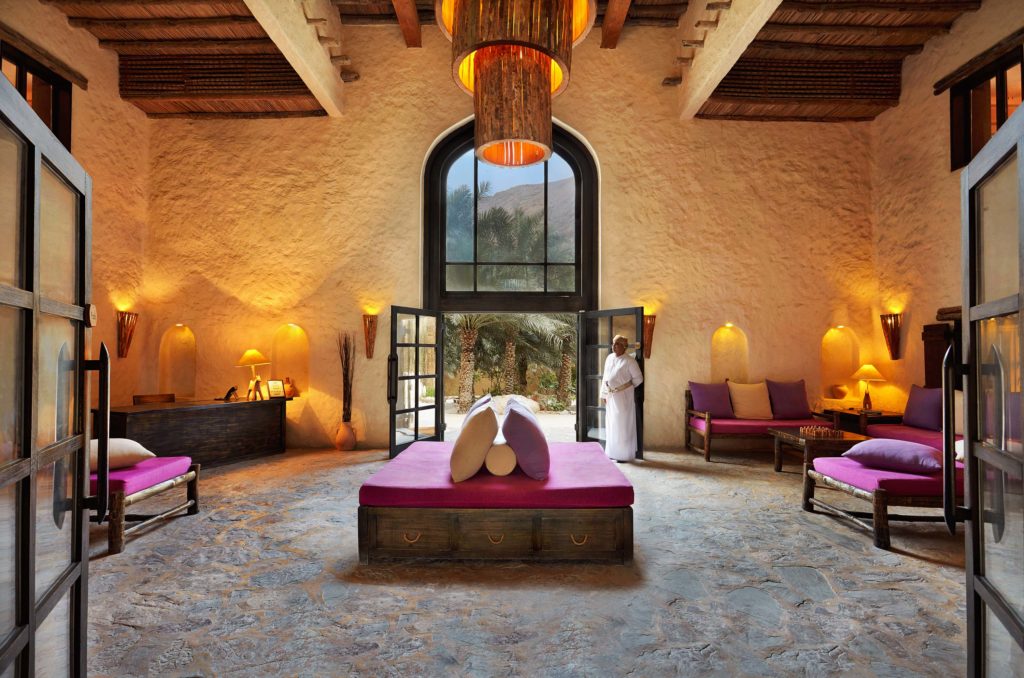 One visit you should make is to the organic garden, where horticulturalist Manuel develops his cuttings. The garden is filled with herbs and spices you may expect – ginger, zatar, basil, mint, parsley, chillies – but also some experimentation you would not. Here the hotel has grown rice in mini paddies and other vegetables. Once established the crops are transferred to the hotel's farm in Dibba, where among the goats, chickens and cows, the guests' culinary needs are met as much as possible – cutting down on the carbon footprint, as well as maintaining the freshest produce.  Trips to the farm are also available to learn cheese making and explore the fruit and vegetable plantations and bee hives.
As Nikhil Mohan, Marketing Communications Manager, explained: "No one wants to eat food that tastes like it is good for you. You want food that tastes incredible. We make sure that every ingredient is the best possible version of that food, so you are eating healthily by default."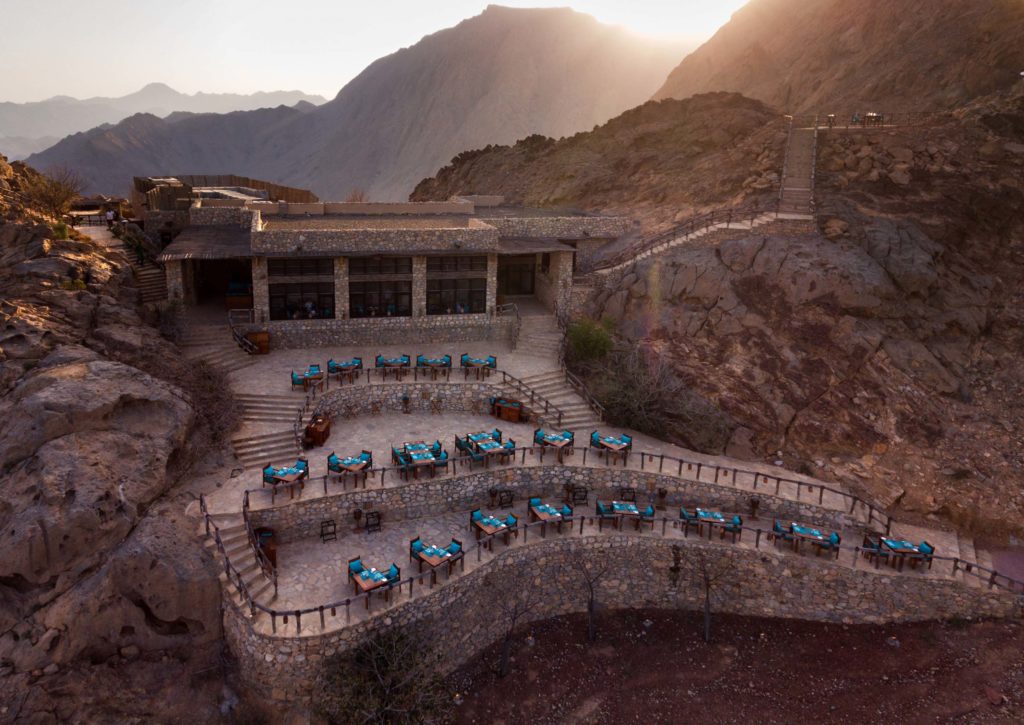 Sense on the edge
Proof of that concept was served at a dinner at Sense on the Edge – the international restaurant, perched high on the cliffs above the resort. The menu offers nine-, seven- or five-course tasting menus, with a choice of predominantly meat-based or fish-based dishes. While not imagining being able to eat seven courses, I allowed myself to be persuaded. I am so glad I did. Each course is small, but explosive with flavour. Some you would wish for a whole plateful, others you enjoy the simple mouthfuls. This is slow eating at its best, with an unbeatable view.
Each course is paired with a wine, and this was served by the delightful Mauritian sommelier Vishal Gaonjur. Vishal really knows his grapes. Not only has he chosen a superb selection of wines that complement each dish perfectly, he was able to elaborate on the provenance of each and give as much information as we required, with happy enthusiasm. Definitely enhancing the experience.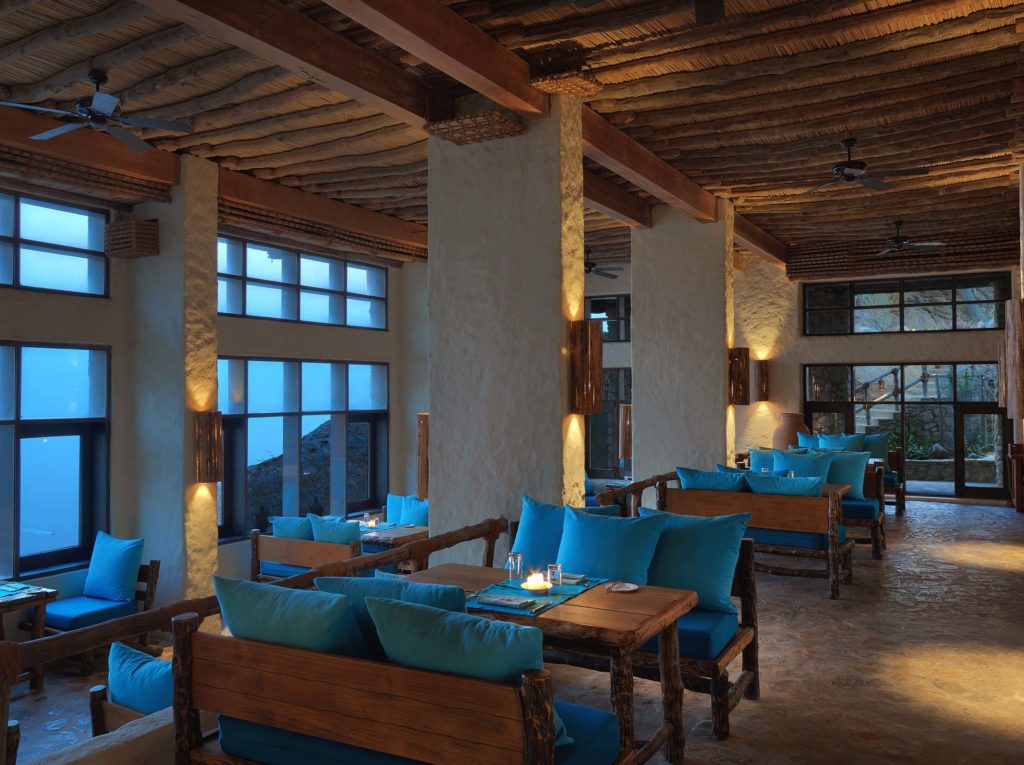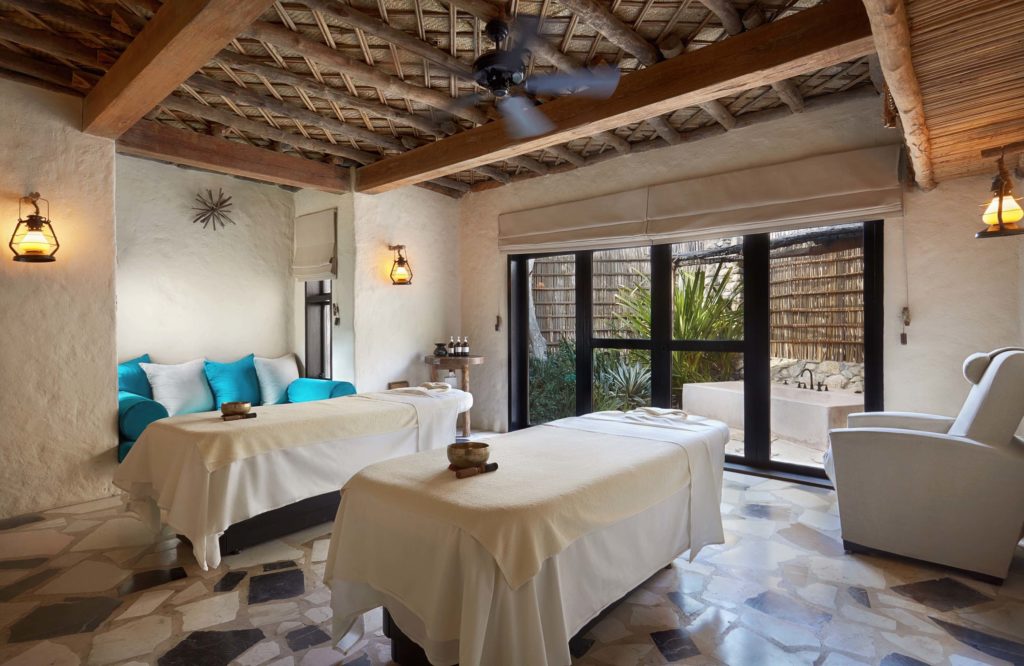 For more simple and casual meals, walk along the beach to the shaded comfort of the Shua Shack. By evening a popular cocktail bar, serving the traditional Omani Shua – lamb marinated in a spicy date paste and roasted in a pit oven – in the daytime it is a cool open air café, serving shawarmas, pizzas and salads and a wonderful selection of ice creams.
This is not a place for lively nightlife and loud group activities. This is a quiet, back to nature getaway, with experiences individually tailored for every client. Here you are free to choose your own level of activity, or simply soak up the laidback luxury. As you wind up the mountain road, heading back towards Dibba and urban civilisation, you will promise yourself to return.