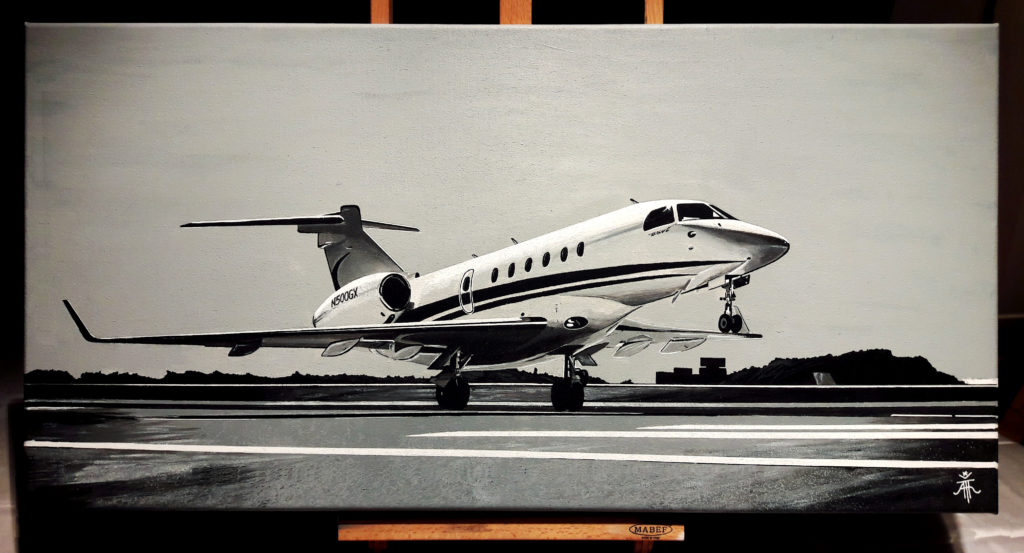 Where are you from?
I am French, born in Le Mans in the North-West of France, at the roots of Brittany, almost exactly 30 years ago. I spent my early years there, until I left to go to university, where I studied law.
What were your early art experiences and training?
I have no educational experience in art nor any formal training. However, I have always drawn and sketched. There are pictures of me when I was only four or five years old drawing intently. I drew all the time. I guess it is an impulse and a gift.
Looking back, I realise that my father used to draw a lot too, and he had a huge collection of comic strip books. I imagine that this environment developed and fostered my love of sketching and painting.
Concerning what some might define by 'art', I have to admit that I have no general culture, no education and to be perfectly honest, no affinity for fine art. Nevertheless, this is something I try to change.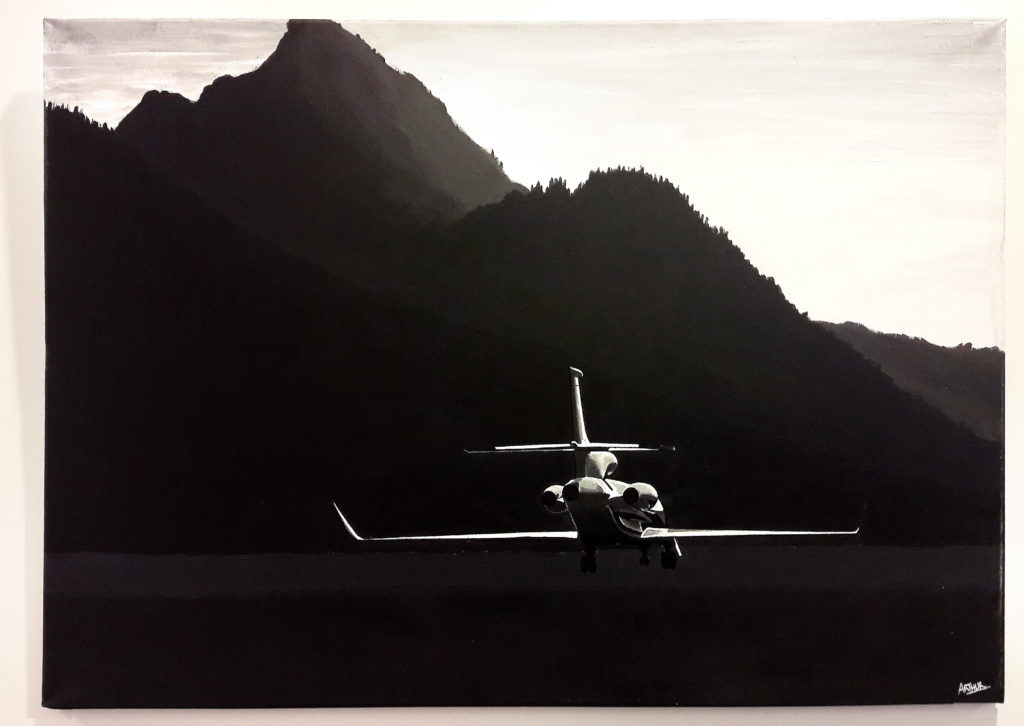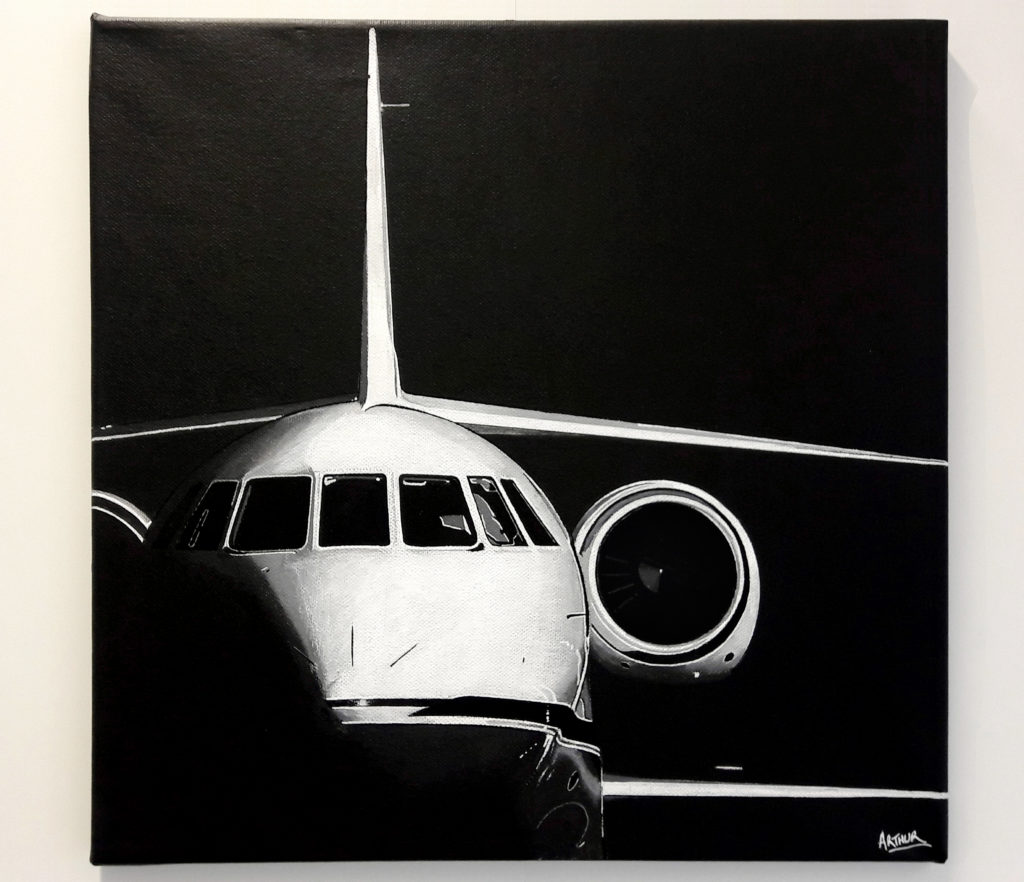 What drew you to aviation?
It is hard to know. I have been attracted by aviation, especially by the fighter jets, since I was a child. I grew up in a city with almost no aviation activity. As such, aircraft have never been something banal. Sighting an aircraft was so rare, that I would be fascinated and keep watching them, with my child's eyes. It never became jaded.
This attraction for the aviation and air transport sector in general re-emerged during my studies. I was studying law, seriously but not with any passion, and then one day I decided to take an air law course. Immediately I knew I wanted to follow this path. I went straight to Bordeaux to study international law (with full air law courses). I then studied European Law and did a Master's thesis on European Air Transport.
I then joined the Ecole Nationale de l'Aviation Civile in Toulouse to follow an Air Transport Specialised Masters. After six months of intensive air transport business courses, I became intern for the EBAA France (European Business Aviation Association). The study I did there about the French Business Aviation market further developed my knowledge and brought me to Brussels, where I was hired directly in the EBAA (Europe).
I still work there as the data analyst and specialist about European Business Aviation Market.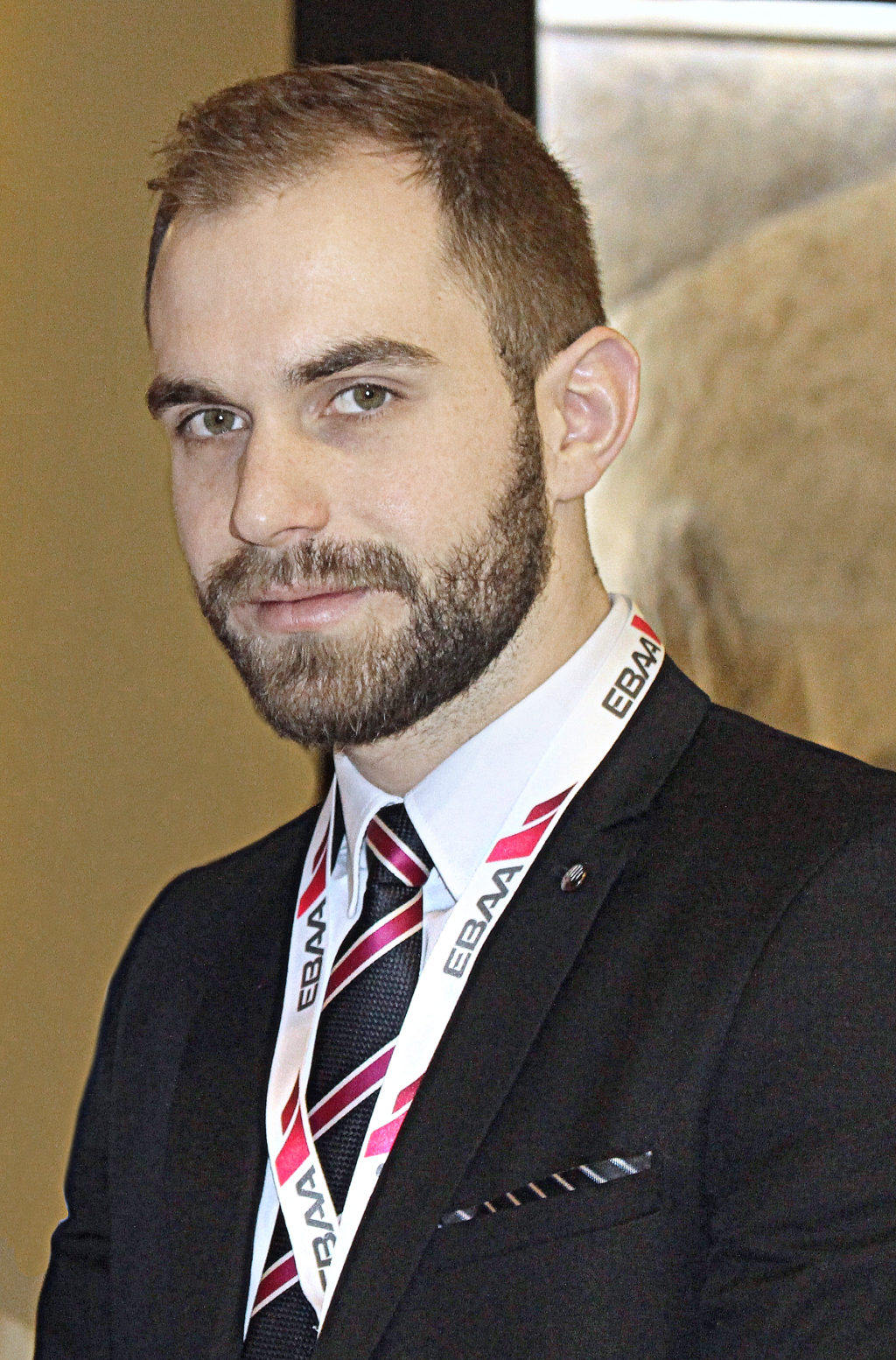 When did you come back to painting?
Although I was a sketcher as a child, I was not keen on painting, and certainly not interested in art. However, one day, four years ago, I was wracking my brains for the perfect gift – something unique and very personal that could not be bought in any store, and the answer came to me that I could try a painting. So, I tried and was happy with the result.
The first aircraft I painted was a gift to Bertrand d'Yvoire, who was so benevolent toward me during my internship and I wanted to thank him. It was a Dassault Falcon 7X and certainly the ugliest painting – aviation and non aviation together – I have done. He still has it and has told me many times that it is precious to him because it is my first aircraft. He now has three of my paintings, and you can see the evolution is huge.
Later, I did six business aviation paintings and offered them to EBAA. They are still in the Brussels offices.
Painting has become a real second activity now and works so well with my profession, as I have a really helpful and available aviation network due through the EBAA.
Through publishing my work on social media, I slowly earned a reputation. One day, someone asked me if I was an Air and Space painter. I had no clue what they were talking about and I investigated. I found what it was and it appeared that the air and space painter community were opening new places. I immediately applied. On the day of my 29th birthday, I got the final answer, I was appointed as an official air and space painter by the French Air Forces!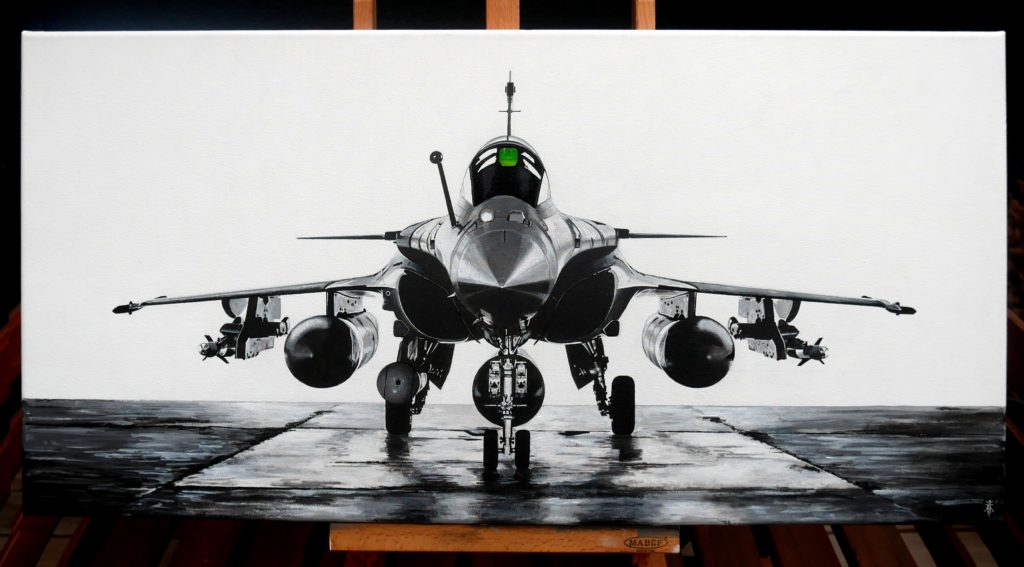 How did you develop your style?
Some painters might say that I have no real identity because my work is too close to photography. They might be right, but I have no issue with it. I do 'photorealism' for a very simple reason; the 'visual' beauty of an aircraft is driven by its lines, exactly as they were designed. I am not interested in re-interpretation. A Falcon jet is a Falcon with the exact length, wingspan, windows size, its designers gave it. That's why it is beautiful. A simple millimetre of difference would change the ratios. So to respect what I love in these aircraft, there is no better way than reproduce the exact reality.
I am really not keen on abstract art. I am the kind of person who works with concrete things. I love precision and details. My painting reflects this.
Why black and white?
In the very beginning, it was for financial reasons. I did not plan to do more than one painting, so to avoid buying lots of colours that would never be used again I used just black and white paint, which allowed me to make as many shades of grey as I want.
It has proven to have other advantages: it gives a consistency to my painting portfolio, defines my artistic identity and is classic.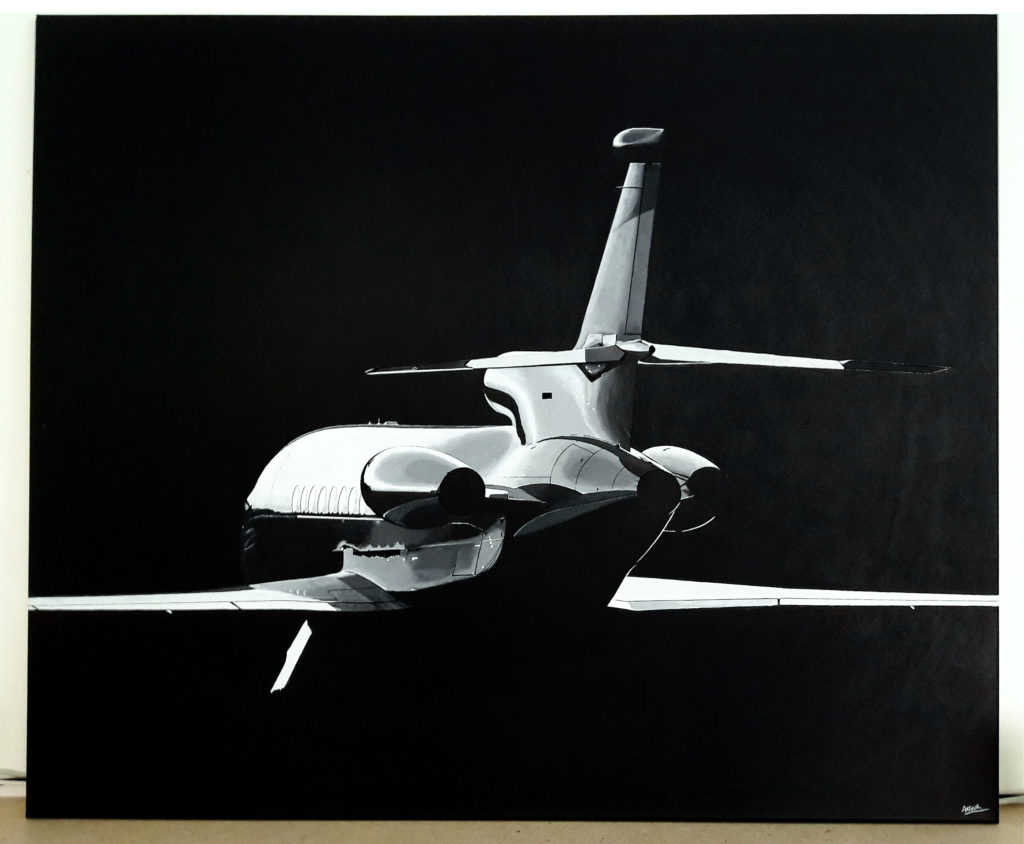 How long does each piece take on average and what is the process?
It depends on the size of the painting and the complexity of the image. On average, I'd estimate the range between 40 and 100 hours of work per painting – so it a real second life in the evenings and at weekends.
I find a good picture and prepare it for the canvas. I sketch the picture using a grid technique, and then simply paint. The drawing step represents in general 40 per cent of the work and the painting 60 per cent.
At the end of the process, I do the very small details with painting markers, because brushes would not allow me to be perfectly precise.
What are your favourite aircraft and why?
My favourite subjects are Dassault aircraft – and it is not because I am French. I find them to be the most beautifully designed aircraft in the world. My very favourite subject is the Dassault Rafale when it is fully equipped, with the maximum military configuration. I like details and the more I can add, the better.  My professional role in EBAA gives me an acquaintance with a range of business jets. And it is a good thing because they are beautiful, but almost never painted. Aviation art, be it photography or painting, is not really diversified or even original. It is the same commercial aircraft, the same WWI and WWII warbirds, the same air transport pioneers…
Those topics are incredible and I love to paint them as well, but I have a certain pleasure in painting very modern aircraft. My next painting is a Piaggio Avanti, and after that I'd like to do some commercial aircraft. I love all aircraft and I will keep doing all types: business jets, turboprops, military carriers, fighters and commercial civil airplanes.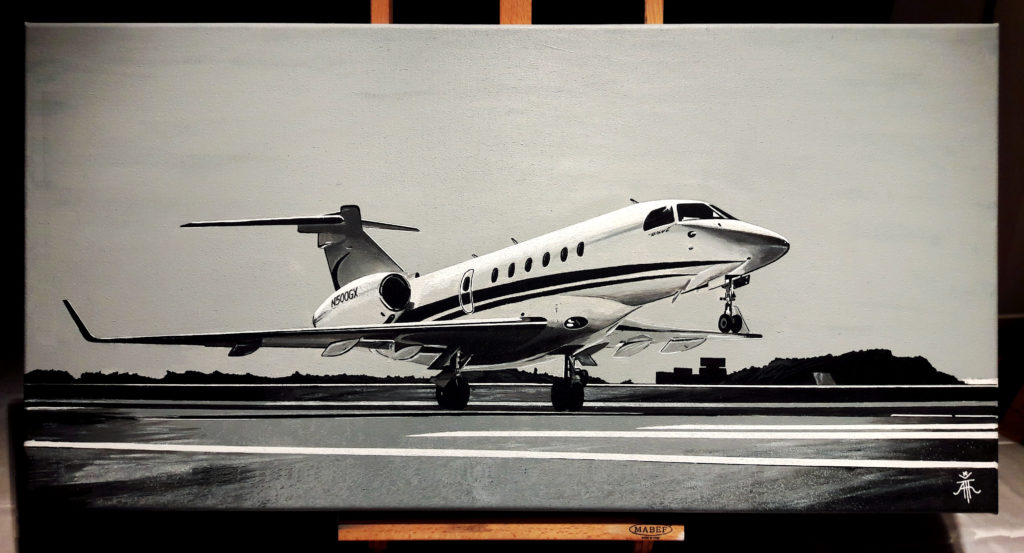 Do you take commissions?
Now I pretty much only work on commissions, because I have no time left to do my own projects. Each time I start a painting, I get an order from someone else. I'm pretty lucky because each painting I realise brings another new order. What a comfortable situation!
What I really love when I get a commission is the relationship between the person and the subject of the painting. Half of my aviation paintings so far were ordered by the pilots of the aircraft. This is so great. I know that my work is so much more than simply 'beautiful' to them. This is what I like the most when I get an order – the meaning the painting has to the person.
I just got an order from Dassault Aviation itself. I am so excited about it. They have commissioned a painting of the Dassault Family to be brought in the Dassault booth at the coming Farnborough Airshow. This is unbelievable and makes me very happy.
---
Related Stories: