Alberto Pinto's lasting legacy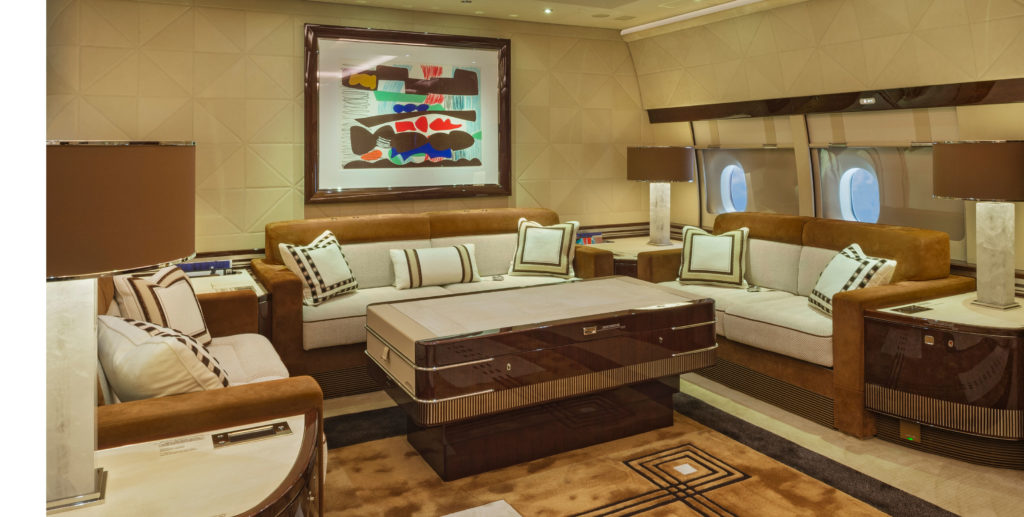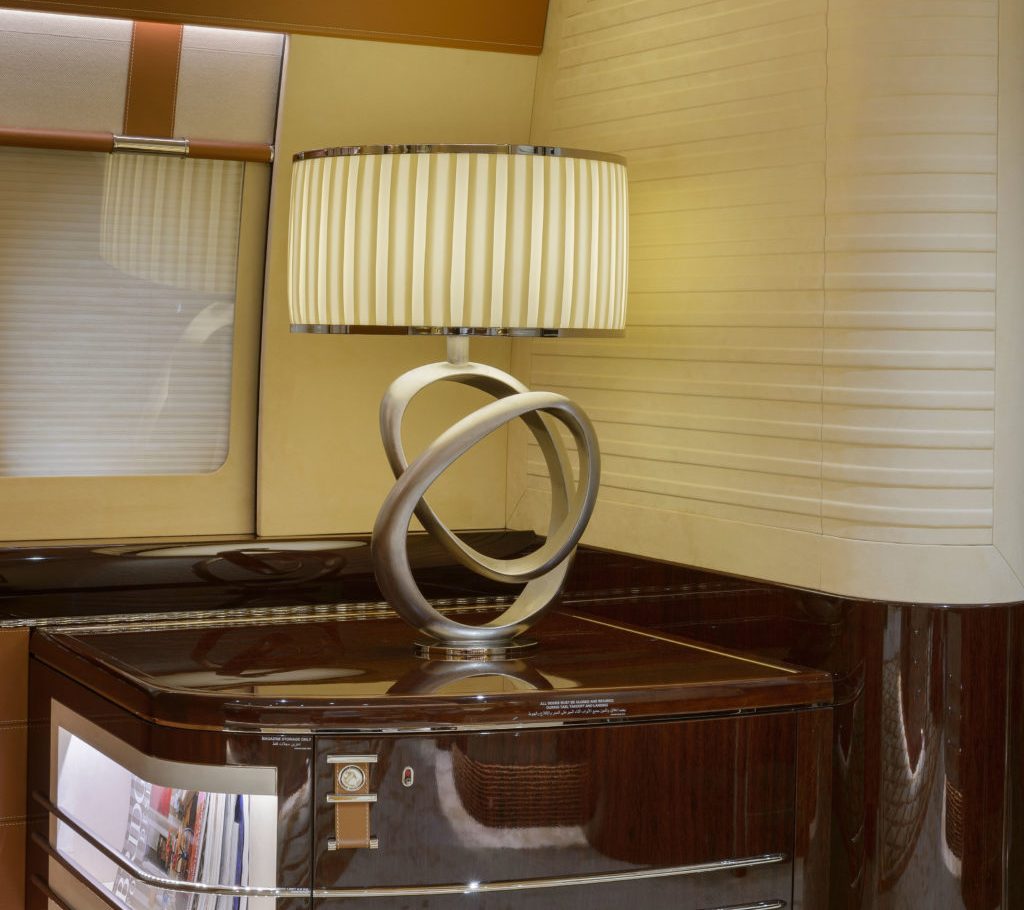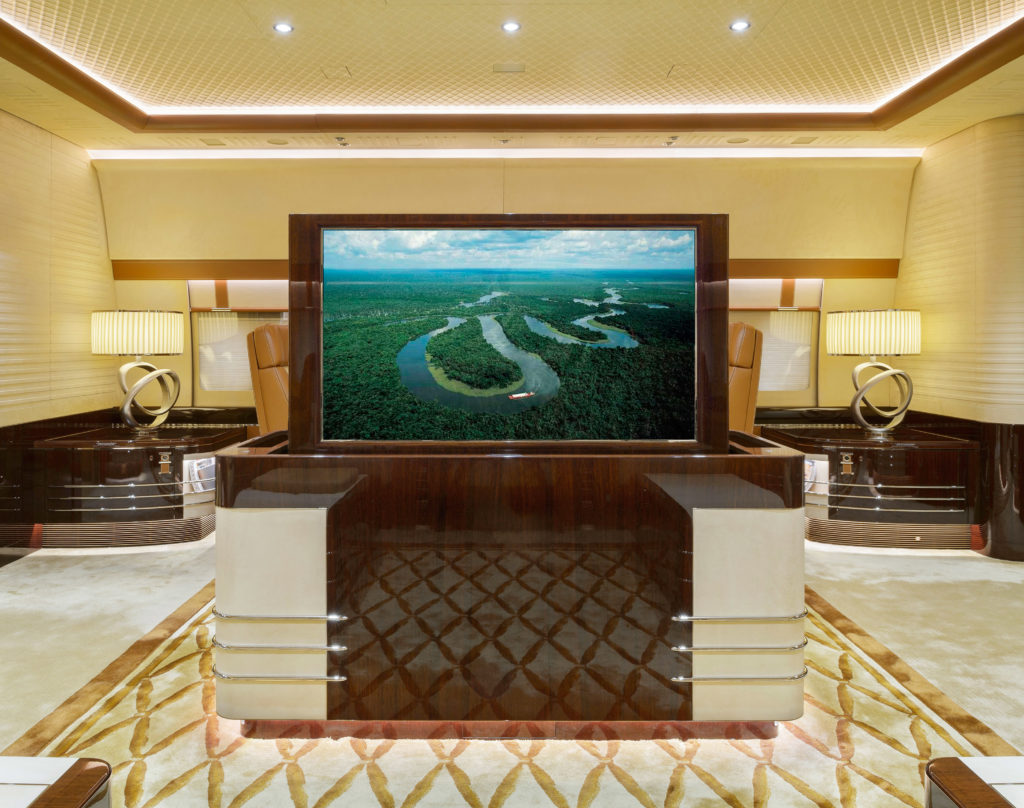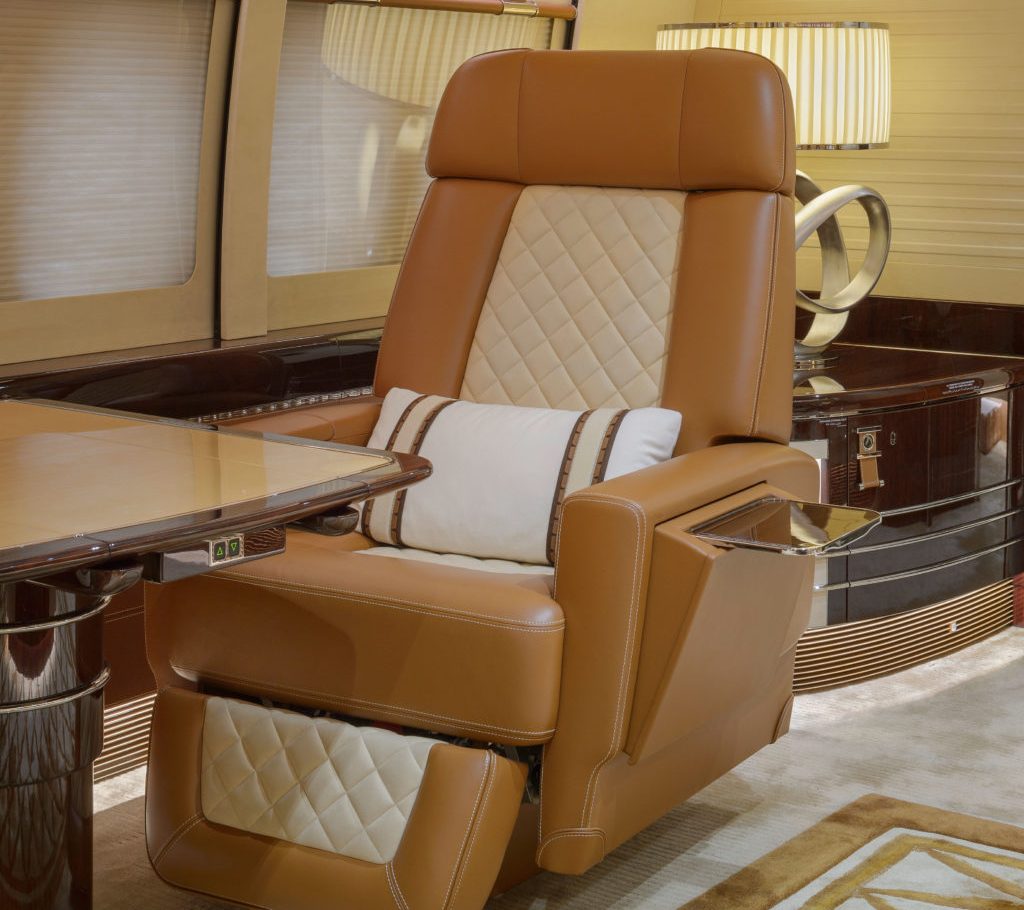 Citizen of the world
Founder Alberto Pinto was born in Casablanca to Argentine parents and was surrounded by diverse cultures. Fluent in six languages, he drew his inspiration from the varied cultures he encountered at a tender age. His younger sister Linda was raised in the same environment, and absorbed the same values, culture, vision and sensitivity.
Leaving Morocco, Alberto attended the Ecole de Louvre in Paris and then moved to New York in 1970 to start a photography agency, which specialised in decoration and interior design. He returned to Paris to set up a gallery and launched his eponymous design house. He invited Linda, then just seventeen, to join him and put her in charge of his Parisian gallery. A short time later he asked her to join his interior design firm, where she quickly became his privileged associate. The siblings "had a very symbiotic relationship," Linda explains. "We weren't just brother and sister, we'd worked together for years." Linda was by his side and with him at every step of the illness that later took his life.
Handed the reins of the design house, Linda Pinto has successfully perpetuated the elements and ethos that made the master's success. At the time of her older brother's death at the age of 69, she had already been working hand in hand with him for over three decades. Presiding over the activities of the eponymous House ever since, she not only kept the name alive but further developed the unique signature of Cabinet Pinto.
The agency has expanded its scope, developing furniture and accessories inspired by the style, sophistication and high level of quality that distinguishes all the Pinto projects. Home is the beautiful Hotel de la Victoire, a 17th century townhouse set in the heart of Paris. The team of 80 highly talented professionals work on projects in different areas: private homes, luxury hotels, offices, yachts, private and corporate jets, as well as in the marketing and distribution of pieces of furniture, linen and fine tableware, all created in-house.
There are no barriers between the different sectors of activity and all members work in symbiosis, in a busy creative and highly inspirational environment, favourable to the exchange of ideas, which has been the trademark of Cabinet Pinto's creativity for a long time.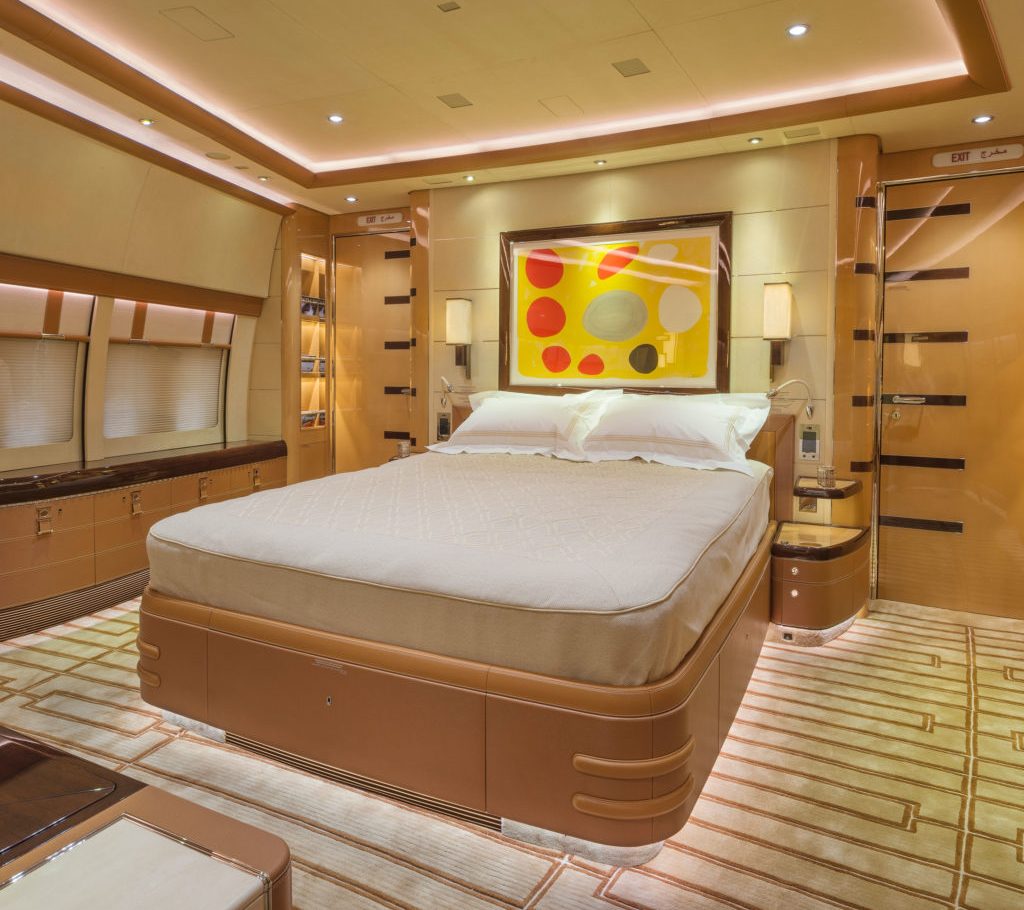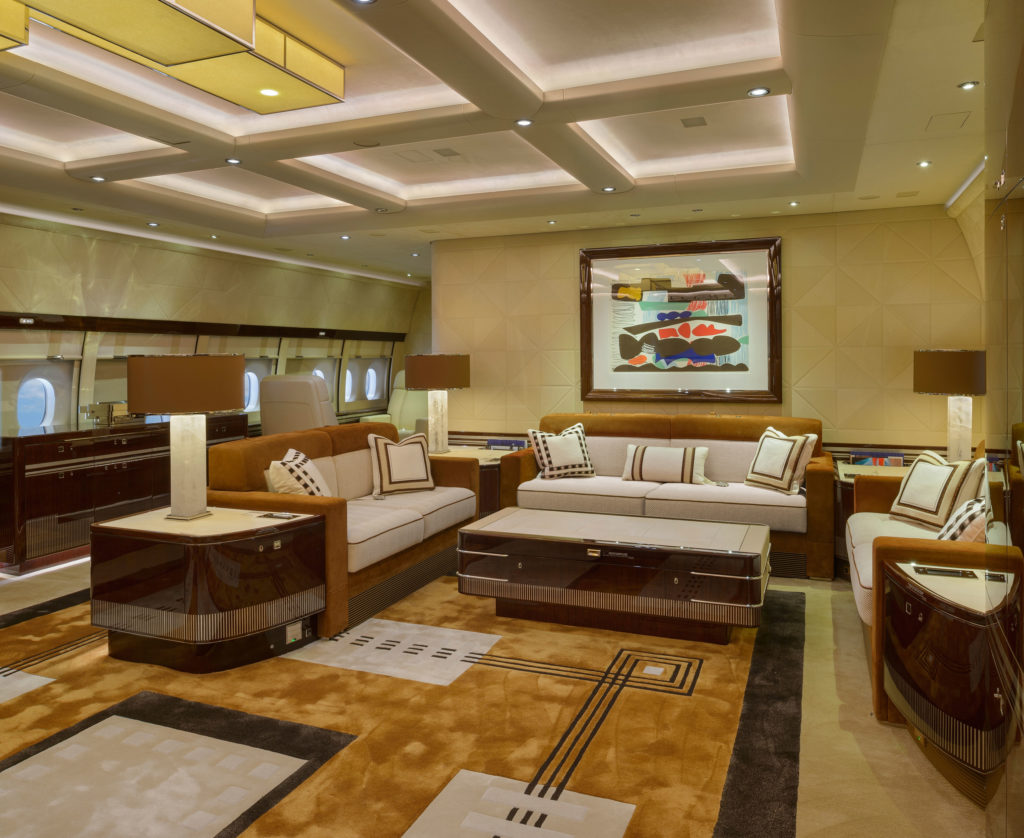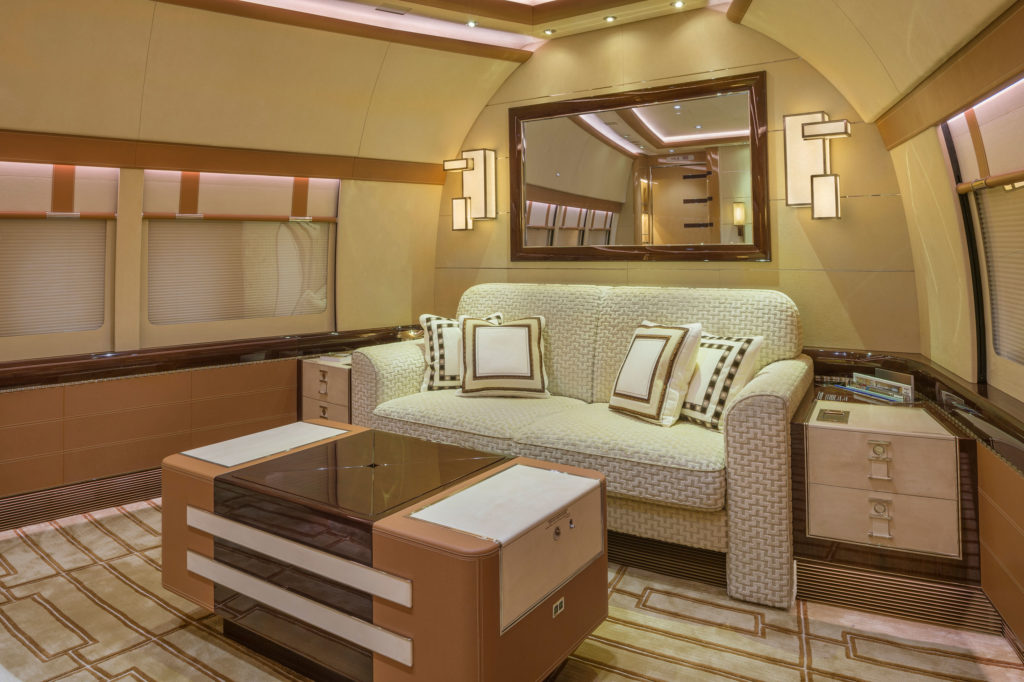 French flair
The projects that came out of the Paris office include several private aircraft. One is the famed G-NOAH, operated by Acropolis Aviation, one of Europe's leading luxury air charter companies, based in Farnborough, UK. The 19-seat Airbus ACJ319 entered into service in 2010 and is available for private charter flights. The elegant interior is very popular with customers, who appreciate the relaxing and comfortable atmosphere created by a selection of furnishing, fabrics and fittings in a colour palette of warm beiges and creams. "Designed with understated French flair, the aircraft has the ambience of a private club and evokes a sense of well-being," said Acropolis CEO Jonathan Bousfield.
Unsurprisingly Acropolis, the launch customer for the Airbus ACJ320neo, again selected Alberto Pinto to style the interior for the VIP narrow-body. "It was a natural choice for us," revealed Bousfield. "Our current, versatile cabin caters for a diverse range of travellers, including heads of state, high net worth individuals, corporate and leisure clients. Choosing a design that reflects an evolution of our highly popular cabin will help us remain market leading."
The first renderings show optimum use of the aircraft's spacious and cutting edge cabin. The project is the responsibility of Yves Pickardt, who also styled G-NOAH. The new aircraft will have 19 seats, a private master bedroom with luxury en-suite, and a larger galley fitted out like a real kitchen to cater for clients' wishes. "We continue to receive positive feedback from clients flying G-NOAH. The care and attention taken on designing this exceptional and ergonomic cabin means it is as stylish today as it was in 2010 and this is the reason we re-engaged Alberto Pinto Design," said Bousfield. The aircraft is being completed at AMAC. The completion centre based in Basel, Switzerland, is renowned for its expertise and much respected by designers worldwide. A 10-year strong relationship has been established with Cabinet Pinto, based on confidence and mutual respect.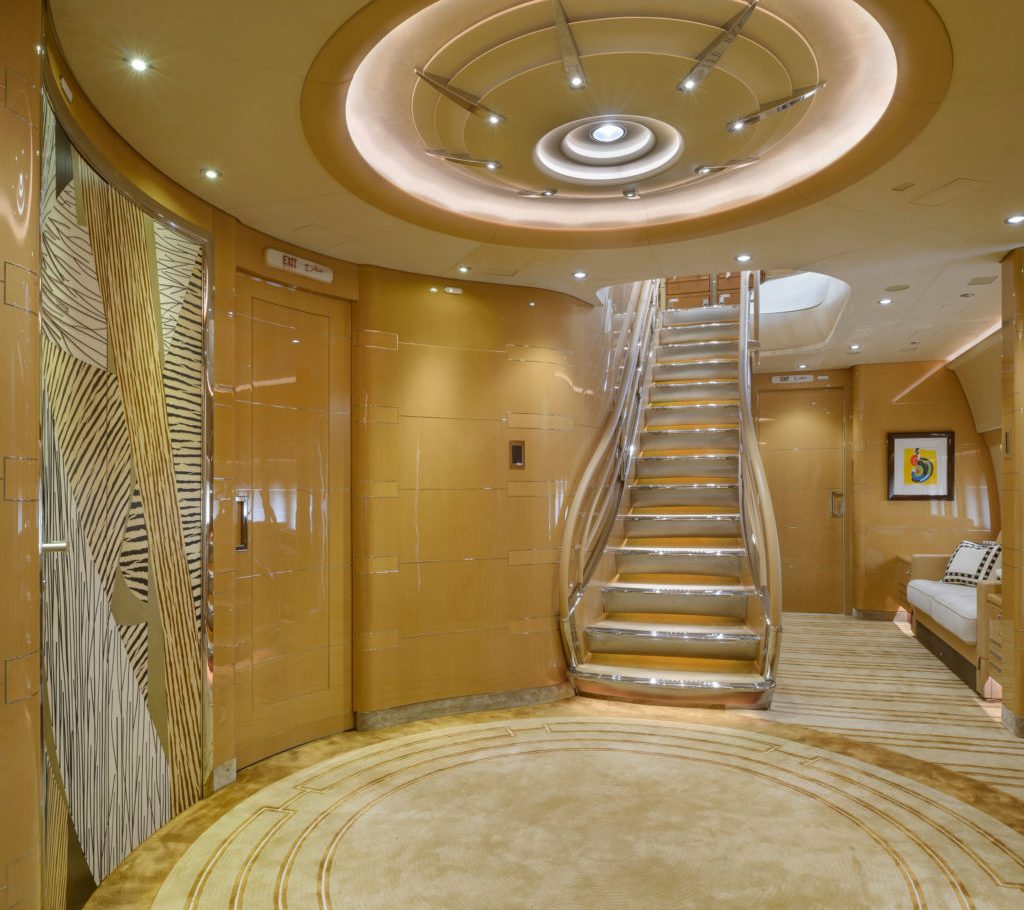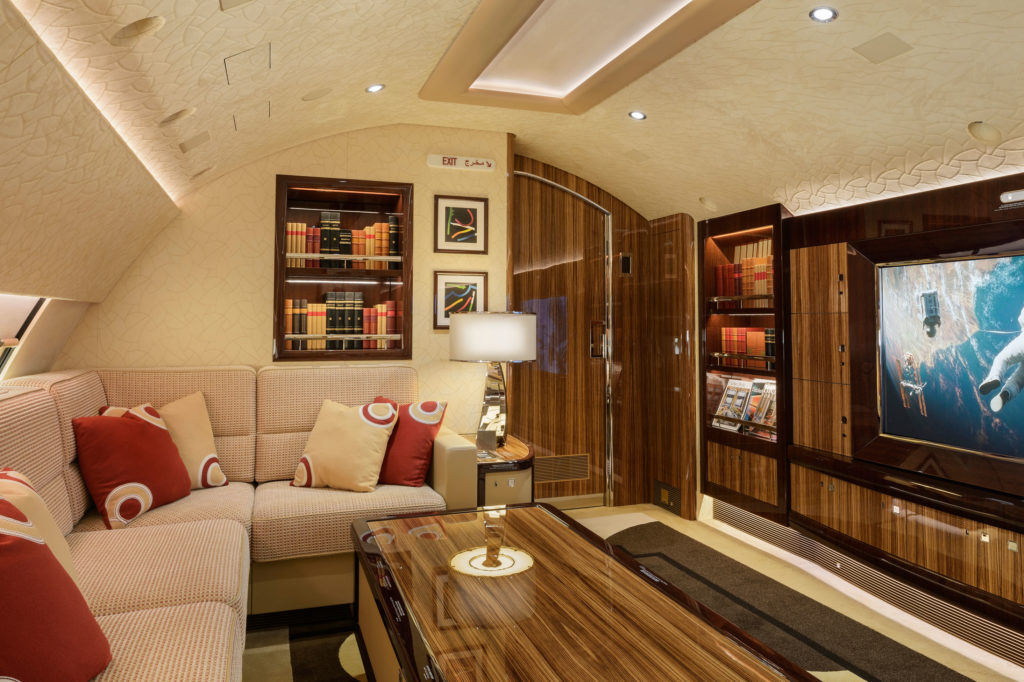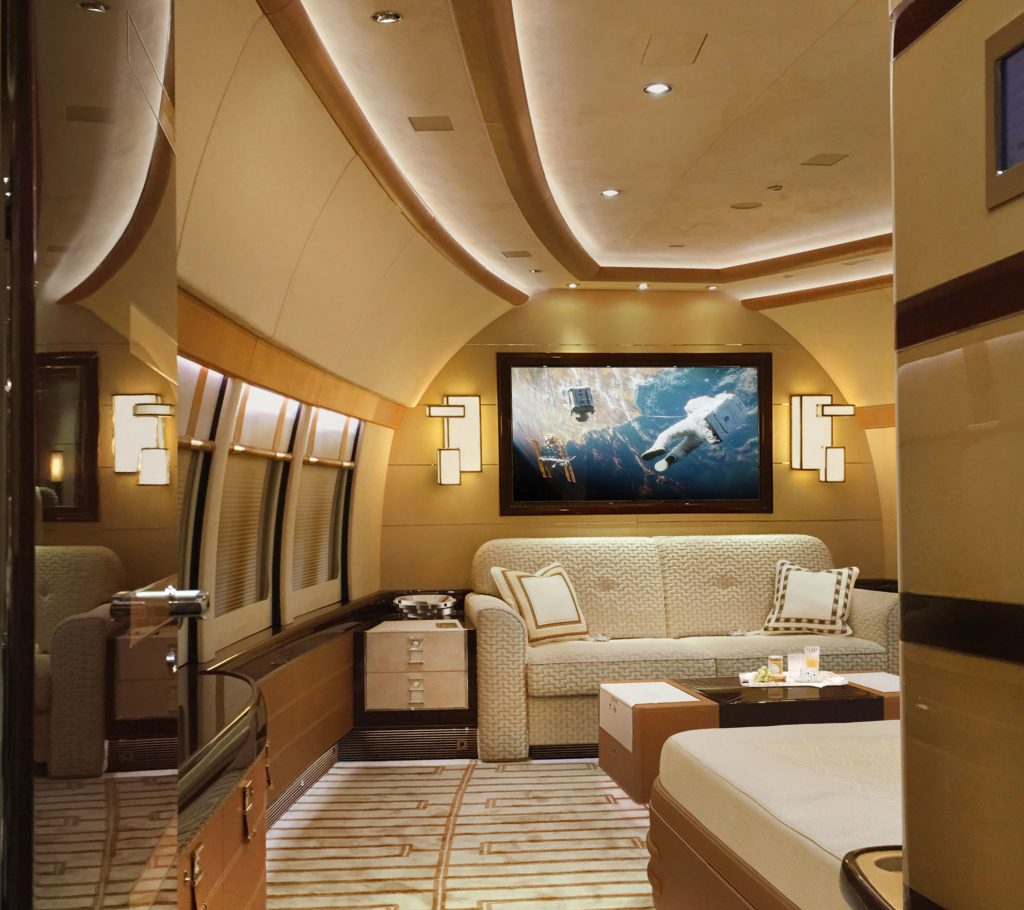 Luxury apartment in the sky
When Boeing had a competition among the top designers in the field to design the new Boeing Business Jet, BBJ MAX 7, the design proposal of Cabinet Alberto Pinto won out. The company's vision of flying on a BBJ MAX 7 is a perfect balance of modernity and comfort.
The layout is designed to accommodate up to 19 passengers and two crewmembers. It includes a large entrance hall, a large galley, a central corridor, a guest lavatory, a forward lounge, dining area, and aft lounge, as well as a master bedroom with en-suite bathroom, shower, vanity, and storage cabinets.
The custom seats designed for the lounge area follow the soft lines and curves that characterise the design of the rest of the aircraft. They were inspired by eggshells and feature integrated loudspeakers in the headrest. The sofa in the aft-lounge can be converted to a berth for added sleep comfort of guests on-board.
The double bed in the master bedroom is angled to make the most of the space available and faces a large flat-screen television. Pinto also included specifications for a large-OLED wallpaper screen to display in-flight entertainment in the dining area, with individual TV monitors in other zones, as well as custom-themed music, creating ambiance while boarding the aircraft, and specialised dimmable lighting.
"This is not just a flying home or a flying office anymore. This is not just a travel experience," Pinto said. "Our design is all about elegant and sensuous curves, versatile lighting and modern materials such as carbon fibre, with a strong presence of luxury craft quality standards." Boeing expects that the 7,000 nautical miles range BBJ MAX 7 will prove very popular with wealthy individuals who travel often and for long distances with family and business partners, but want to avoid the hassle of flying commercial.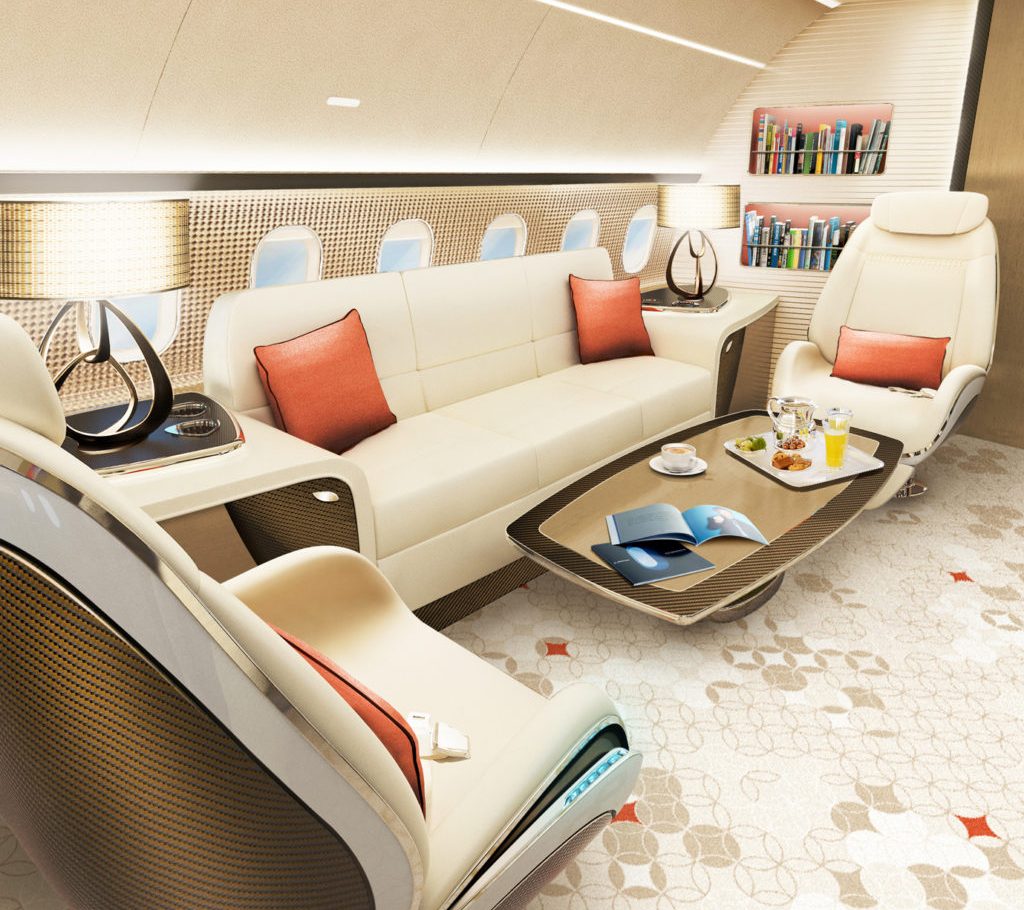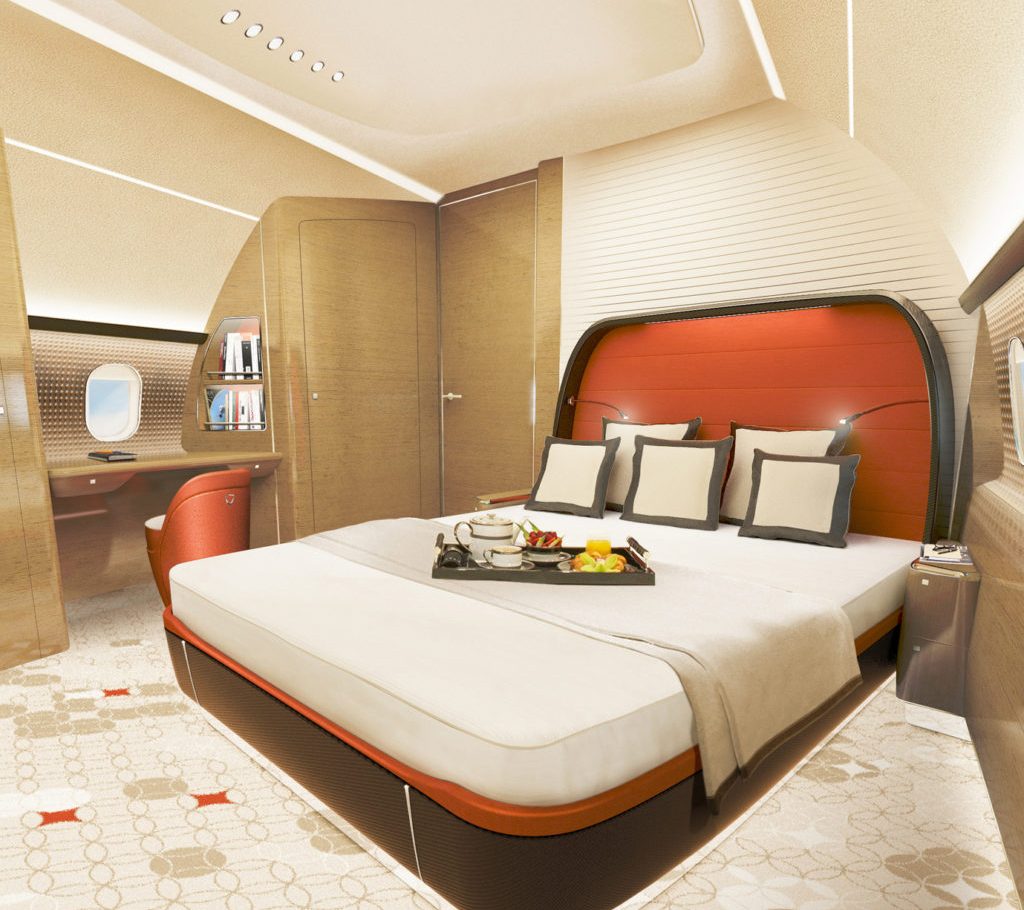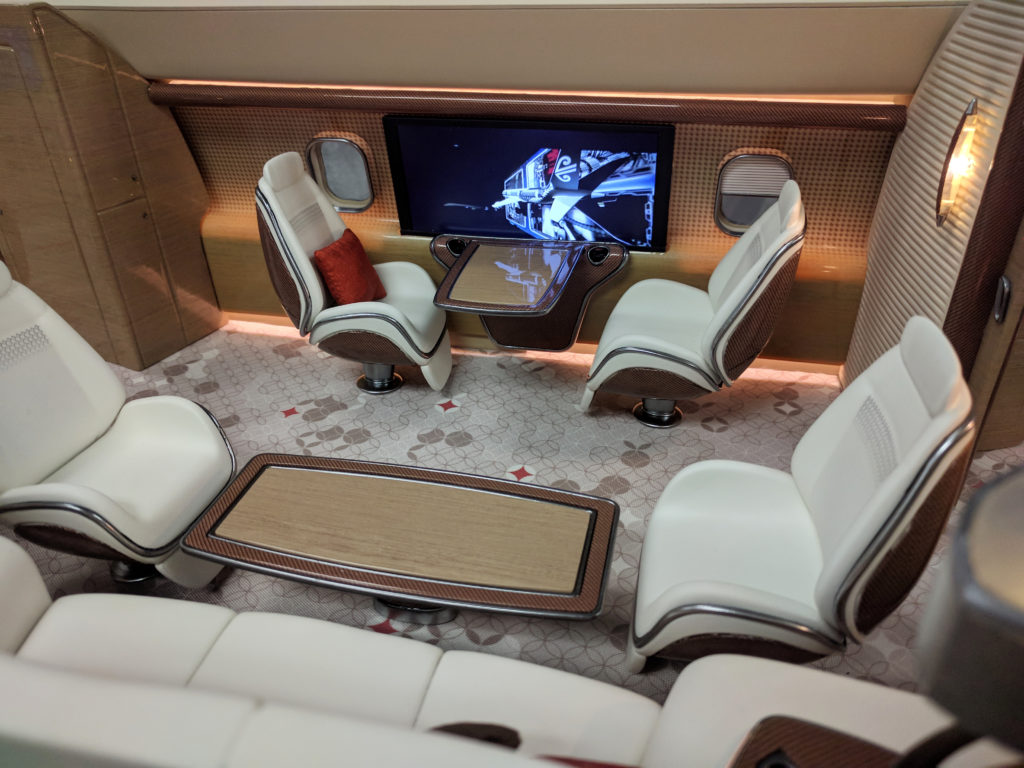 A designer's dream come true
The team is used to is working on large cabin projects, but had a baptism of fire having started with the concept for the cabin interior of a Boeing BBJ 747-8 airplane. The first private BBJ 747-8 to come out of completion on time and within budget, it was also the first 'jumbo' the Parisian House ever had to design. The aircraft was completed at AMAC and re-delivered to its happy owner in 2015.
The Boeing BBJ 747-8 is the largest private aircraft designed for an undisclosed customer. It was a "designer's dream come true," according to Pickardt who was in charge of the project. "The owner gave us carte blanche. He wasn't looking for anything outrageously luxurious, with gold and diamonds. On the contrary he called for some simplicity, which in the end is indeed the true luxury."
A global traveller, the owner only mentioned that he wanted an aircraft like a family home.
"We decided to go with a soft modern style, which is somehow quite classical," continues Pickardt. "One can easily recognise a strong French touch, a tribute to French Art deco and to our most famous saddle makers. We used only noble materials, all of the best quality available of course, such as wood, (African Wakapou and Sycamore), stone, wool and silk fabrics, natural leathers."
The sheer dimensions of the aircraft offer a floor surface that gives a designer the possibility of limitless layouts proposals.
"Getting to design a 420-square metre aircraft interior lets you into a very small club of interior designers," adds Pickardt. "Only a handful of fewer than eight specialists worldwide have had the privilege to design such aircraft."
Less than 10 private aircraft of that size are currently flying. No house or yacht can even get close to the final cost of a private BBJ 747-8.
"Such a project is a dream come true that happens only once or twice in a designer's lifetime. In a way, this is a landmark in aviation history," adds Pickardt. "Officials from the Boeing Company who visited the aircraft said that it may be one of the most beautiful large aircraft ever made!"