Designing a flying family home that is also dramatic and dynamic
Design — 01.11.17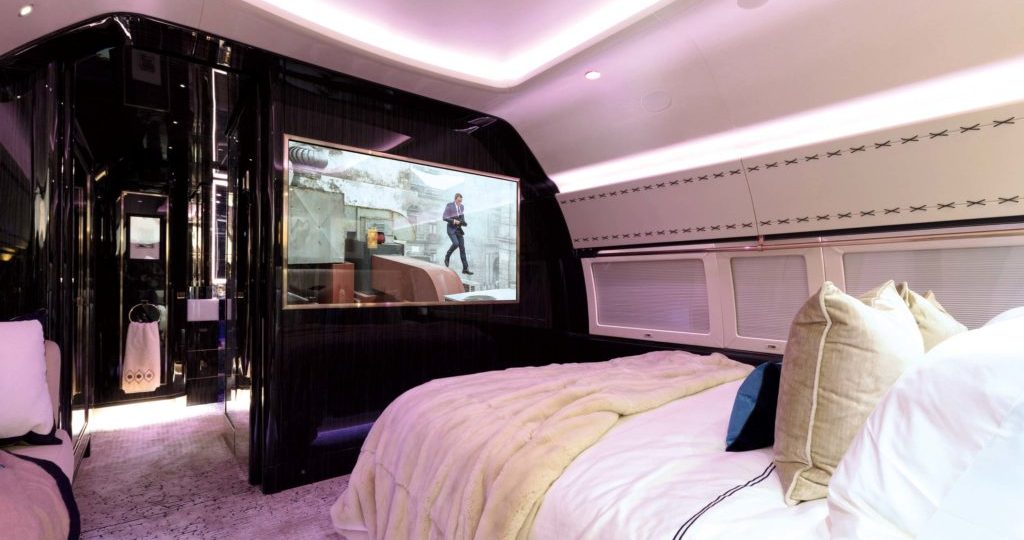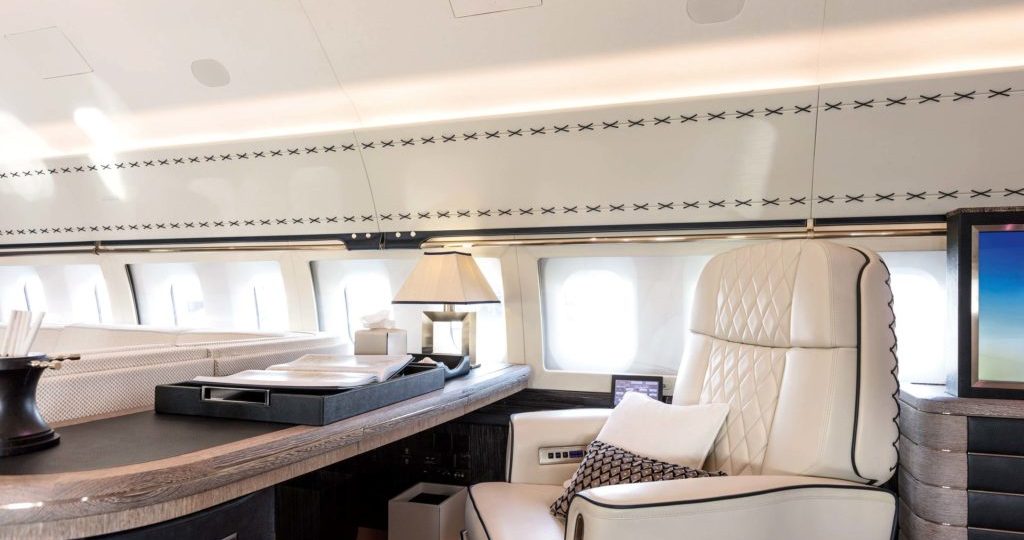 Jim Dixon, Head of Aviation, believes that the company's distinct and rule-flouting style brought the client to them. "Winch Design has a classic style, easy to identify and devoted to detail, but one that always questions the norms of convention, personal to the client's lifestyle brief," he said. "Having spent many years operating other private aircraft, the owner was very specific with certain elements of the interior layout, but open enough to allow Winch Design to create the perfect tailored interpretation for his particular requirements," he added.
Functionality
Functionally, this 19-passenger interior certainly delivers. The galley, cabin crew facilities and guest bathroom are all neatly integrated in the forward area, concealed behind sliding doors precision-engineered within the beautiful peacock-themed metalled artwork panelling which sweeps guests through into the main lounge area. A long, elegantly detailed shagreen table unfolds and extends to comfortably dine five guests, whilst a second table caters for another group of four in front of the stunning under-lit bar with its ingenious high-low bar stools and hidden champagne cooler. With foldaway buffet counters complimenting the dining tables, the whole area is designed to accommodate a small banquet.
An electro-dimmable sliding glass door provides just a hazy glimpse into a second, equally large aft lounge – the private haven of the Principal. As well as a stately desk area for formal business, the owner also enjoys quiet privacy in the comfort of his bespoke finely upholstered seat, enhanced with hand-stitched details. He may also prefer to enjoy the company of his family to watch a movie, sat in the generous U-shaped sofa arrangement. The lounge can configure to two comfortable double beds when the entertainment and conversation come to a close.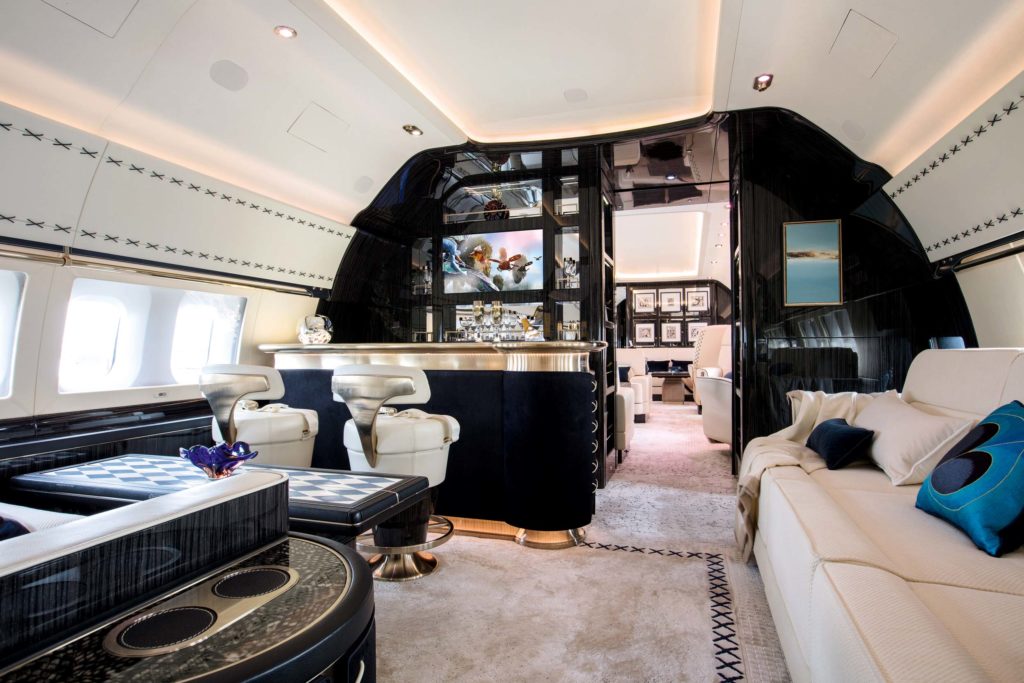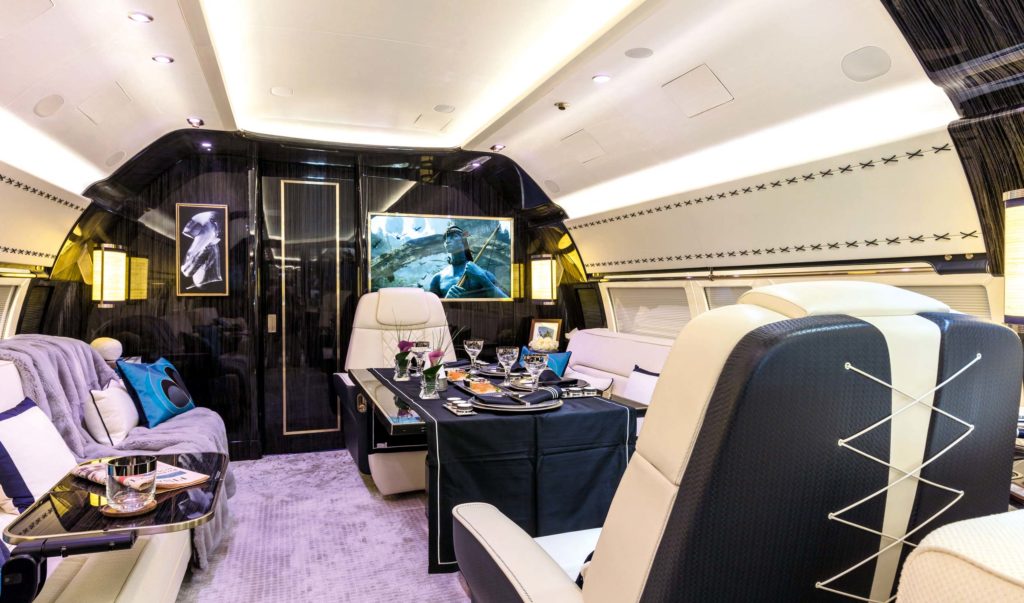 Private walk-through
Walking aft, the luxury of a full master suite bedroom and bathroom is revealed. An impressive 64" TV – the largest currently offered for a certified aircraft interior – complements the comfort of the bedroom. The owner's bathroom is pure drama; a custom-made blue glass washbasin is the centrepiece to a sanctuary of rich dark veneer, large shower, and a mirror-faced TV magically integrated into the marble vanity area.
If the chameleon-like flexibility of the spaces weren't enough, the materials and details create an interior, which is tactile and incredibly elegant at every turn. Rich silver-flecked dark veneer combines with buttery cream leathers to give a powerful, harmonious and unapologetically masculine spirit. Layered on top are exotic shell materials from the East, hand-stitched motifs to seats, valance panels and carpets, and mother-of-pearl accessories to complete this sophisticated 'penthouse in the sky'. Concludes Jim Dixon: "A carefully selected collection of artwork is the finishing touch to create a residential feel, which goes miles beyond any typical private jet."
At the end of a long day making deals in cities across the world, the owner and his travelling colleagues may look forward to having a chance to unwind and escape from the pressures of business on the ground. Gathering for a drink at the bar, visitors can enjoy the full-spectrum, audio-synced lighting, for an evening that could be a quiet congregation or a full on celebration with full sound and light pulsing beats.
Growing business
Winch Design has become a byword for elegant design in houses, yachts and aviation, and the company continues to launch VVIP aircraft of great elegance. The London-based design studio, which celebrated its thirtieth anniversary in 2016, has grown and developed, expanding its scope of work and its talented teams.
"I realised that to create a sustainable, profitable and enjoyable business, we need a team of excellent people and, periodically, need to pause and take a break in order to provide some objectivity," said Founder Andrew Winch. Andrew and wife Jane established the eponymous design firm in 1986. Today, the team of 70 people across three divisions – yachts, aviation and architecture and interiors, keep collecting major awards for their projects. "The split in terms of projects is still weighed in favour of yachts, but our aviation and architecture teams are thriving and growing so we are now a multi-disciplinary design studio rather than just a yacht designer," explained Winch.